Dive Into The Market with Italian Atelier: Singapore's Resilient Luxury Furniture Market
Published January 3 2022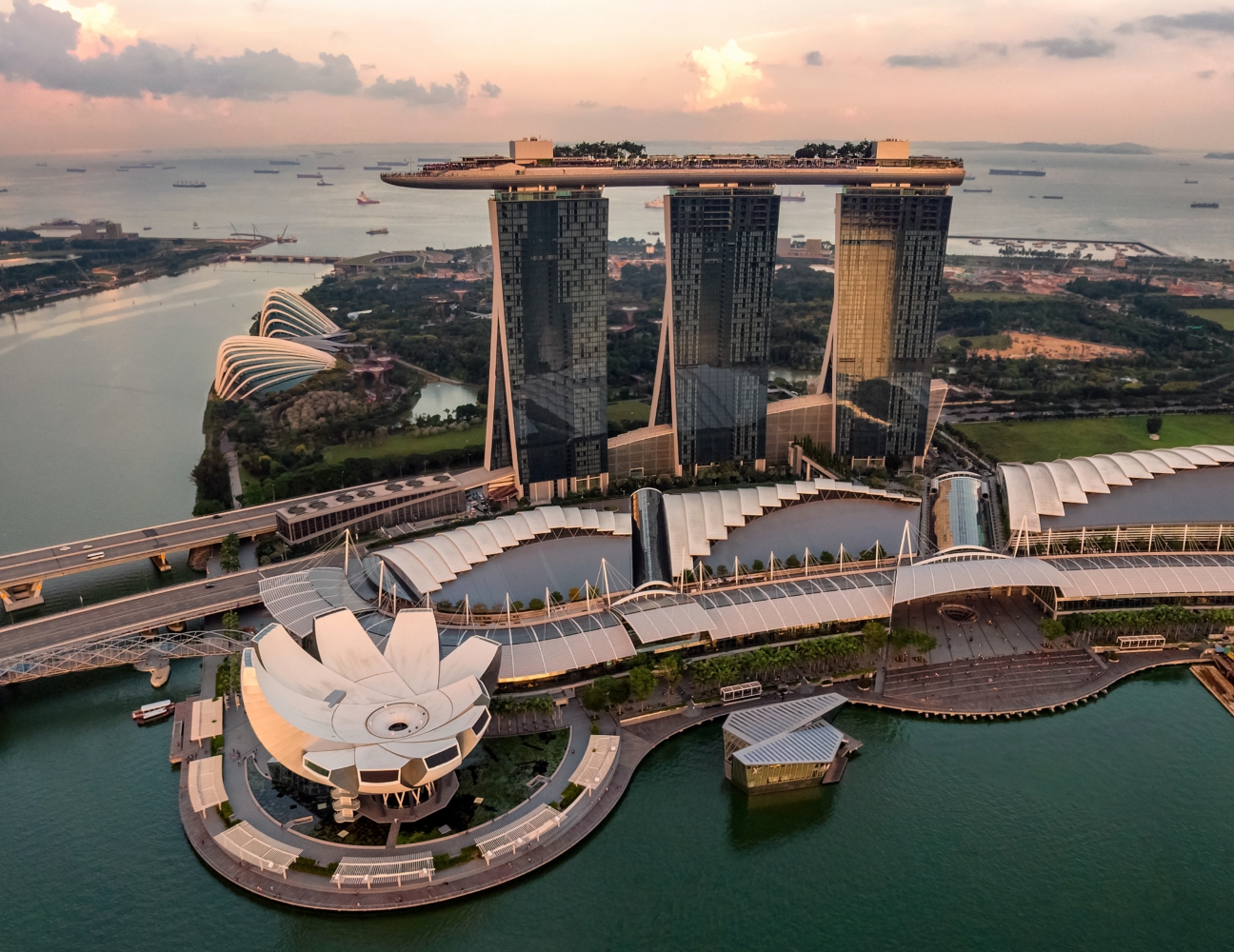 Singapore has been globally famous for its energetic commerce and luxury lifestyle worldwide in general, and the Asia Pacific region in particular. Although the pandemic has vastly affected worldwide economic development, Singapore has been preparing well for their powerful bounce back in 2021, which was proven to be accurate after our trip to Singapore in November 2021. This article will deliver a broad viewpoint and exciting insights about Singapore's luxury furniture and lifestyle market before, during and after the COVID-19 pandemic exclusively by Italian Atelier. 
Before COVID-19: A promising global hub for luxury lifestyle segmentation
Impressive insight about wealthy Singaporean 
Among the countries in the Asia-Pacific region, Singapore asserts itself as one of the most prosperous countries with a large number of wealthy residents. According to Knight Frank Research, Singapore's Ultra high-net-worth individuals (UHNWI) amount at 3,306, ranked 20th on global high-net-worth individuals (HNWI) distribution. Digging further, it is reported that Singapore owns 269,027 HNWIs and 30 billionaires located in 2019, reaching an increased value of 36% HNWI change within 2014 to 2019 (Knight Frank, 2020).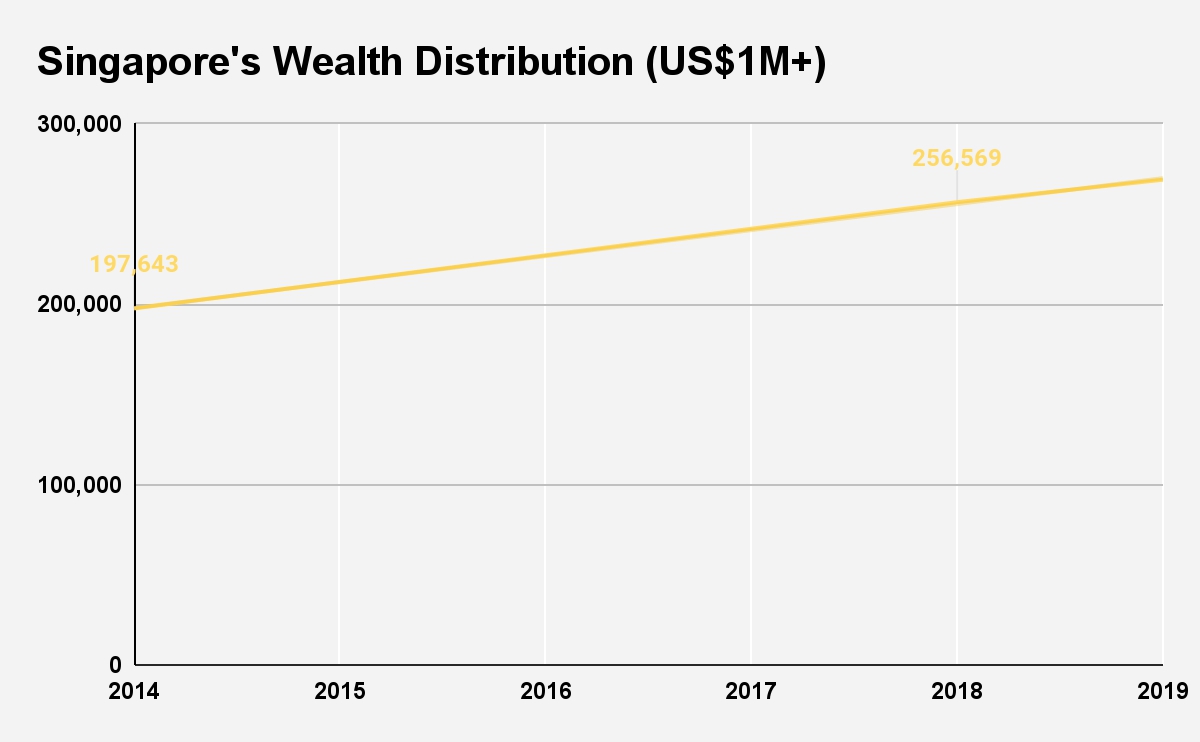 Singapore's potential in luxury lifestyle & furniture segmentation
Owning a competitive advantage of stable political and economic background as a regional commercial hub, Singapore easily attracts potential overseas residents and developers compared to other's uncertain external environment. In 2019, this strength led Singapore to be ranked at the 59th position, increasing at 1.2% in the PIRI 100 – The top 100 Prime International Residential Index, indicating its spotlight on the global map once again, according to Dr Lee Nai Jia from Knight Frank Singapore. 
In 2020, the living standard of Singapore was honorably recognized by The 2020 Wealth Report. According to this report, Singapore was ranked 7th best city for UNIWIs to live in, 10th for the investment potential and 5th for the lifestyle among 100 cities across the globe. This global ranking was based on different metrics that dedicated each cities' preference for visiting, living and spending time (Knight Frank, 2020). 
Noticably, in 2021, The Singaporean government imposed new restrictions. ncluding an increase in additional stamp duty on second home buyers and foreigners buying individual homes. This fueled a real estate boom that generated $24 billion in home sales in the first half of last year, double the figure in Manhattan over the same period, driven by the UNIWIs' demand for immigration to the South East Asia (Anh, 2022)
Singapore's lifestyle aspects such as cuisines, art, cultural scene, regional medical, financial, IT and biotech hub are well-developed, representing a "hub of hubs" that thoroughly serves their residents' needs. (JULIUS BAER GROUP, 2021)  An ideal example for this is Sentosa Island, Singapore's high-class neighborhood that defines its exclusive lifestyle destination with themed attractions, lush rainforest and golden sandy beaches welcoming its wealthy residents to enjoy their extended services (Dr Lee Nai Jia Head of Research, Knight Frank Singapore). 
Owning qualified durability with zero margin error, high-end furniture effectively prolongs its impressive performance as well as Singaporean's appeals. With the consumer's high disposable income level, this market embraces steady improvement in various Asia-Pacific regions, including Singapore. (Mordor Intelligence, 2021)  
Statistically analysis in luxury furniture, Asia accounts for more than 33% of the global-wide market share. The Maritime South Asia region owns from 10% to 13% of the global market, spreading across 6 following countries: Brunei, East Timor, Indonesia, Malaysia, Philippines and Singapore. In fact, Singapore takes up approximately half of its regional market share in this industry. 
Undeniably potential, Singapore's furniture and homeware market has recorded a gradual increase in revenue with a total of 347 million USD recorded in 2019 still progressing its potential growth (Statistia, 2021). Home to over 10,000 furniture, interiors and design brands, Singapore indicates a flourishing yet highly competitive market for high-end furnishing enterprises with its high living standard and a colourful luxury lifestyle combined. In Singapore, Italian Atelier has close relationships with all the biggest retailers and players in the market.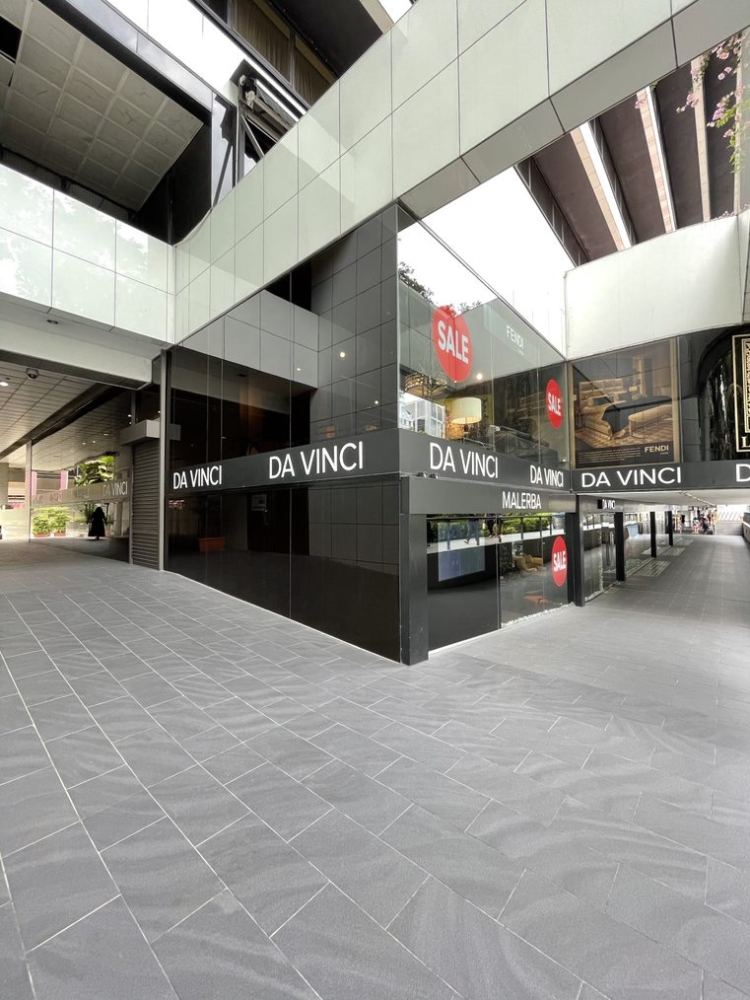 Two leading channels that drive the industry 
Singapore owns a considerable market share regionwide. The luxury furniture industry combined mainly with two channels: Project and Retail. Precisely, 90% of this market is perceived from project channels, including overseas and local projects. The others remain in retail projects that involve architectures delivering local and overseas projects.
Interesting consumer insights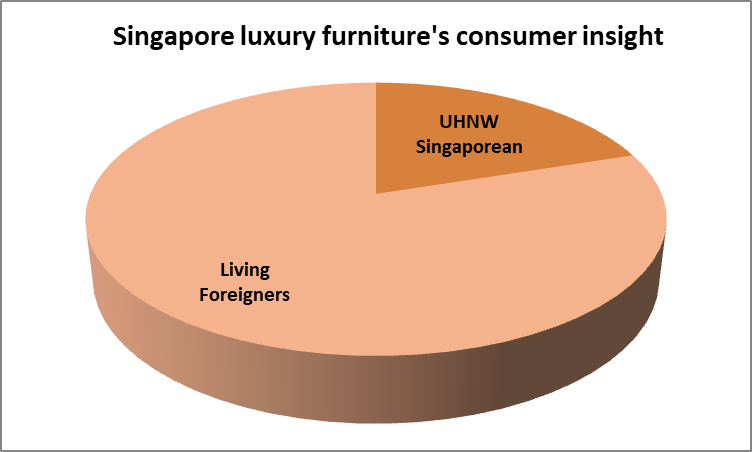 Singapore's high-class furniture consumers consist of 80% living foreigners while another 20% remains to be the ultra-high net-work Singaporeans. To explain for the prominent expat consumers, Singapore's flourishing job market, living quality and culture are factors that facilitate foreigners settling down and becoming acquainted quickly.
Besides the wealthy middle-aged, young people with mid-high income show certain knowledge about the luxury segmentation and engagement in potential high-class furniture's target consumers in Singapore. From our observation and research, these young purchasers understand their needs, have a stable mindset and determination towards purchasing behaviors. 
Consumer preference-wise, we also noticed that Singaporean consumers appeal to contemporary over classic style, with leather material and neutral shade of colors such as nude, brown, etc,.. for their purchased furnishings.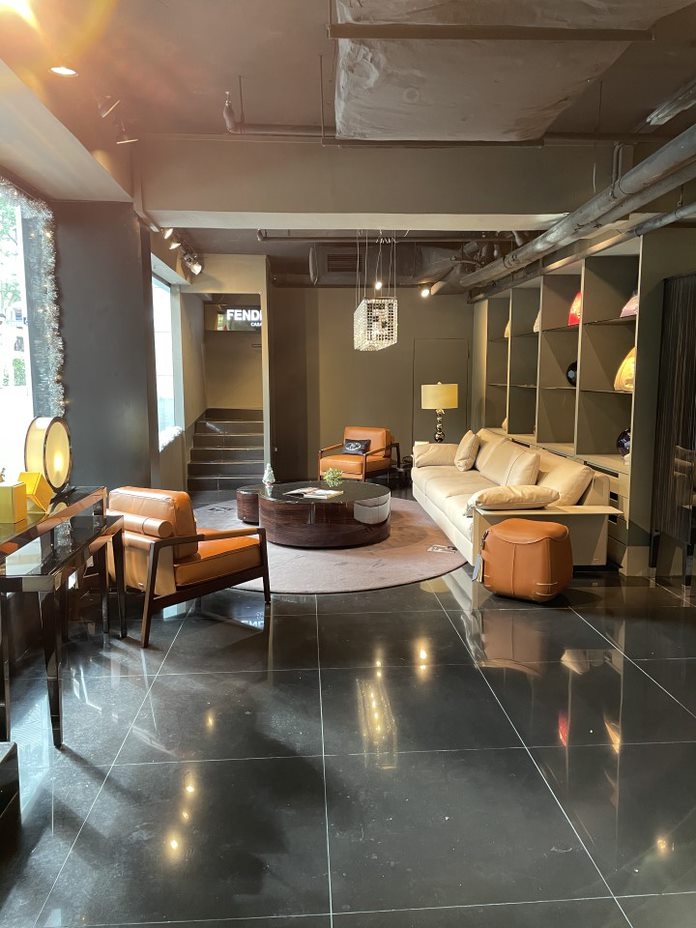 Inside the Da Vinci showroom based in Singapore
During COVID-19: Flexible to sail through the pandemic 
The market's essential flexibility to survive through the pandemic. 
The Luxury Furniture market in the Asia-Pacific region had endured the massive restraint by the COVID-19 outbreak globally, in which, the sales volume for this region, including Singapore, dropped by nearly 70% for the down surge in purchasing demand for luxury segmentation. Such manufacturing furnishings businesses based in Italy had shut down due to the pandemic, consequently explaining this enormous sales decline in the Asia-Pacific market. (Mordor Intelligence, 2021)
Fortunately, the high-end furniture market in Singapore was flexible enough in handling their inflows through the pandemic by transferring them into virtual and remotely operated ones. Surprisingly, although the lower segmentation in the furniture market struggled with their production lines due to the factories shut down upon the Movement Control Order (Yusof, 2021), the luxury segmentation was reported to progress well thanks to a large number of stock items remaining to serve the market demand. 
Supportive efforts from the government
Despite the challenges caused by this pandemic, the government took action to support the involved businesses. Specifically, the government's funds and support packages valued at 476.5 million USD were launched and announced for different affected business sectors, enabling the Singaporean company in general and the Luxury Furniture market, in particular, to survive through this crisis together. (Vietnam News Agency, 2021) In detail, according to our local partners, the Singaporean government had supported 100% of business fees during the COVID-19 outbreak. After the lockdown closure, businesses will pay 50% of these fees back to the government. 
The Singaporean's consumer behaviour
Regarding consumer behavior in Singapore, the pandemic has noticeably changed Singaporeans' luxury purchasing behaviour. Due to the lockdown policy, people spent most of their time at home and started to focus more on their surrounding furnishings. According to retailer representatives at Space Furniture Asia, eCommerce, high quality and sustainable items had become Singaporean's top-of-mind (Jingmei, 2021). 
During the pandemic, Singaporeans showed their likelihood to spend their travel and other luxury indulgences funds for investing their home while staying at home practising quarantines. This tendency rose distinctive needs decorating their own places to ease the frustration and enhance the pleasure of their quarantine periods. "During the pandemic, customers stuck at home realized how important the home had become and started paying more attention to it, adding pieces of furniture like tables they could multitask on", said Jennifer Soh, general manager at Space Furniture Asia. As a result, sales of essential furniture as sofas, beds, armchairs and storage items reported growth throughout this period. Plus, since home cooking habits had risen through quarantine, the demand for imported Italian kitchens also considerably rose (Jingmei, 2021).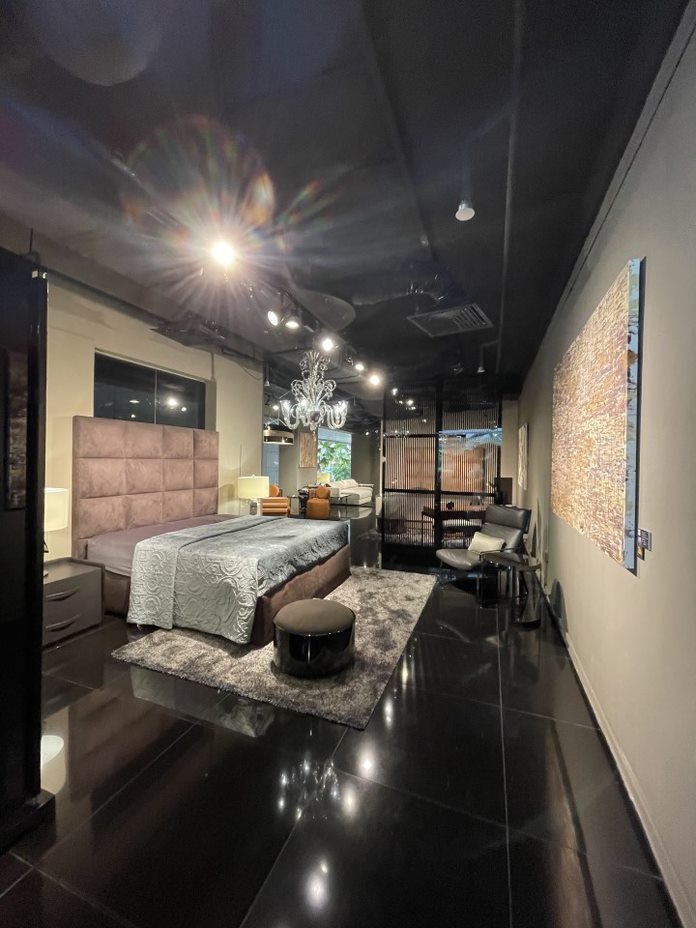 Inside the Da Vinci showroom based in Singapore
Sharing with Italian Atelier about the purchasing trends during COVID-19, our partner, one of our important distributors described that despite having a decrease in sales, yet small projects were still gradually requested and well-progressing by Singaporean customers. Notably, a majority of their consumer was male, reported a changing customer preference. Preferentially, a survey from Forbes showed that men spent more time working at home than women during quarantine, raising interest in window shopping for their household items. (Petro, 2020)   
Post COVID-19: Practice on the new normal
Overall market situation
Moving forward to the new normal, the Singapore government now takes down the quarantine orders and allows re-opening businesses and serving fully vaccinated people (Tham, 2021). This announces good signs for our high-class furniture brands to run back their business directly. 
On the progress of recovering Singapore's economy post COVID, the high-class furniture industry shows the intense sales competition within big brands. According to Italian Atelier's observation through our business trip in Singapore, this race could be more fierce for their strong determination to rebound the business back to the game. To moderately adapt to the "new normal" market situation as well as reform the consumer's buying behaviour, competitive promotions and sales are launched widely across stores as a tactic to solve their remaining inventories.  
Post-COVID Consumer preference
Regarding post-COVID-19 purchasing preferences, consumers in Singapore appeal mostly to main furniture supplies such as sofa, desk, bed, etc., rather than small accessories. In which, a new rising demand showed in which 8 out of 10 consumers look for their working corners items are highly concerned thanks to the work-from-home trends.   
Seeds of hopes for a bright future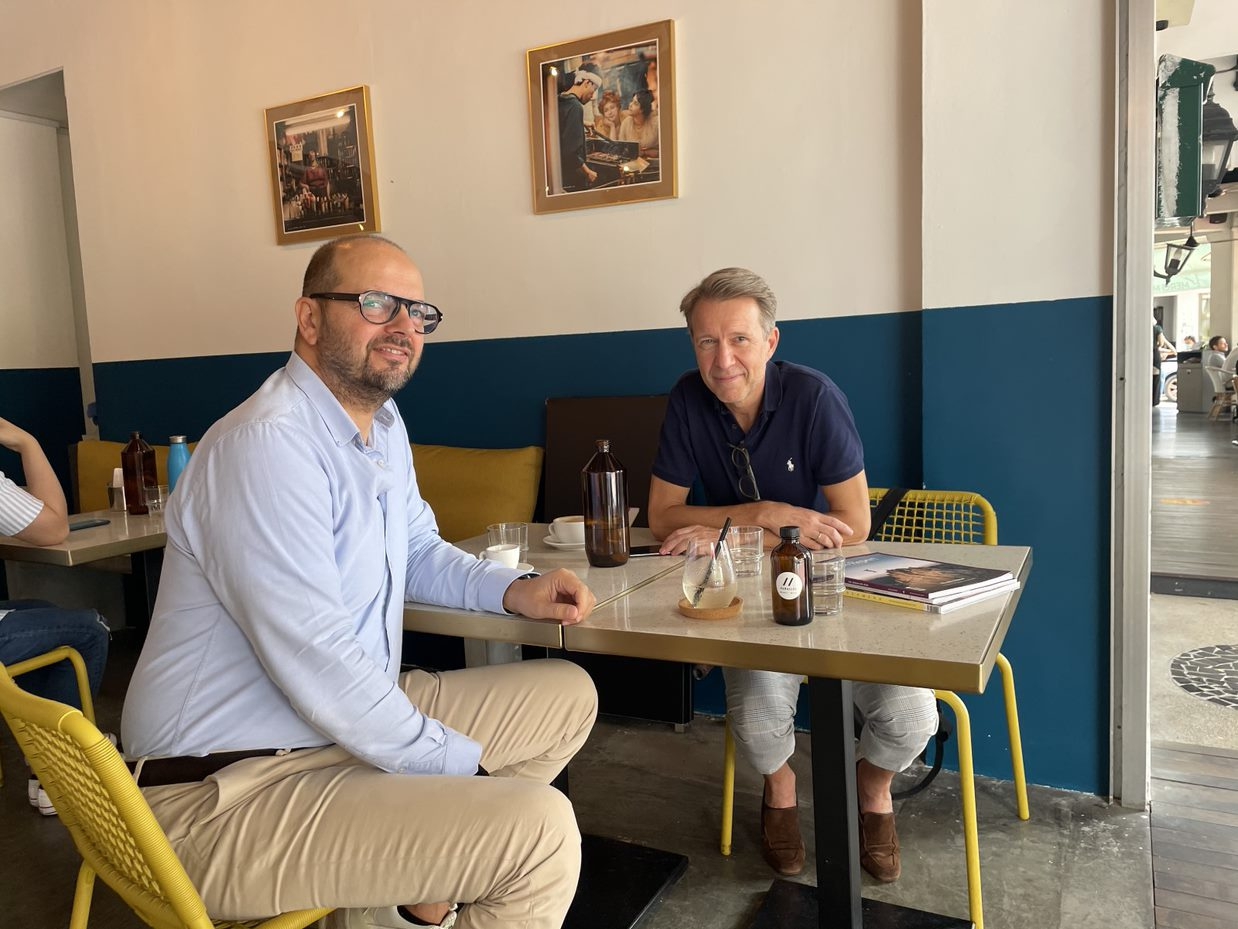 Our meeting with Mr. Michael von Schlippe, president of Media Publishers
Despite the difficulties throughout the global pandemic, Singapore's luxury furniture and lifestyle market have shown their astounding potential in this global financial hub. Plus, the ASEAN free trade agreement that enables goods and products' international movement has indicated great potential for Singapore's premium furniture market to grow further internationally. Sharing with our close-knit partner in Singapore about their experience and upcoming planning, Italian Atelier strongly believes in their commercial strength to grow further in this country, hoping for a promising future and opportunities awaits that pay off our concerted effort.  
Reference list:
Anh. (2022). Giới siêu giàu đổ xô đến Singapore khiến giá nhà tăng nhanh nhất trong 1 thập kỷ. Tin Tức Mới 24. Retrieved from http://tintucmoi24.club/gioi-sieu-giau-do-xo-den-singapore-khien-gia-nha-tang-nhanh-nhat-trong-1-thap-ky/
Frank, K. (2020). The Wealth Report. Retrieved from https://content.knightfrank.com/content/pdfs/global/the-wealth-report-2020.pdf
GROUP, J. B. (2021). Global Lifestyle Report 2020. Retrieved from https://www.tadviser.ru/images/8/83/Global-lifestyle-report-2021.pdf
Intelligence, M. (2021). ASIA-PACIFIC LUXURY FURNITURE MARKET – GROWTH, TRENDS, COVID-19 IMPACT, AND FORECASTS (2021 – 2026). Retrieved from https://www.mordorintelligence.com/industry-reports/luxury-furniture-in-asia-pacific
Jingmei, L. (2021). How has the pandemic changed the way Singaporeans furnish their homes. Channel News Asia. Retrieved from https://www.channelnewsasia.com/obsessions/pandemic-changed-the-way-singaporeans-furnish-their-homes-1882541
Petro, G. (2020). Coronavirus And Shopping Behavior: Men And Women React Differently. Forbes. Retrieved from https://www.forbes.com/sites/gregpetro/2020/03/13/coronavirus-and-shopping-behavior-men-and-women-react-differently/?sh=2e30720d4737
Singapore rolls out 640 million support package for businesses. (2021). Vietnam News Agency. Retrieved from https://ncov.vnanet.vn/en/news/singapore-rolls-out-640-million-support-package-for-businesses/61729029-970c-4332-8b1d-25b643a83d84
Statista. (2021). Worldwide Furniture's Revenue. Retrieved from https://www.statista.com/outlook/dmo/ecommerce/furniture/worldwide?currency=usd
Tham, D. (2021). "New normal": 7 ways Singapore is moving towards living with COVID-19. Channel News Asia. Retrieved from https://www.channelnewsasia.com/singapore/covid19-dine-vaccination-home-recovery-booster-new-normal-2232901
Yusof, A. (2021). Delays in furniture delivers from Johor to Singapore as COVID-19 curbs jam production lines. Channel News Asia. Retrieved from https://www.channelnewsasia.com/asia/johor-singapore-furniture-factories-delivery-delays-covid-19-218244