10 Most Memorable Furniture Gift Ideas For Your Woman On International Women's Day
Published March 8 2022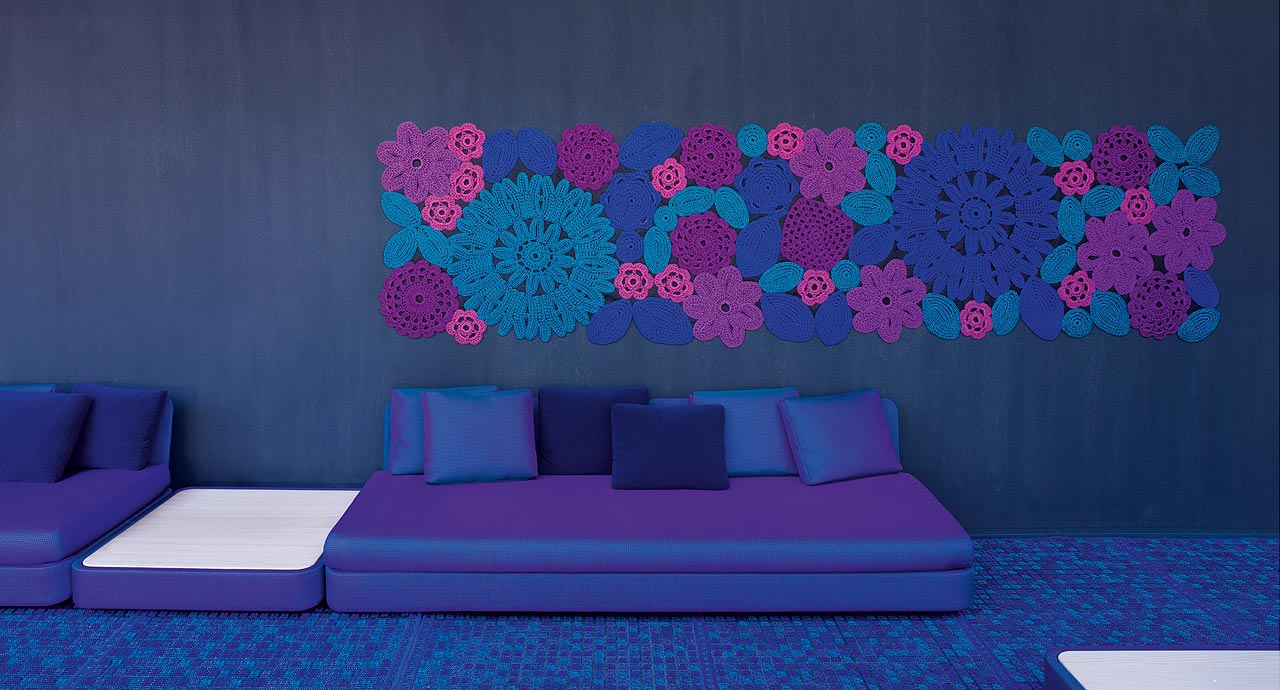 International Women's Day is an annual holiday that commemorates the sacrifice and dedication of every honorable woman around us. Every woman appears is already a beauty to our world. Therefore, to help you convey your love to your woman, Italian Atelier has selected the most beautiful and suitable furniture pieces for honor gifts on this special occasion! These interiors and exteriors will not only surprise you with amazing functions, but also enhance the aesthetics of every woman's space. 
REFLECT YOUR BELOVED WOMAN GORGEOUS BEAUTY WITH THE ICONIC MIRROR FROM POLTRONOVA 
Ultrafragola Mirror from Poltronova 
If you still remember, this is the mirror that has driven social media crazy in the last 10 years, known as the iconic selfie mirror. Promisingly being the spotlight in her room, Ultrafragola is a masterpiece and a historical witness to the beginnings of Radical Design, created by the famous Italian architect Ettore Sottsass. With the seductive curve and light pink color of the mirror, the designer wants to send a message of the woman's irresistible vivid beauty, making it an undeniably perfect gift for your woman. Despite being underappreciated in the beginning, this timeless masterpiece made a huge comeback from 2007 and in today's world, the mirror is now owned by many top beautiful female celebrities such as Bella Hadid, Lisa (BlackPink), Jisoo (BlackPink), etc.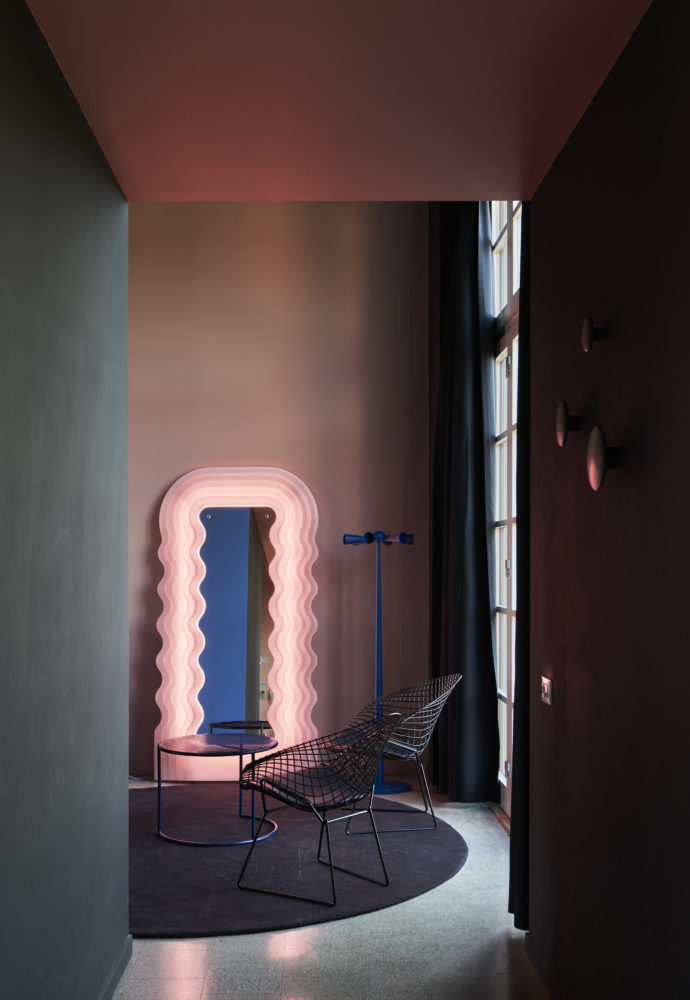 Ultrafragola Mirror from Poltronova; Photographs by Poltronova 
FILL HER SOUL WITH RELAXING YET AESTHETIC CANDLES FROM ARMANI
PEGASO scented candles from Armani
If your woman is a brand believer, she certainly knows the famous Italian luxury company, Giorgio Armani, the leader of not only the fashion but also the interior industry. Therefore, coming to the second product, we are pleased to present to you Armani Casa's high-class product PEGASO scented candles. Available in 4 versions 'Black Lacquer', 'Red Velvet', 'Green Marble', and 'Gold Leaf', PEGASO candles are a must-have for every woman to fill her space with fragrance and beauty. The product carries the sophistication and elegance typical of the famous Armani brand. While the Black Lacquer brings you the mysterious scent of amber, Red Velvet will lead your woman  to intense rose fragrance, bring her into a peaceful peace of mind. 
Green Marble represents a Japanese garden, with the essence of jasmine and other natural ingredients. Lastly, Gold Leaf is a truly harmonious combination of spices, vanilla and the scent of white roses.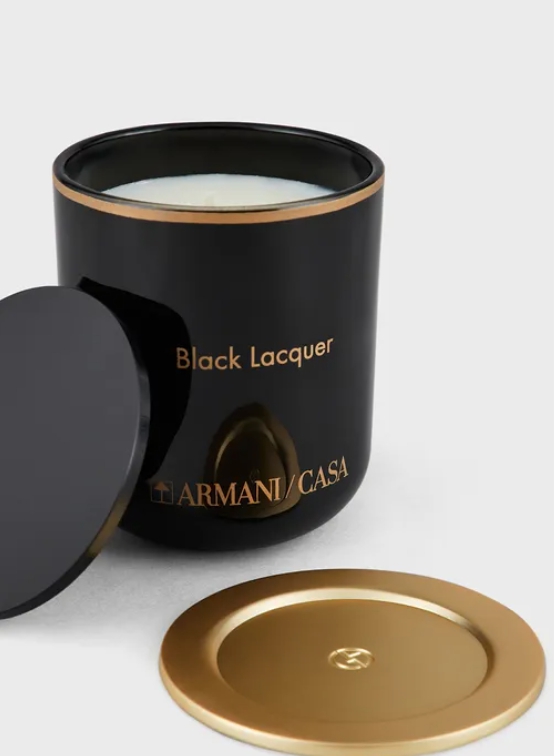 PEGASO scented candles from Armani; Photographs by Armani Casa
BRING JOYS TO HER THROUGH UNIQUE ACCESSORIES FROM EDITIONS
Miss Marble from Editions
Marble motifs have always won the hearts of every woman with their indescribable aristocratic beauty, which Editions Milano has absorbed and turned into a distinctive feature of the brand. This March 8th, honor her inner beauty through the feminine, luxury and elegant design from Editions – Miss Marble. This is the first and only product of the Editions Milano's homonym collection with 2 main colors. With the body made from Arabescato marble and the top made from Marquinia marble, the feminine beauty of the jar becomes almost irresistible to every beauty lover. Miss Marble carries not only feminine but also luxury, high class, elegance, and nobility. The naming of the product has already shouted out the designer's inspiration to the world. The product can be used to store spices, seasoning, or any food that you want.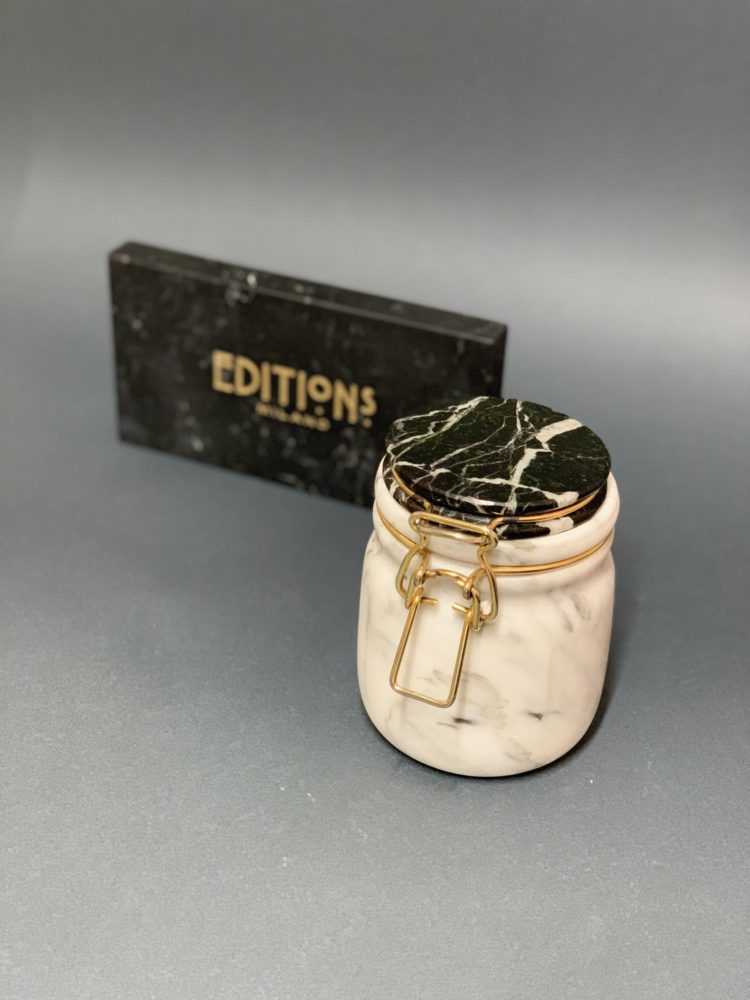 Miss Marble from Editions; Photographs by Editions Milano 
Versi Carafe Small B from Editions 
Our other suggestion from Editions is Versi Carafe. It can be considered as a masterpiece of the Spanish architect Patricia Urquiola. The product is recommended the most to hold fresh water and juice. Not only is its size convenient for every woman to use, but the product also exudes luxury beauty with Rosso Francia marble for the upper body and Carrara Gioia marble for the lower body, increasing the aesthetics of every space. Earthy pink symbolizes the softness, femininity but at the same time bravery and strength of our women.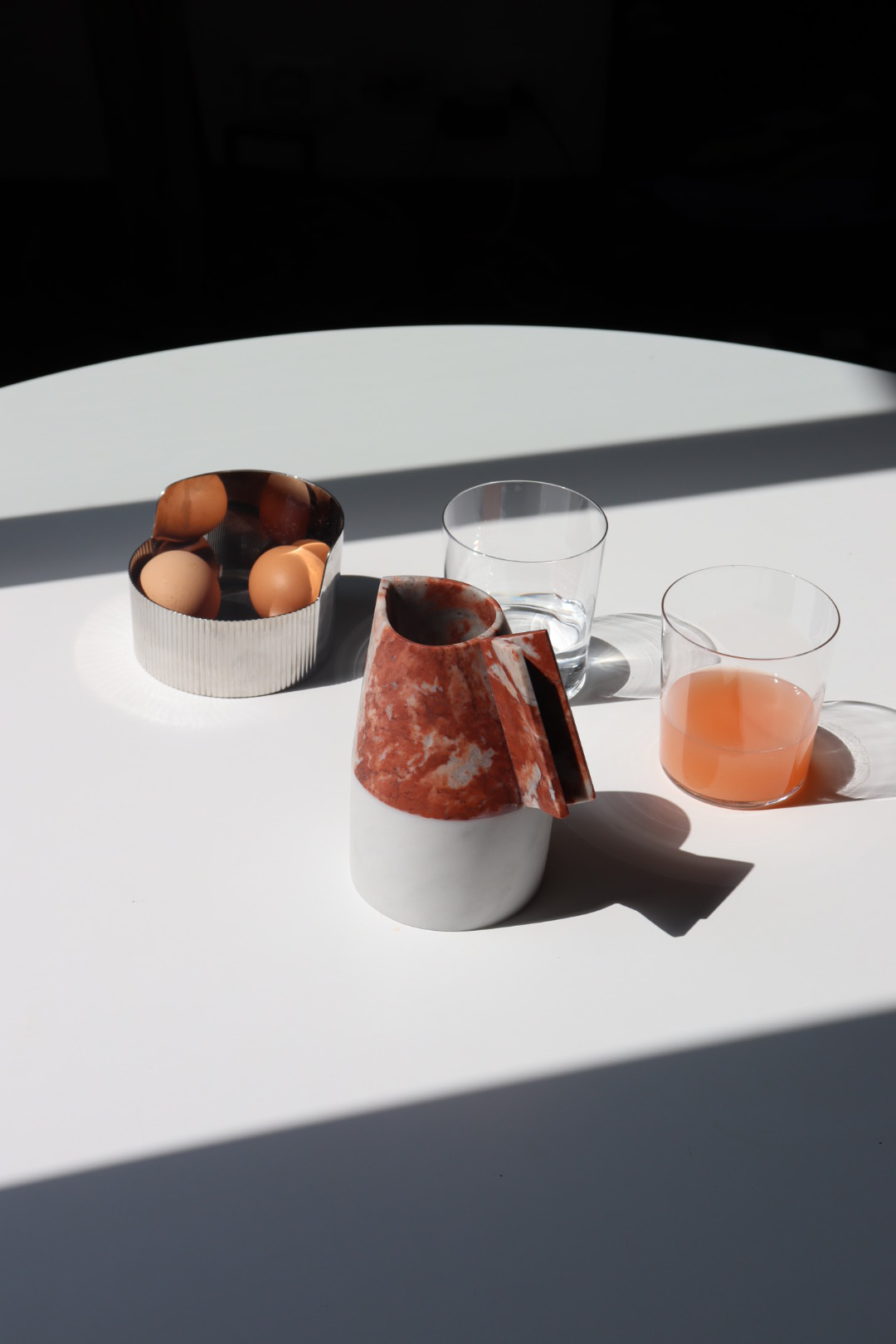 Versi Carafe Small B from Editions; Photographs by Editions Milano
WARM UP HER COZY HOME WITH THE STUNNING RUG FROM MISSONI HOME AND PAOLA LENTI 
Crochet rug from Paola Lenti 
Knowing the luxury furniture brand Paola Lenti, you certainly cannot ignore their beautiful customized Crochet rug, which would please various color tastes of our women. The rug is a formation from many hand-made shapes with different crochet patterns. Some have floral patterns, others are leaf decorated modules. These separate elements will be sewn together by hand, using a synthetic net backing. Being made from shapes, the rug will have gaps that help you see through the floor or wall, creating a mesmerizing highlight for your woman's home. You can choose the most suitable color to her taste from an extremely adorable and young palette. Let her once experience this amazing product which won the EDIDA DESIGN OF THE YEAR award in 2017.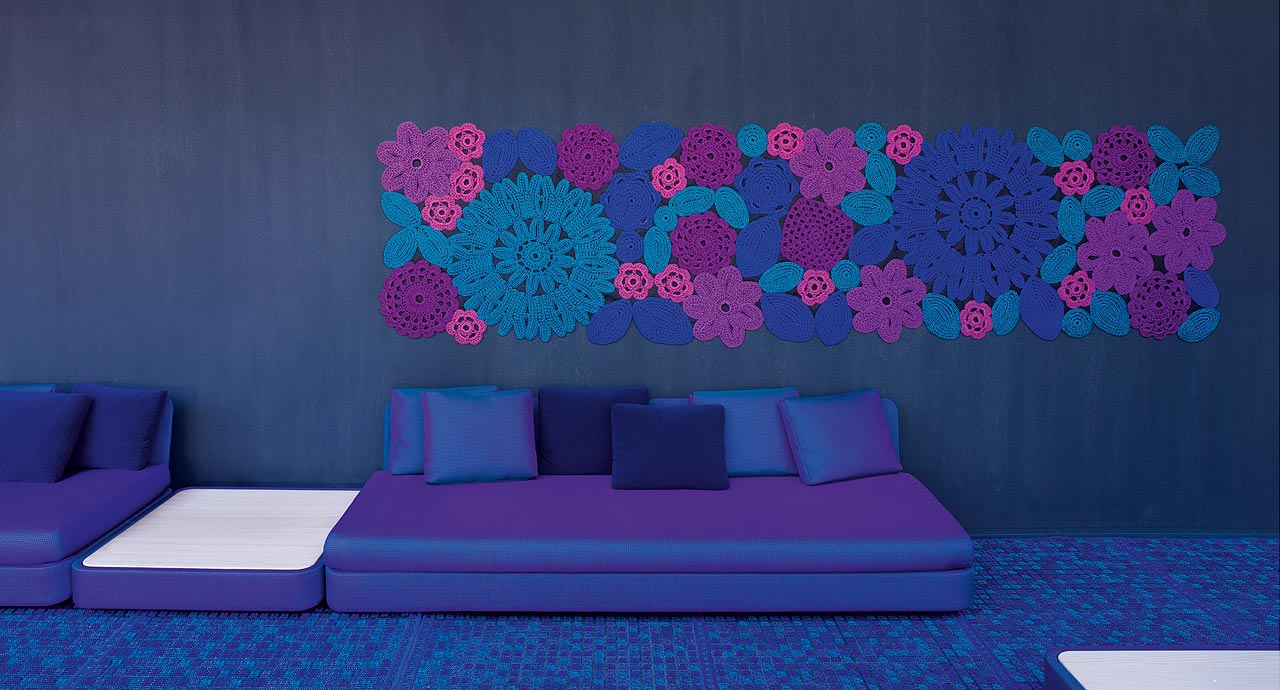 Crochet rug from Paola Lenti; Photographs by Paola Lenti
Luanda rug from Missoni Home
We recommend the Luanda rug from Missoni Home with its sculptural floral design and dark tones for mature women. By the cut-out edge and changing pile height, this beautiful rug can embellish her living space with a three-dimensional effect. The design is the combination of different patterns of flowers, evoking a woman's feeling of standing at a flower field. Luanda has a more classic look but still brings gentleness, fitting with mature female's elegance.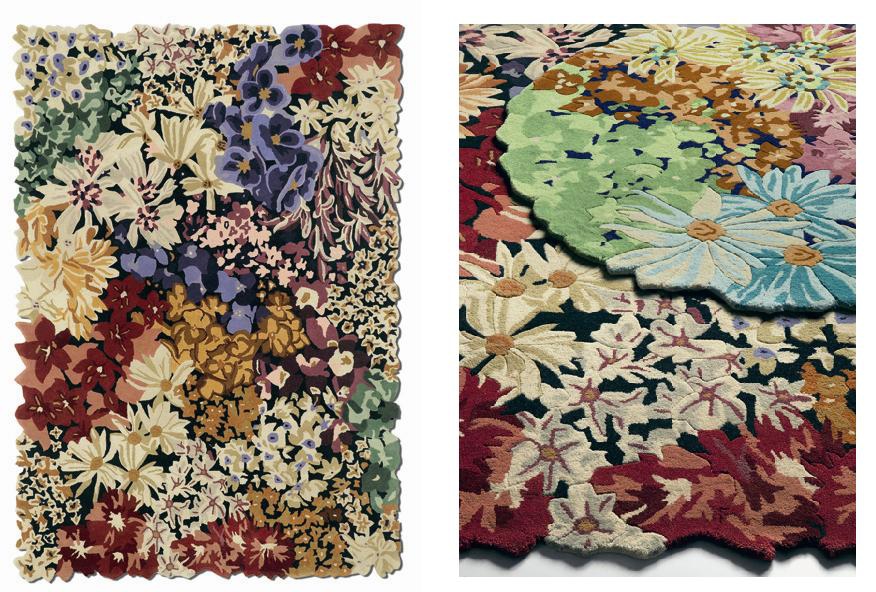 Luanda rug from Missoni Home; Photographs by Missoni 
BRING HER THE PRIVACY THAT SHE ALWAYS DESIRES WITH GTV'S SCREEN 
Feng from Gebrüder Thonet Vienna
Coming from a brand that owns the most iconic interior designs in worldwide cinema history, Gebrüder Thonet Vienna's splendid Feng, which was inspired by Japan's 'shibumi' (discreet beauty) concept, will definitely take her to the most ideal private experience. With the shape of a sail, the product was named Feng, which means "wind", derived from the Chinese word "ping feng". Having a 3-dimensional piece in her hands, your woman can freely adjust the screen horizontally to the extent of privacy that she wants. Besides, the feminine pink color of the sails can win the hearts of beauty lovers.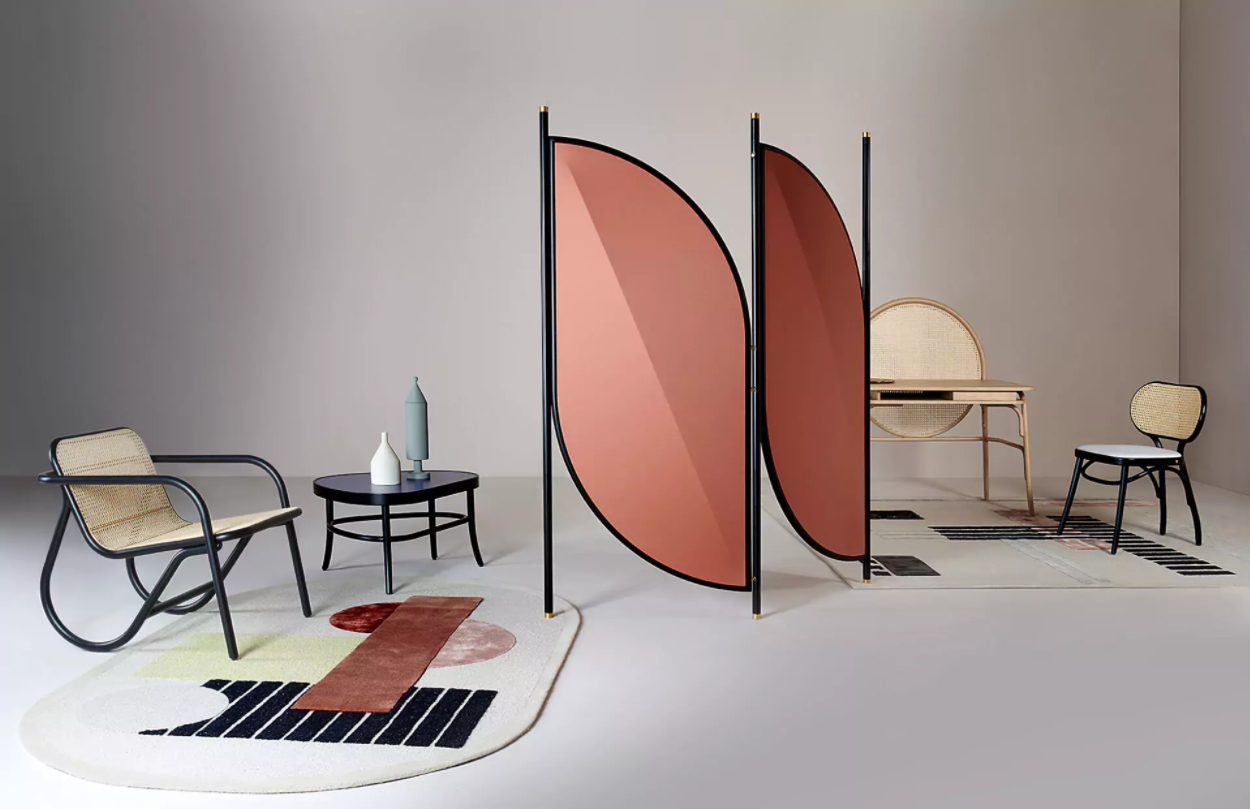 Feng from GTV; Photographs from GTV 
LIGHTEN HER FAVORITE SPOT WITH ARTISTIC LAMPS FROM SLIDE AND OLEV 
Lady of Love from Slide 
In case your ladies love to decorate their daily coffee spots, Lady of Love from Slide would be an ideal choice for this 8th March! This design is an abat-jour, or a classic table lamp, designed with a contemporary and pop reinterpretation style. Vintage charm with noble lines evokes an old romantic atmosphere. With such beauty, the design was named "Lady in Love", a perfect name for the gift to your special woman this year.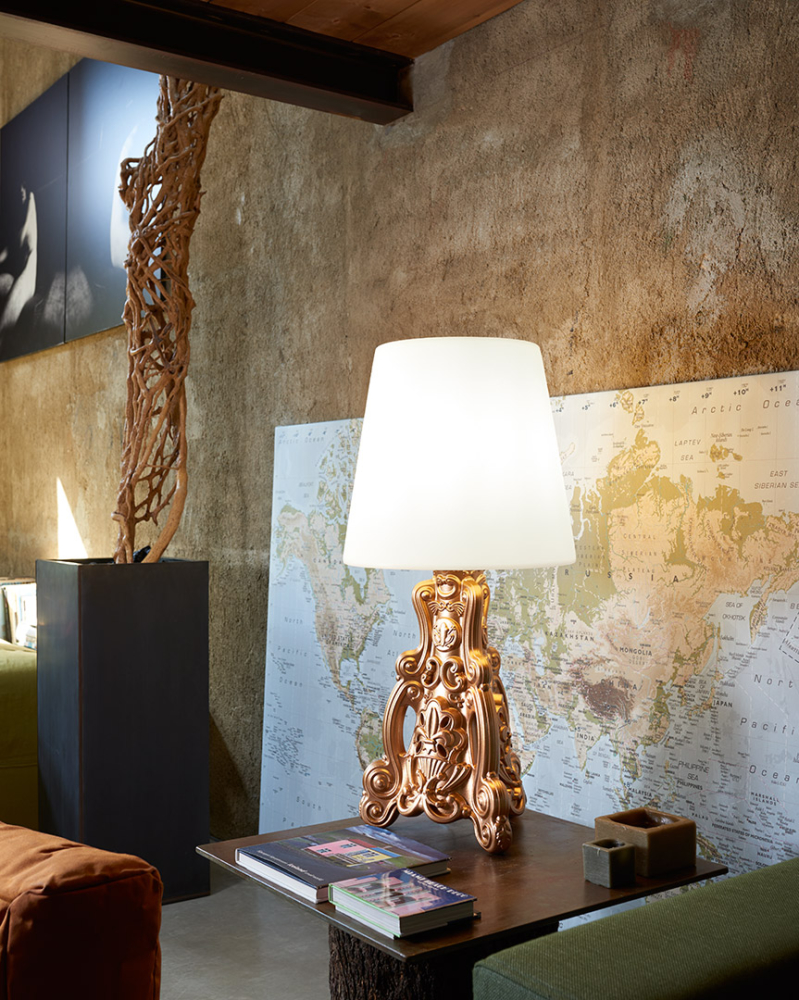 Lady of Love from Slide; Photographs by Slide 
Makà from Olev 
The Makà wireless lamp from Olev is also a smart choice for gifting to ladies. Having a rechargeable battery as a unique selling point, the Makà applies the Dim to Warm LED technology allows the user to freely change the intensity and color of the lamp, creating an atmosphere that best suits their desires.The warm white light from Makà will gradually turn into a warm and soft glow with just a touch of a button. With such effective function and lovely design of the lamp, the product is suitable for any home, adding to the aesthetics of the space.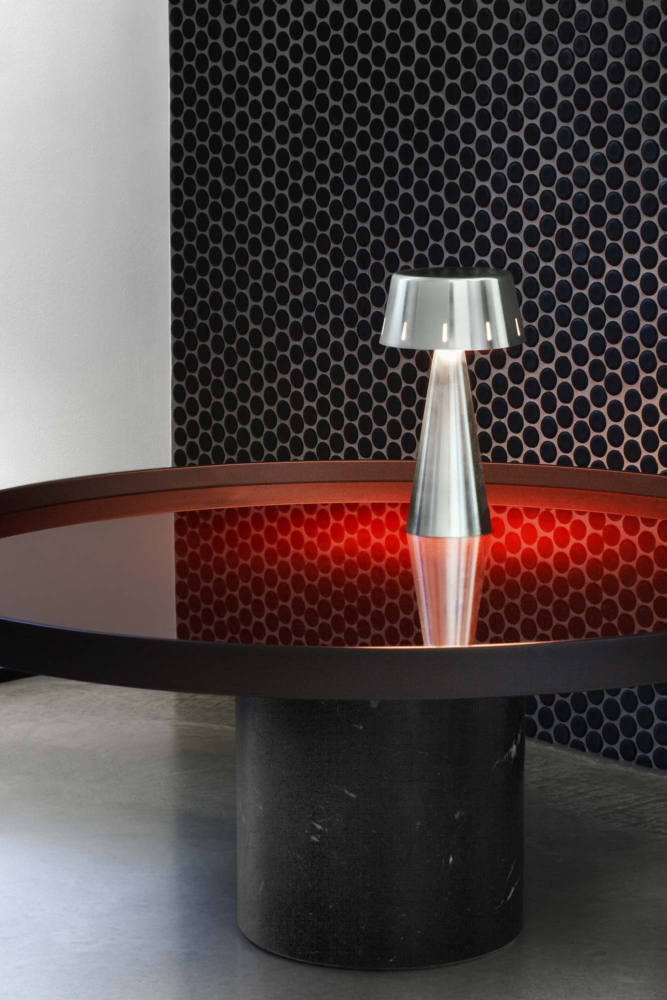 Makà from Olev; Photographs by Olev
COLORIZE HER LIVING SPACE THROUGH JOYFUL CUSHION DESIGN FROM MISSONI HOME 
Agadir Cushion by Missoni Home
Last but not least, just like how the famous Missoni Home luxury brand made the world go crazy with the distinctive patterns, its Agadir Cushion will also make her living room glow with a glorious design. Carrying the collection's signature zig zag pattern, Agadir Cushion's design can add rhythm to any area in which it appears, stimulating not only the viewer's sight but also has an invisible impact on hearing. The product's color is a harmonization of a warm pink and orange color palette, exalting softness and femininity inside our women. Having a tropical vibe, Agadir becomes suitable for not only her living room, but also any other exterior space.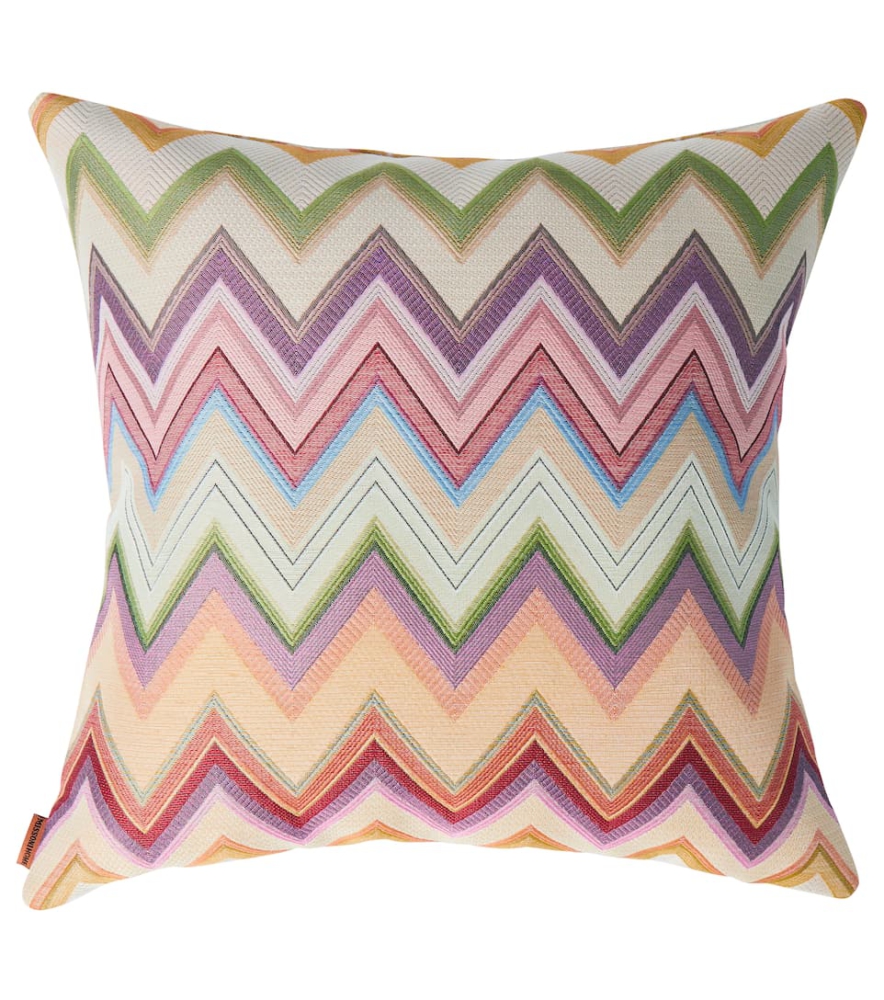 Agadir Cushion from Missoni Home; Photographs by Missoni
Another year has passed and International Women's Day is coming again. It's time for all of us to say our best wishes, thanks, and loving words to the women around us. The dedication that they have contributed to our life seems to be never enough for us to describe. Therefore, giving the most important women in your life a memorable gift is a way to express your gratitude towards them. It is an honor for the Italian Atelier to stay beside you and make this International Women's Day unforgettable. Contact Italian Atelier and choose one of these masterpieces for your women now. Your product will arrive in 8 to 12 weeks from the date of order.