Creating a magical Christmas atmosphere: Take a look at exclusive items for your festive season
Published December 23 2022
"Peace on earth will come to stay, when we live Christmas every day."
Christmas is here! It would be great if in these last days of the year, the space in your room is decorated and filled with a Christmas atmosphere. Forget the chaos and worries of the last days of the year, take a moment to own Christmas-style special items and be ready to turn a small space into a real Christmas wonderland is the perfect choice to "dress up" the house, and at the same time helps us feel joyful and happy before the approaching new year.
The following suggestions from Italian Atelier will contribute to creating a magical Christmas atmosphere, helping homeowners fully enjoy this festive season whether indoors or outdoors.
Immerse yourself in colorful Christmas patterns from MissoniHome
To celebrate the approaching Christmas, Missoni Home fhas launched the Christmas Capsule Collection 2022. Always impressing with special motifs, sometimes zigzag, sometimes intentionally intertwined to create artistic products, MissoniHome has skillfully used this unique point in their collection for the Christmas season this year. Combined with colorful festival colors, outstanding but not flashy and ostentatious, MissoniHome has really created gorgeous items that are festive and still ensure high applicability.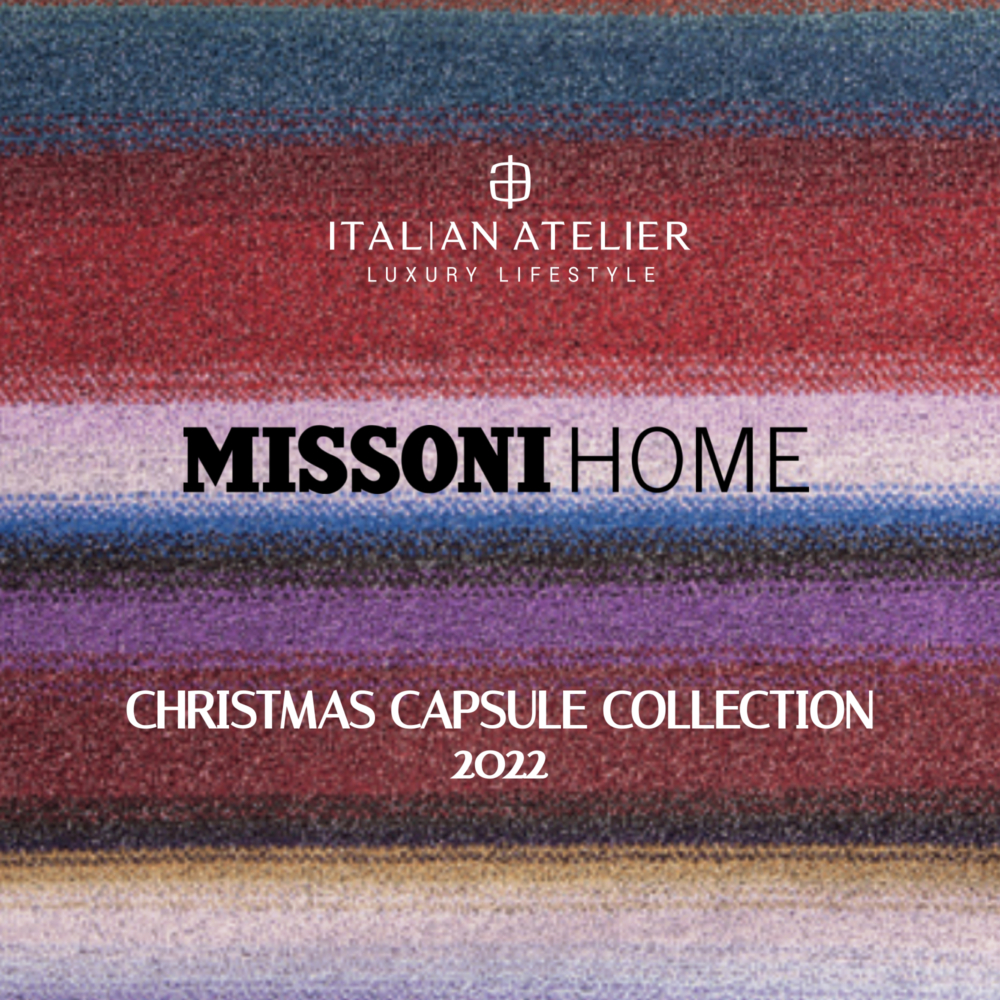 MissoniHome 's Clint items, belonging to Christmas Capsule Collection 2022, are designed with abstract zigzag patterns, with all colors from neutral, warm to cool tones arranged cleverly and delicately. This elaborate arrangement creates an visual effect on the viewers, giving a unique and artistic feeling even in the smallest details.
Spread Cedarwood Scent for Christmas to every corner with Riva 1920
Referring to Riva 1920, everyone probably immediately thinks of wooden items and materials created by special processes, bringing inspiration and special feelings. In the spirit of "The Christmas season is the perfect opportunity to express a bit of madness and let the joy of life enter the house", Riva 1920 brought to Christmas this year "gifts" of furniture shaped according to symbols of Christmas tradition, made from scented cedar. Particularly, this kind of wood of Lebanon is obtained from the scraps of the processing of their benches and stools, extremely in complete with our environment, nature and planet. 

Decorative items inspired by the shape of the Christmas tree are a notable highlight in Riva 1920's Xmas collection. All are made from cedar wood, and reminiscent of familiar and traditional pine trees – the "must-have" item of the Christmas season.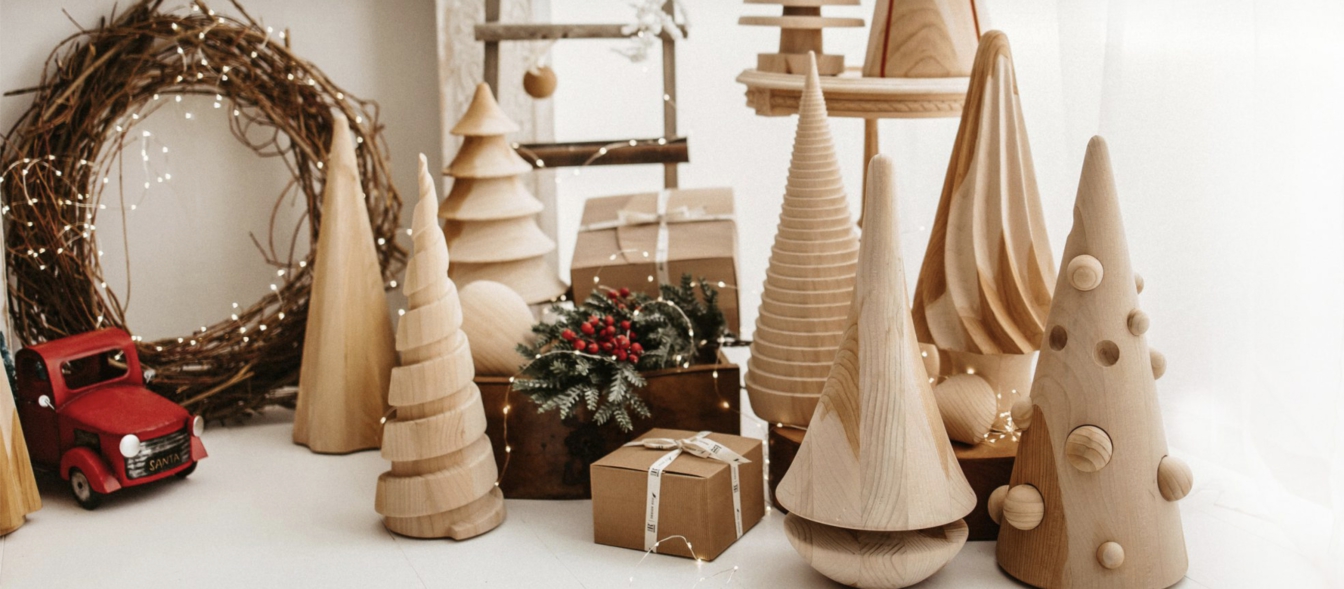 The creativity of the designers from Riva 1920 turns these "pine trees" into many different shapes. They could be curves alternating like Xmas_DG, concentric circles of different diameters like Xmas_PS or combined with a gift box and red bow icon extremely typical of the Christmas season like Xmas_OK. They create an interweaving of traditional and contemporary beauty in a creative way. With a size that is neither too big nor too small, these items completely blow a new breath while still ensuring the Christmas vibes of your home. 
Don't let your living space "deep in the dark" on Christmas Eve with SLIDE
The delicate and gentle lights from SLIDE can illuminate and make your space during the Christmas season more sparkling than ever. Not only for decorative elements, these exclusive furniture can also ease the fatigue and rush at the end of the year, helping you temporarily forget the hustle and bustle to give yourself a moment to relax and rest before turning to a new page.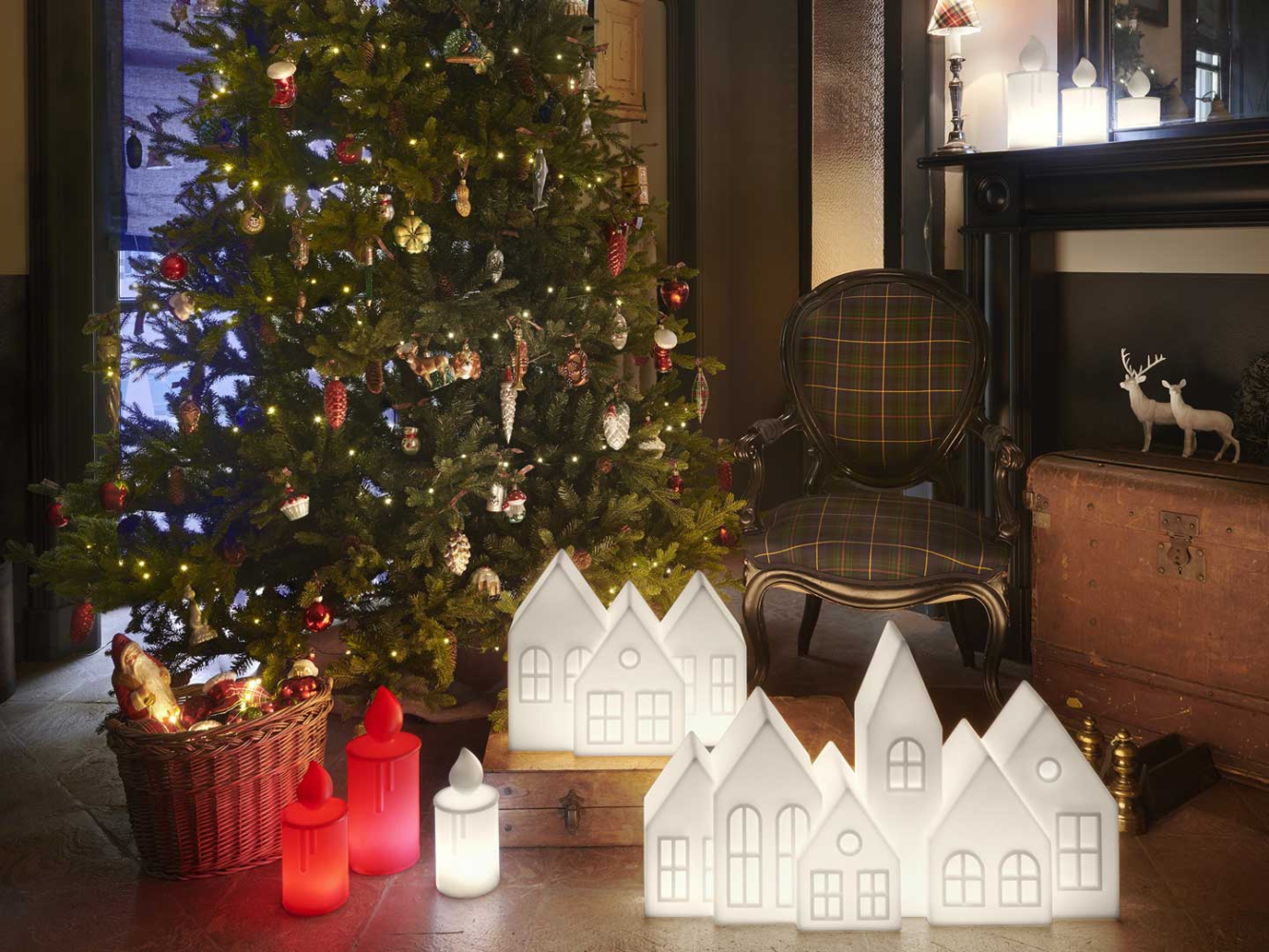 First name from SLIDE is Kuusi. It draws inspiration from Scandinavian shapes, classic interspersed with modernity. Thanks to Kuusi, the space at the end of the year becomes extremely cozy and comfortable. The gentle yellow light combined with the look of Scandinavian houses with a modern Nativity scene makes Kuusi unique when placed in any space. The perfect choice for the Christmas season, Kuusi has been described by SLIDE as "ideal for creating a unique winter atmosphere in shop displays or to become, literally, the luminous center of contract projects or private houses".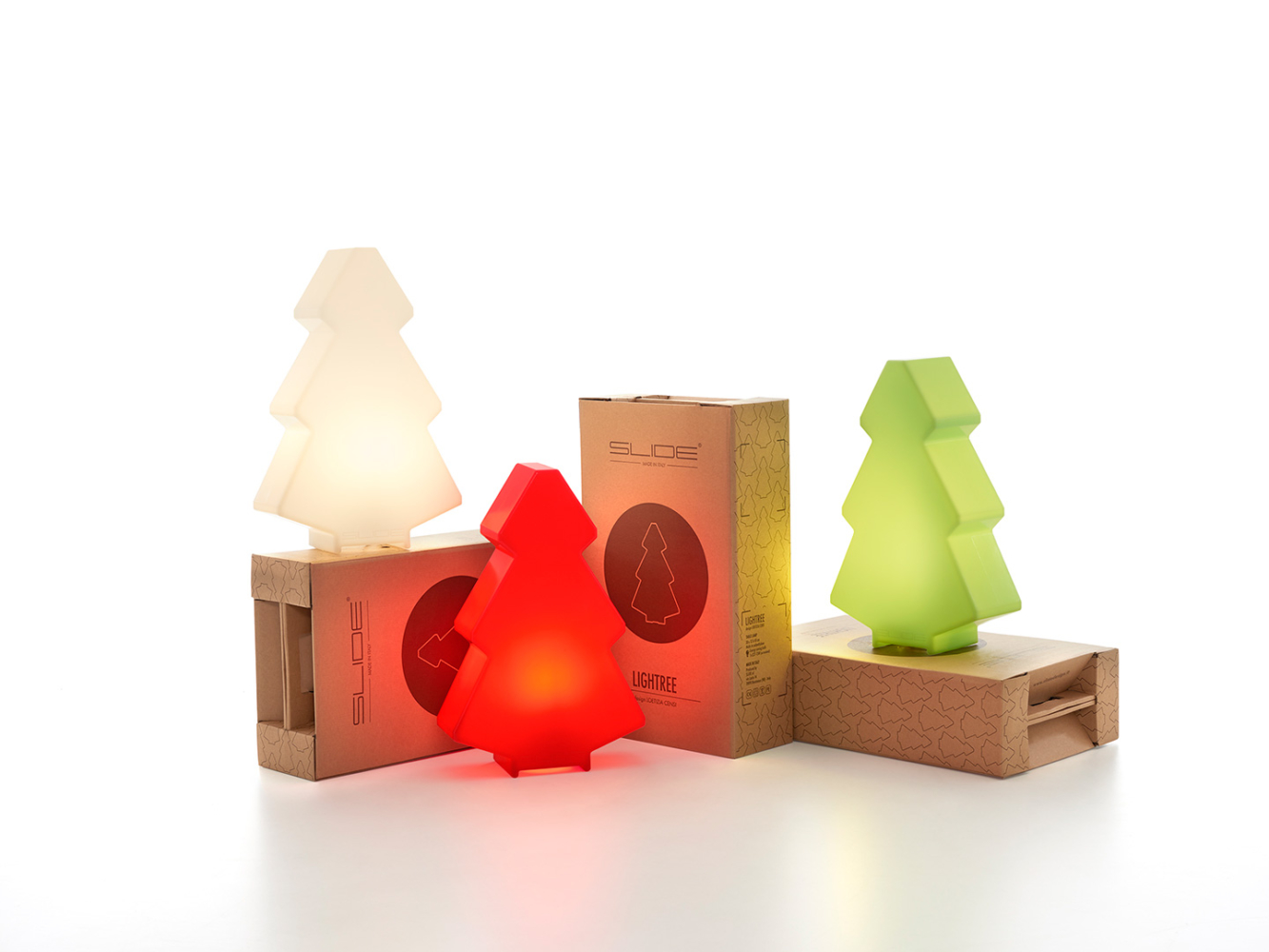 Light tree is also a suitable suggestion when Christmas day is approaching. Inspired by the image of a Christmas tree, it brings both traditional and modern beauty, with the magical look of Xmas season, touching all the owners with exclusive emotions.
Merry Cubo
Merry Cubo is essential and magic at the same time: it is a luminous gift for design lovers or an unusual idea for furnish a shop window or for decor big areas.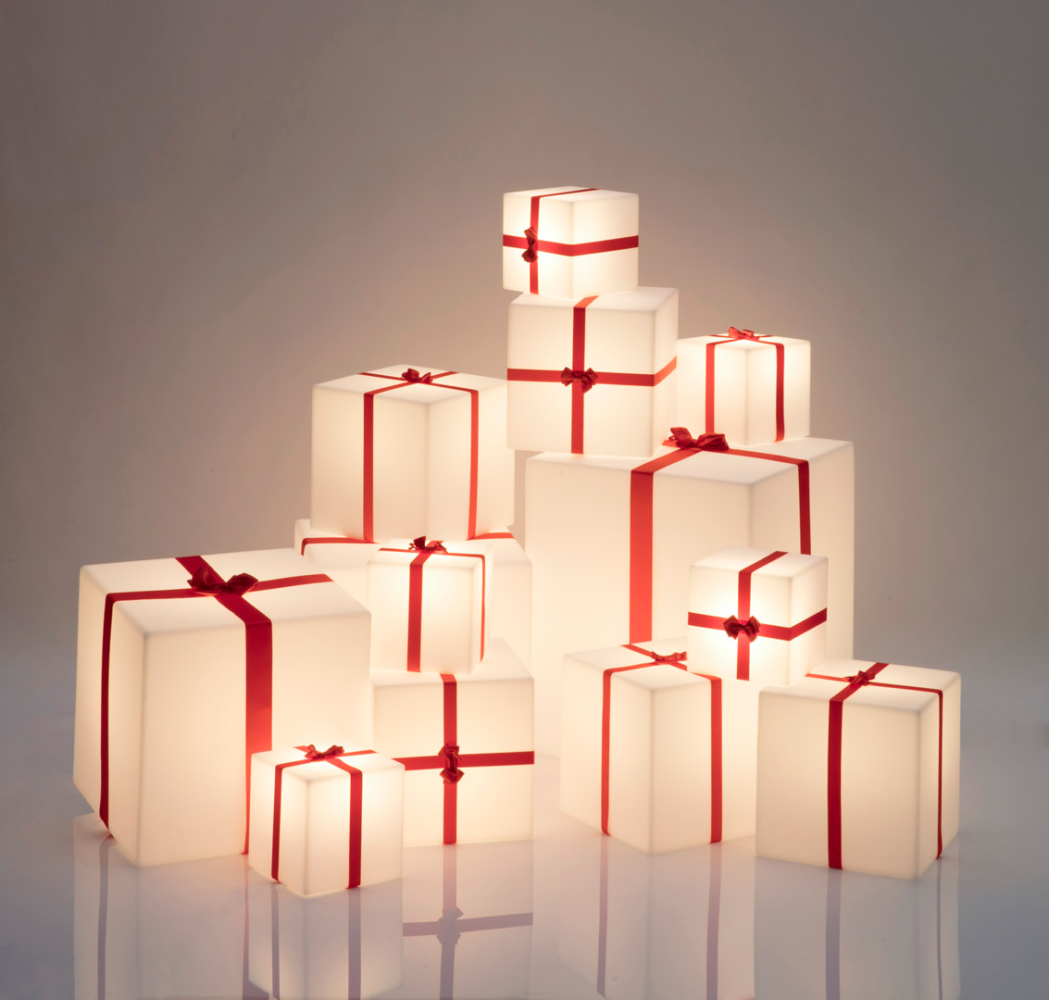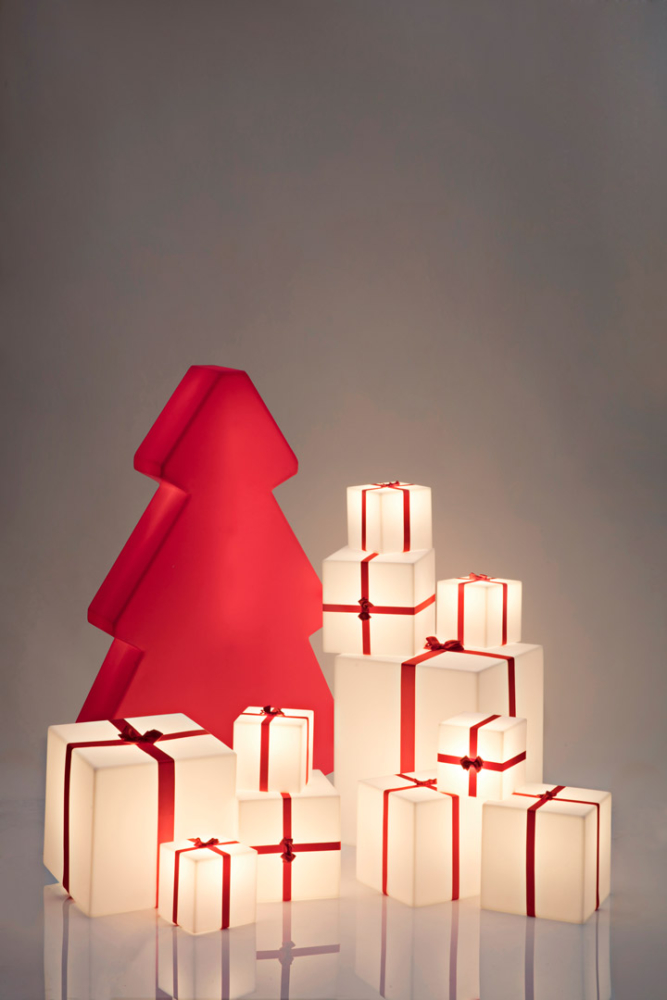 Christmas is not only the festive days, but also a peaceful season, a time to gather family members and friends after a long busy year. Therefore, if you are in love with one of our listed items, don't forget to save & contact Italian Atelier for helping you to prepare for our winter joys.