Earth day 2022 – When sustainability becomes eco-luxury lifestyle
Published May 4 2022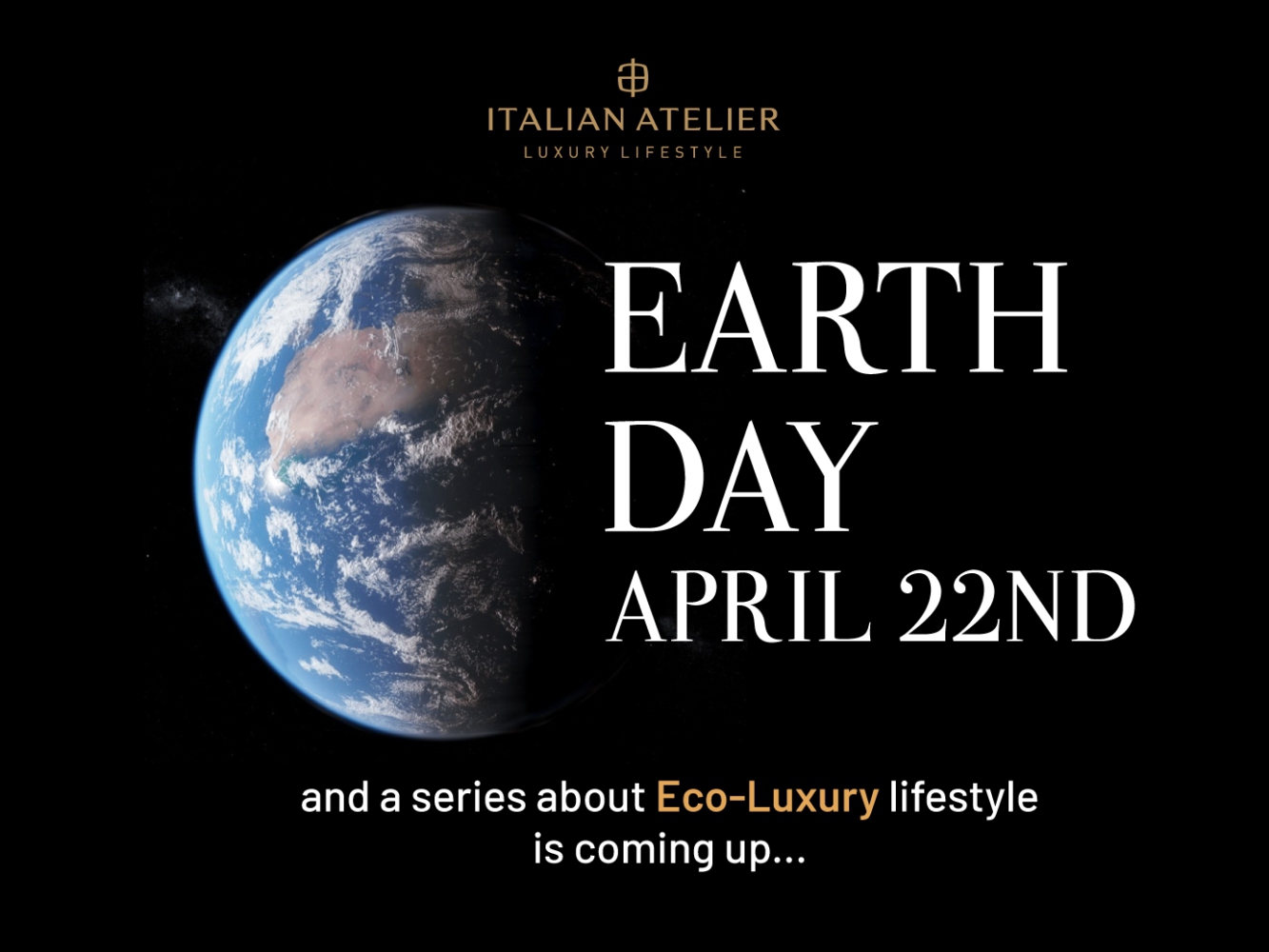 April 22 – this is the day when all of us, regardless of skin color, come together to speak with one voice, to show our gratitude towards the great mother nature. First recognized in 1970, Earth day has made a great impact on people's awareness, conscience, and responsibility whenever they think of nature, who has always been the source of existence for all living creatures. Sustainability is now becoming a lifestyle… Following the trend, this spirit has also been breathed into the world of luxury furniture. Not only is it the inspiration of many design artworks, but it is also the guideline and core value of many sustainable furniture brands. On this Earth day 2022, we would like to show our respect and love for nature by going through the eco-luxury spirit in furniture. 
ClassiCon – the functional and aesthetical sustainable furniture
If you have been into the luxury furniture industry, the name ClassiCon must be no longer unfamiliar to you. Thinking about ClassiCon is also thinking about a pioneering spirit which has been found for 32 years. Being a combination of "Classic" and "Contemporary", they always aim for works of art that include design, function, and quality at the highest level plus a good shot of emotion, those designs that people of all eras can deeply feel.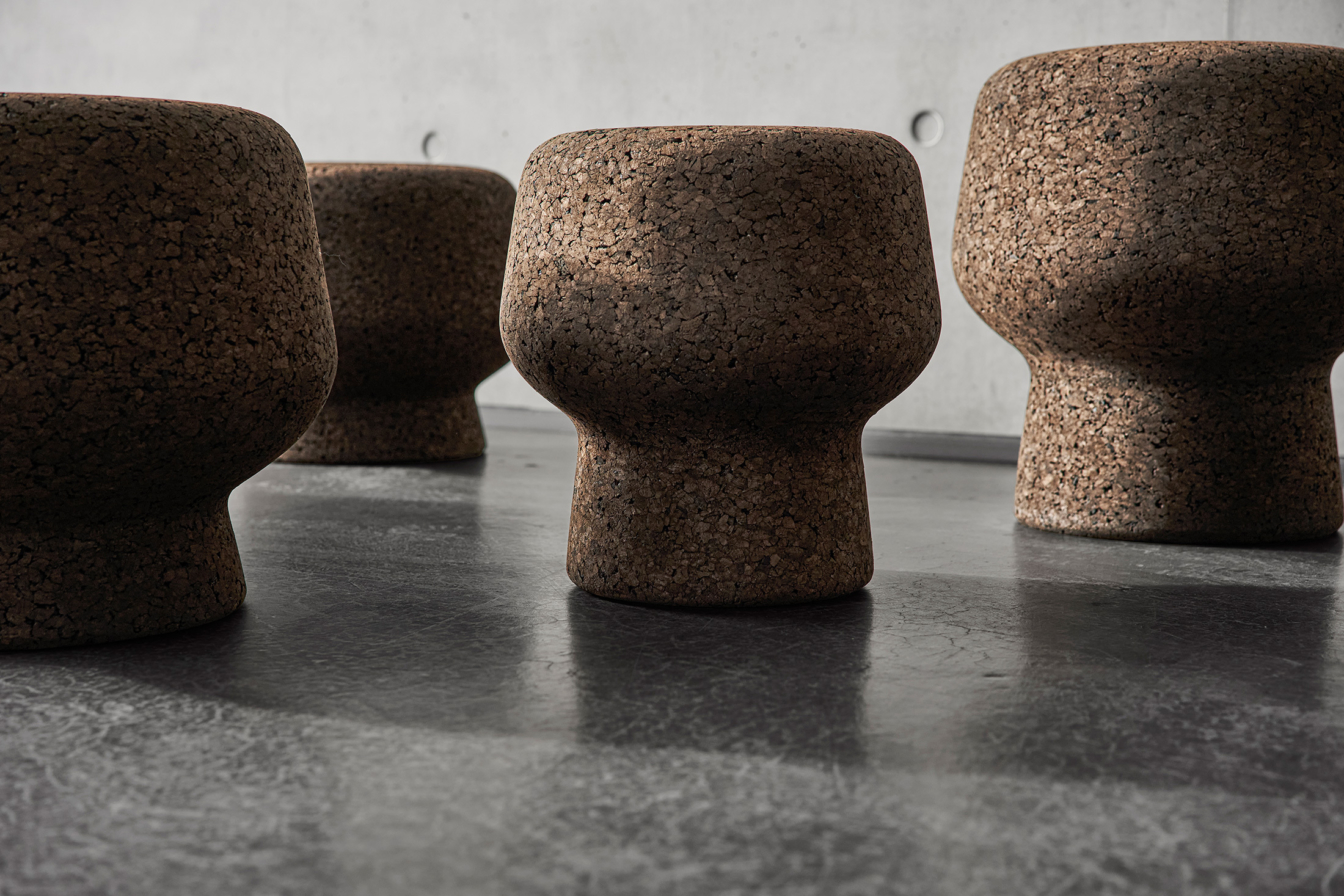 Corker No.3, designed by Herzog & de Meuron, 2022, can amazingly work as either a side table or extra seat. They are made entirely from sustainable materials every 9 years from local forestry in Portugal, which can be 100% recycled. We can find the whole spirit of ClassiCon through this design: classic, versatile, and flexible.
When ClassiCon says "Think and care globally, – Work and care globally", it is also talking about their great respect for the world's nature. The eco-luxury lifestyle that ClassiCon creates has been patch-worked through the hands of many professional designers, developers, suppliers, and craftsmen. Therefore, expertise in materials selection and production has made ClassiCon their sustainable products, which technically and aesthetically stand in front of the test of time. All ClassiCon products can be disassembled and returned to a recycling loop, where new life for the new item will continue. This eco-luxury spirit is even included in the construction of ClassiCon's building, whose concrete, steel, glass, and wood are all recycled. Therefore, the life longitude that ClassiCon included in the lifestyle of their customers actually all began with their admiration for time and natural resources.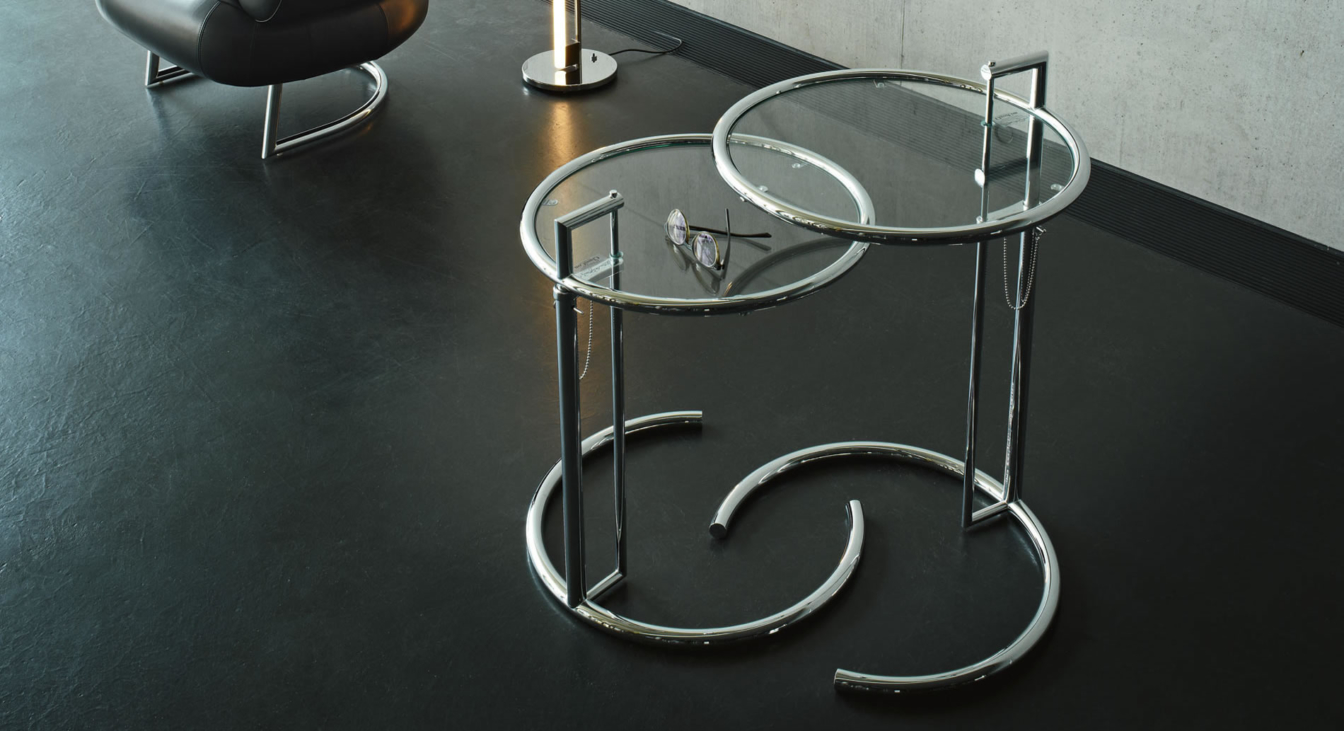 One of ClassiCon's most legendary products, the Adjustable table was designed by renowned architect Eilleen Gray in the 1920s and 30s, which is timeless and one of the most beloved classics. The product is made from steel and glass that can be all recycled, bringing an eco-luxury lifestyle of art.
Paola Lenti – the innovative and durable sustainable furniture
Paola Lenti, the Italian furniture brand, has shown a serious eco-luxury spirit throughout its history via adorable and eye-catching designs. In 1994, starting from a small business, they were dreaming big. Finding something truly unique, sustainable, long-lasting, and revolutionary was what Paola Lenti aimed for. With a technical fabric in hand, they envisioned a potential future with a yarn with the same dimensions, similar to the lines used in sailing, that can resist water and ultraviolet rays.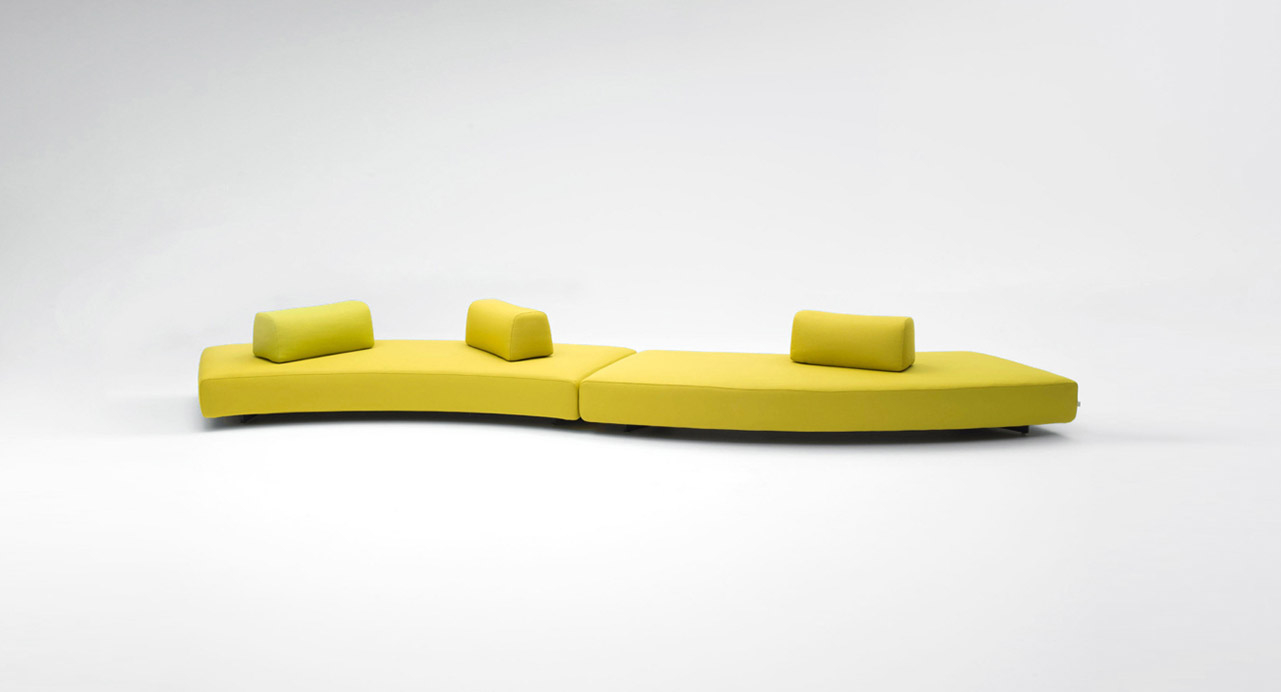 Orlando, Paola Lenti's famous fabric sofa, is made from stress-resistant expanded polyurethane, polyester fiber and polyurethane, and waterproofed polyester, which are all recyclable. The sofa has a unique design with large seat pieces joined together, resulting in soft movements.
Years after years, what Paola Lenti has done was not only turn yarn into an outdoor fabric but also transformed it into their innovative Rope. Rope, by their definition, is "an exclusive technical yarn, 100% recyclable, resistant to water, ultraviolet rays, mold, and bacteria". The finding embodies the eco-luxury spirit of Paola Lenti throughout its history. An increasing number of tests have been executed and successfully prove the sustainable, resistance, and longevity of ropes in all harsh environments and erratic weather.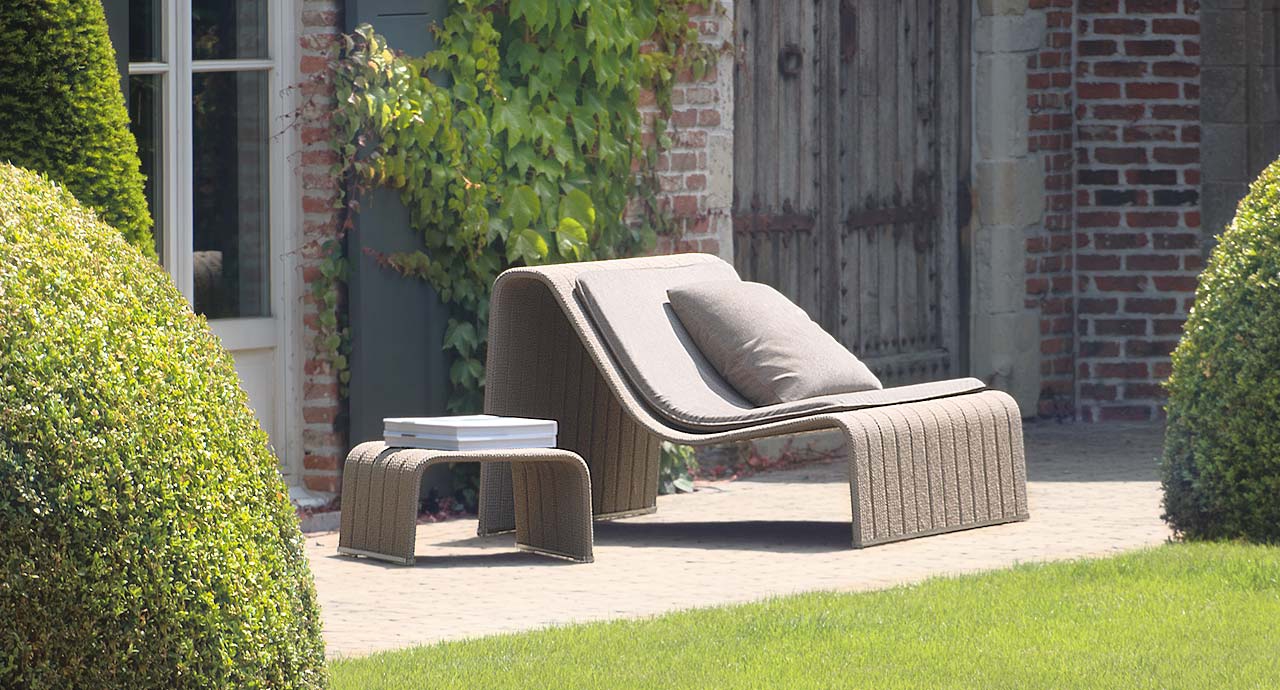 Frame sofa from Paola Lenti is made of polyester fiber and waterproofed polyester. The production cycle also has a time frame to ensure a low negative impact on the environment.
Choosing Paola Lenti is choosing a lifestyle containing dynamic colors, and towards the mother of nature. Their natural respect is also identified in the way they produce limited environmental impact as low as it can be.
Riva 1920 – the traditional and wooden sustainable furniture
For Riva 1920, the phrase "eco-luxury" is not a marketing strategy, but a core value that has accompanied the brand. Established in 1920, their love for wood has been passed down to 3 generations over 100 years. They have found their vision of a planet where creativity, design, and innovation will reshape society by preserving an intact living nature for the future. With such a vision, Riva 1920 designs, handcrafts, and creates products that enhance lifestyle while not harming the environment. The power of artisanship, technology, and the made-in Italy value are combined for eco-luxury development.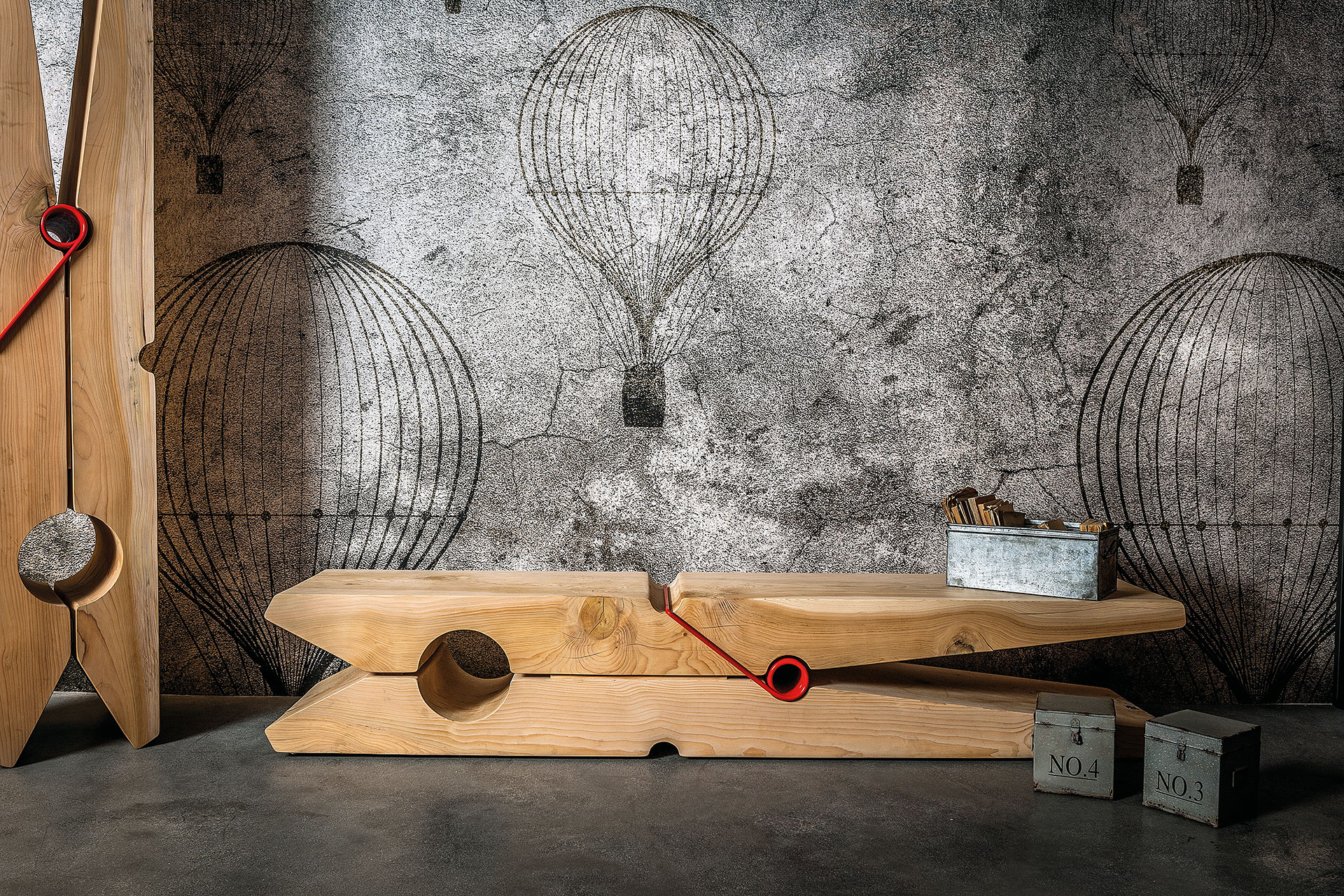 Molletta is a bench made from solid scented cedar, worked from single blocks. The design is inspired by the classic Pop Art off-scale approach that takes the form of a giant clothespin.
Riva 1920 included eco-luxury concepts into the materials and production of their products to infuse value into the business. Plywood and solid wood are used in the majority of their goods, which are all sourced from sustainably managed forests and processed for programmed cuts. When a tree is chopped for Riva 1920 furniture, another is planted to replace. The brand has given a third life to  Briccole wood from the Venice Lagoon, in particular, which became unique and historically valuable after being submerged in water and tempered in salt. When a tree is felled for Riva furniture, another is planted in its place. Choosing Riva 1920 means opting for a green lifestyle that honors Mother Nature.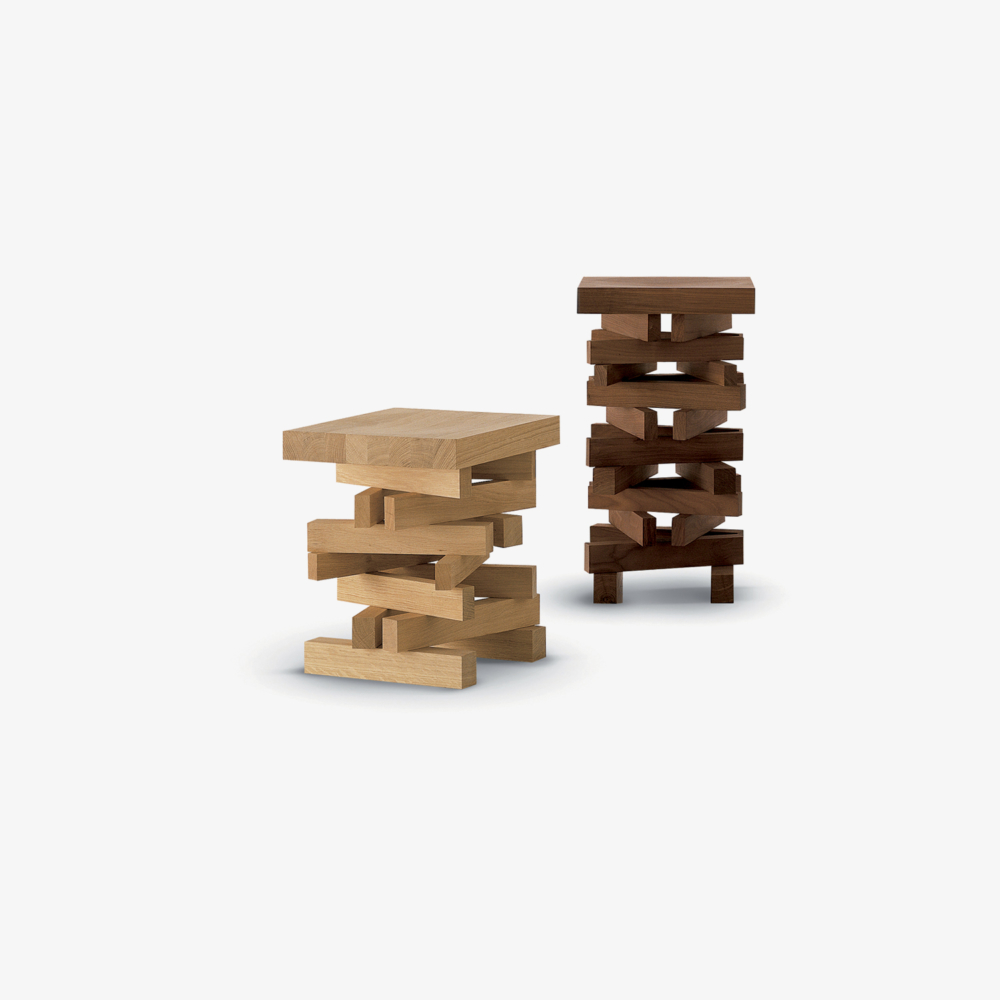 Falò is a famous stool from Riva 1920 with a design of unevenly overlapping strips. The product is made from 100% solid wood, which has been used for eco-friendly programmed cuts.
OLEV- the healthy and delightful sustainable furniture
Eco-friendly and efficient, are the two most perfect words used to describe the Italian lighting brand, OLEV. Although only established in 2014, which is much younger than the above houses, the brand was founded by an entrepreneur with 25 years of experience in the lighting industry, named Andrea Lanaro. Stepping up from all preconceptions about mainstream lights that are simply used to light up, OLEV has researched and applied the most advanced technologies to fulfill its civilized and eco-luxury mission.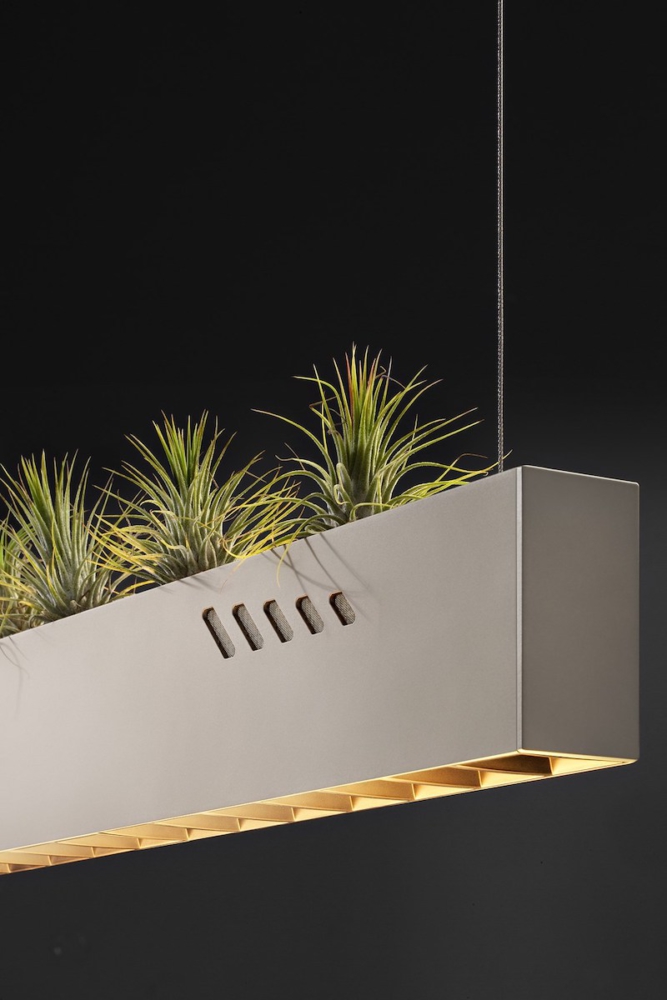 Before an era of epidemics, Pure Bioair was born as either a lamp or air sanitization to improve the quality of the human living environment. With an axial fan extraction system, the lamp can suck and sanitizes up to 99% of viruses in the air via a UV-C ray source inside.
Based on research on how lighting can have an impact on human moods and health, OLEV has decided to create lamps that can change the variation of light based on the time of day. Lighting that is personalized to your requirements and physiology will bring you a happier and healthier life with less depression. Furthermore, they also allow lighting to function as a sound absorber and air filter by incorporating natural components like leaves and grass into the design. It is true to say that OLEV promotes a healthy lifestyle that is eco-luxuriously conscious.
Drum, a famous lamp design of OLEV, is a wireless table lamp, whose battery is rechargeable. You can freely customize the intensity and color of the light with the dim to warm LED technology, creating a mesmerizing atmosphere.
Choosing to live an eco-luxury lifestyle is also showing our responsibility to the environment in specific, and the planet in general. Therefore, on this Earth day 2022 week, let's sing the same song with Mother of Nature to honor the most beautiful natural values and protect them by choosing the eco-luxurious furniture pieces. If you are in love with mentioned brands, please contact Italian Atelier to own one in the green list right the way.
Italian Atelier