Historical luxury furniture brands are more colleagues than competitors: An exclusive interview with the CEO of Poltronova
Published November 2 2021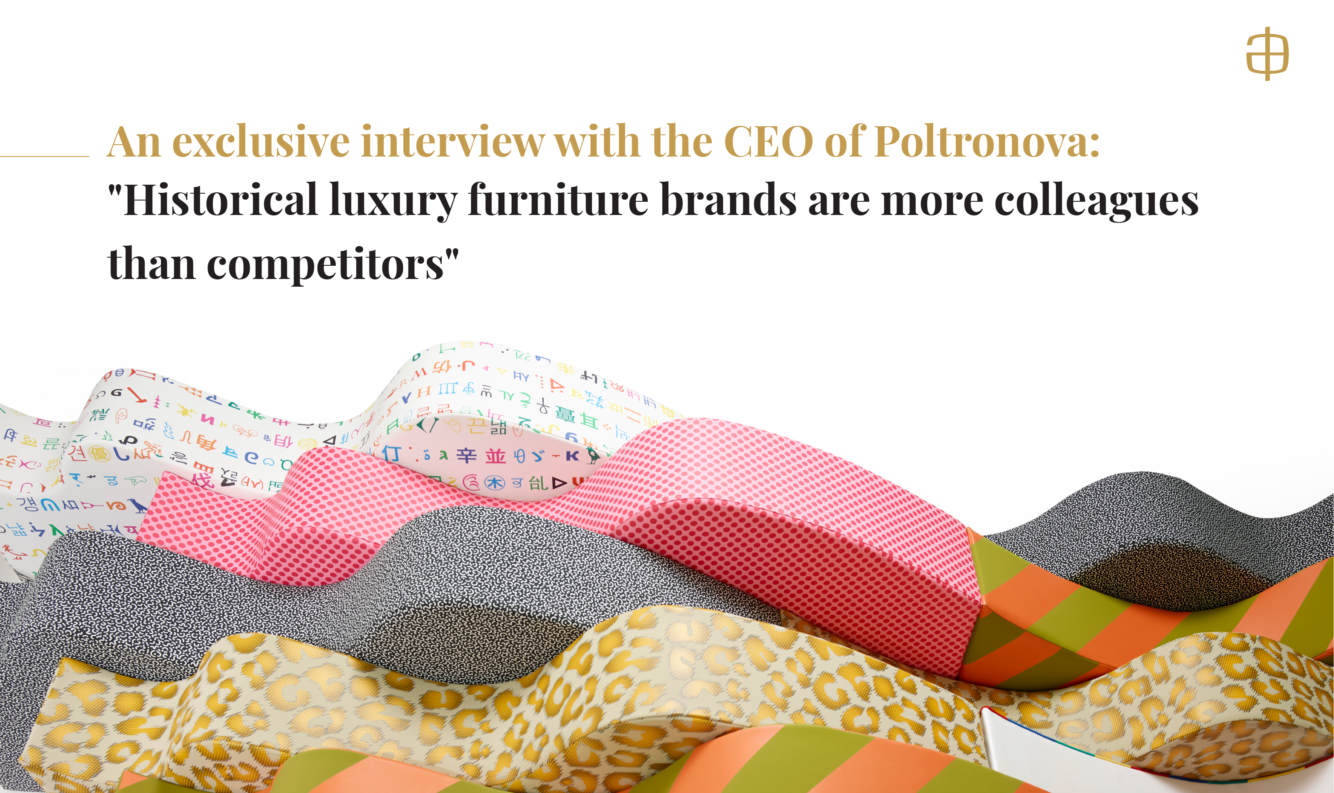 In 1957, Sergio Cammilli founded Poltronova and in the following year, he turned to seek the art direction of a young visionary called Ettore Sottsass, who at the time was designing ceramics for Tuscany-based Bitossi.
Deeply inspired by Superstudio and Archizoom's Superarchitettura exhibition in 1966, Cammilli and Sottsass enlisted them to produce collections for Poltronova. The course of design history was forever changed from that moment, all because the owner and the art director wanted to do something more daring than just ordinary home furnishings. 
However, in the 1970s, when both of them left Poltronova, the company headed to a more commercial direction and was struggling to find an audience who resonated with them by 1985. Roberta Meloni, having fallen in love with Poltronova after the lessons of Professor Gianni Pettena and Andrea Branzi's famous book La Casa Calda, challenged the then CEO of the company and was determined to preserve the legacy.
Now, as the CEO of Centro Studi Poltronova, she has succeeded at maintaining and accelerating Poltronova's name, as well as continuing to bring the brand closer to a wider audience. In August 2021, Italian Atelier had the chance to talk with Roberta Meloni and listen to her story.
Italian Atelier (IA): Tell us about how you started working for Poltronova?
Roberta Meloni (RM): In the 1990s, my father was a member of Poltronova. I started visiting the company to understand his work better. Then, I met my best friend, my mentor, and my teacher, Ettore Sottsass. With his help, I became the owner of Poltronova in 2000. He is the one who has the biggest influence on my career.
IA: How do you feel working with people with a completely different culture from yours? 
RM: I am really excited to learn about different cultures and work with people. 
IA: How does Poltronova differentiate itself from other competitors in terms of values and uniqueness? 
RM: Poltronova is older and more historical. The brand is in a very niche area. Actually, we refer to competitors as our colleagues, specifically Memphis and Giovannetti. We share the same supplier.  Sottsass was the art director of Poltronova from the 1950s to the 1960s. At the end of the 70s, he was the founder of Memphis Group. Sottsass made Memphis more popular, especially in the United States, because he didn't own Poltronova back in the day and the original owner didn't do much advertising for the brand. As Memphis started to be more well-known in America, some of Sottsass's designs were mistaken as a Memphis' product, namely the Ultrafragola mirror. However, it is his original design for Poltronova as part of the Mobili Grigi series. 
IA: What is your opinion regarding the future of radical design & Poltronova? Which key role will Poltronova play?
RM: The future would be bright. This movement is old but is being rediscovered now. When it was born, it was not considered important. In the last few years, the importance of avant-garde is being rediscovered. 
IA: The "Made in Italy" label has always been associated with high-quality craftsmanship. To what extent has this association contributed to your success? 
RM: I think we need more craftsmanship because customers want something designed for them that functions well. What I mean by craftsmanship is the love, passion, attention to detail, accuracy, and the time one puts into a product. The customers want to know that the company is making something for them. It is a luxury to know that someone crafts a piece that is owned by you and only you
IA: What are Poltronova's criteria when choosing a design?
RM: We would want a design to tell a story. When a person looks at that product, would they want to have that item in their house right now even without knowing the whole background? That's our criteria. 
IA: What is Poltronova's plan regarding sustainability? 
RM: Sustainability is already inside every product. We make each and every one of them with affection. Moreover, Poltronova does not aim at fast design. Our items are something you can pass on to future generations because of their timelessness. They are that long-lasting because of the endurable material. We have the best material. We have had the same supplier for 20-30 years. The brand knows them personally and how they work. 
IA: What is luxury to Poltronova? 
RM: Luxury is an abstract and hard-to-define concept. It has certainly become much messier and more confusing over time. From my perspective, a luxurious product has to hold great values in terms of idea and rarity. It of course has to be beautiful, but beauty is in the eyes of the beholder. Luxury also is not defined by money. 
IA: Which one is your favorite product of Poltronova?
RM: The next one
IA: Do you think Ultrafragola helped improve brand awareness? And were you surprised when it became such a hit for the younger audience (Millennials, Gen Z)?
RM: Sure, yes but not too surprised because we're living in a world of images and social networks. Everything is fast and 2D. The mirror is perfect for such a world.
IA: What is the most special thing about Poltronova products?
RM: Color, materials, design, details, quality, history, story, everything.
IA: The public might consider your colorful, bold image to be less luxurious, what is your take on that? 
RM: In the past, one item was considered luxury if it's black and shiny. Now, it's about the story the object is telling you. It's the emotional and visual exchange that makes up a luxurious item.
IA: If you have to choose one product as a centerpiece for a showroom or store, which product would it be? 
RM: It depends on the phase. I think that every other product can revolve around the centerpiece. You can just own a masterpiece and everything else that surrounds it will help master the space. That can also be considered a luxury.
IA: Do you intend to create a whole new original collection?
RM: We are not sure when. I intend to continue producing objects assembled from the archives. Future projects may or may not all arise. But we will remain faithful to the company's pledge to uphold freedom of expression.
© Italian Atelier 2021