Inside Salone del Mobile 2023 with Italian Atelier: Which brands are your favorite? (Part 2)
Published May 20 2023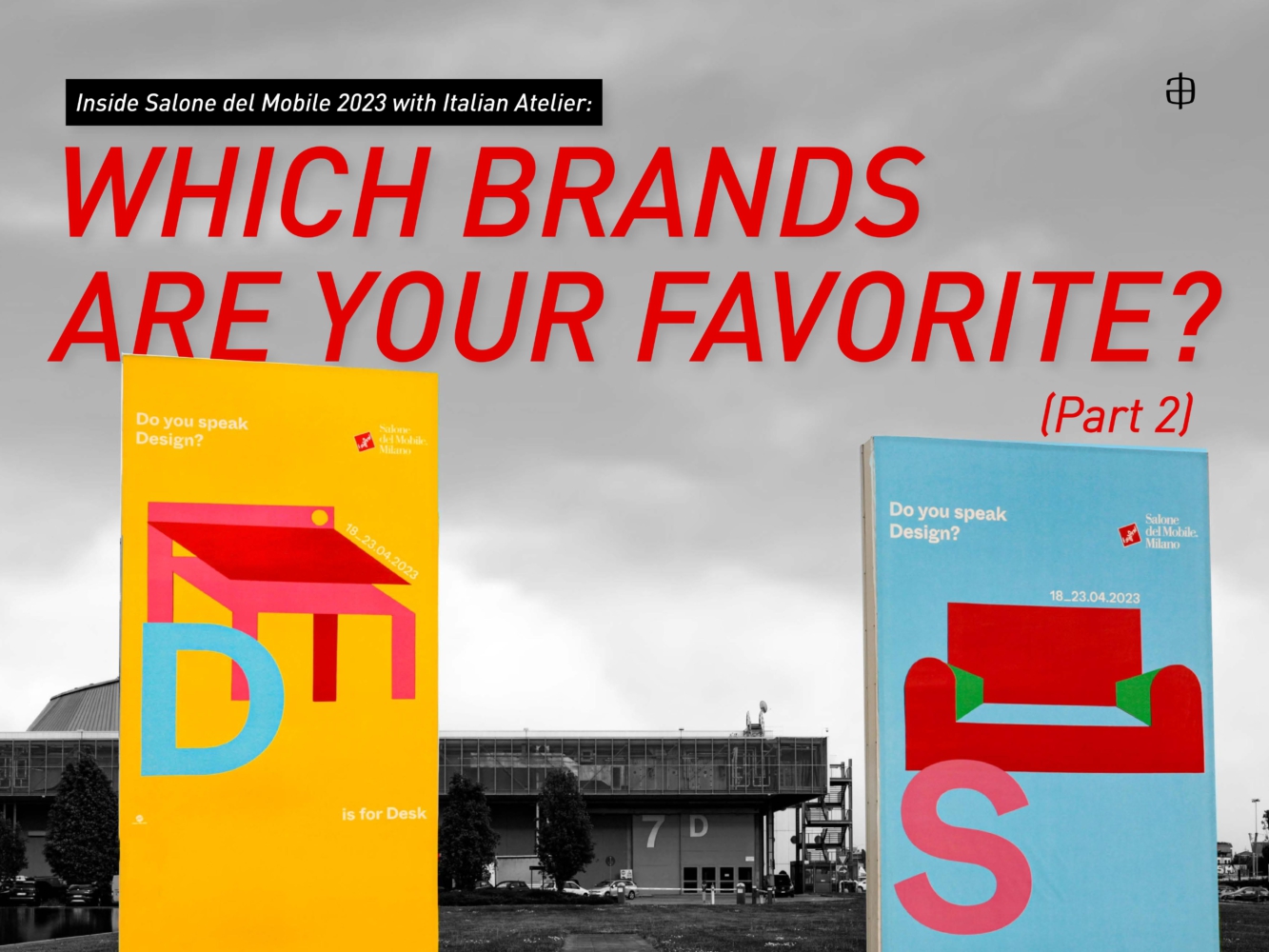 Salone del Mobile has come to an end, but Italian Atelier is still in awe of the lively and vibrant atmosphere in Milano. Here are our top 10 brands from this 23 edition.
The brands in our previous article from the world's largest fair last April weren't enough. Continuing the list of our favorite moments from Salone del Mobile, we have another 10 impressive products and trends Italian Atelier has noticed from this 2023 Milan Design Week. Just as crowded as the fair this year, the furniture industry is becoming more and more bustling with brand participants from all over the world, especially Italian Atelier's partner brands. If you've wondered which brand gets the spotlight today, make sure to sit back with your favorite drink, relax, and let's discover what's new and exciting in the world of luxury furniture at Salone del Mobile 2023 with Italian Atelier.
Our brands at the Salone del Mobile 2023
As we check in in front of the iconic entrance of Salone del Mobile, the air is immediately filled with excitement and anticipation. Wandering through the exhibition's new layout was like being lost in a garden in Alice's Wonderland, surrounded by masterpieces and innovations of the finest luxury furniture brands. Through insightful conversations with brands' owners and key persons, we know that each brand has a unique story to tell, a story that speaks to passion, creativity, and dedication.
Ex.t, the innovative bathroom furniture brand, made a splash at Salone del Mobile 2023 not only with their best-selling collections but also with their latest collection, designed by the talented duo Bernhardt & Vella. The new Origami collection is a perfect fusion of traditional and contemporary looks, giving a new soul to the ancient paper-folding art of the Japanese. We were deeply impressed by how they reinterpreted such traditional art in their modern, elegant bathroom collection.
"We've translated a serene and discrete elegance into purity, the balance of lines and shapes, lightness and airiness. Probably our more feminine side is turning into a sweet, soft, but also contemporary and pragmatic sign."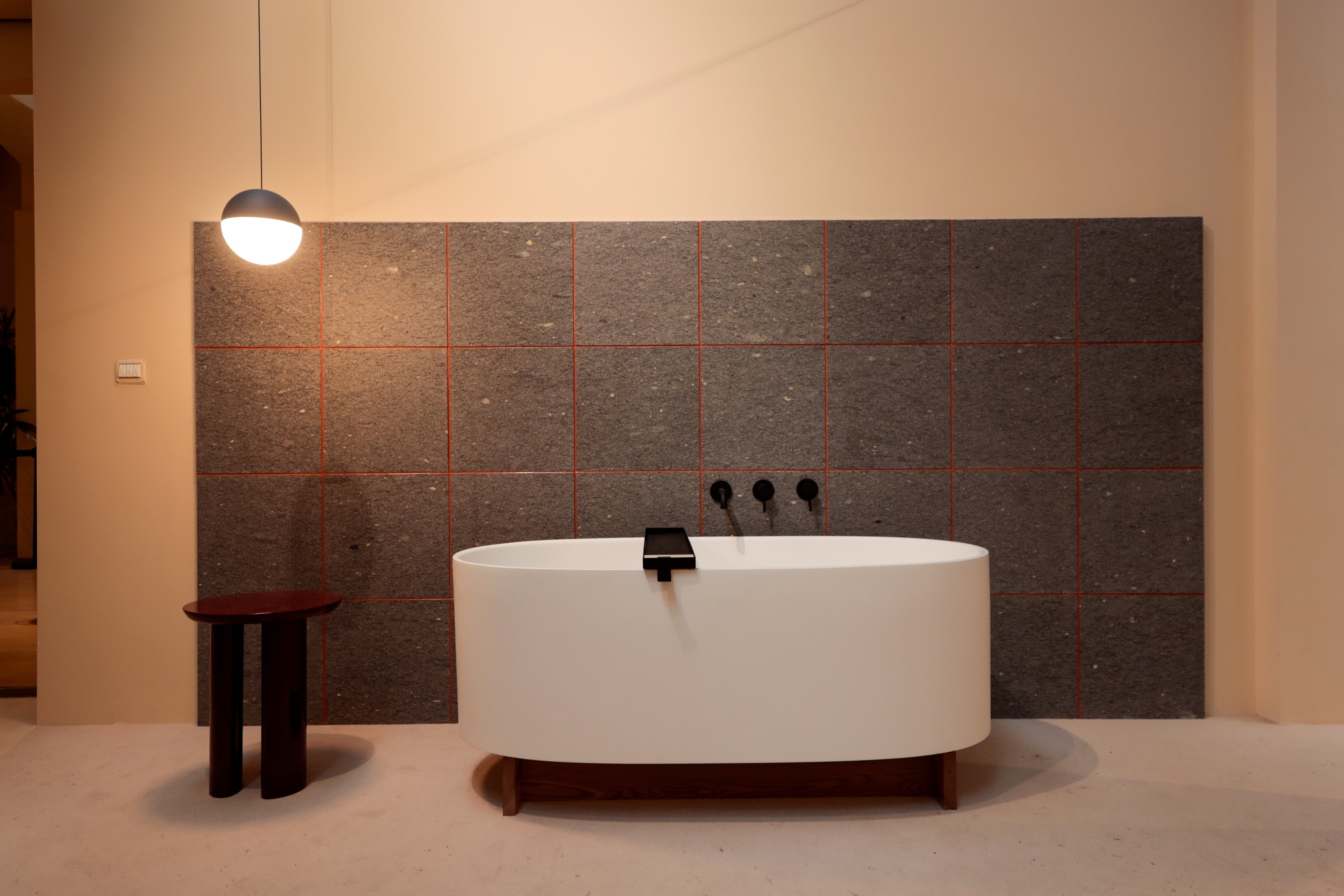 One of the things Italian Atelier loves the most about this Brand is their feminine touch, with a staff of women who unite global design trends with their local artisan heritage. The New Origami collection is no exception, blending Western art techniques with the rich tradition of Oriental art. Made of LivingTec and are available in square and rectangular versions in different sizes in glossy finishes, all the items from the washbasin to the cabinet are a reflection of the duo's personal yet artistic viewpoint of the traditional Origami.
The talented artist Carla Tolomeo has continued to present her world through the designs of chairs for her new collaboration with Formitalia Glamour in the MOON collection. "I view a chair as a portrait, and it can even become a self-portrait.", as Carla has expressed. When transforming from a painter to a sculpture maker and a designer, Carla chose the chair "because it is the most humble, most used, most necessary object in a home". Now, she has masterfully twisted the most ordinary object in a house into a more artistic one without making it distant from everyday life. For both indoor and outdoor settings, Formitalia Glamour invited you to join the journey to an island of paradise and an oasis of enchantment, drawing inspiration from the wonders of natural surroundings to be aligned with the sustainability theme of this year's fair. 
"Art should be something lived in the home, and for the home." – Carla Tolomeo
And the result is a synthesis between contemporary art and furniture, breathing a new soul into everyday furniture. For this MOON collection, Carla is giving the handcrafted living room sofa of Formitalia Glamour a new perspective, creating a celestial luxury with her lunar artwork, the beauty of the flora & fauna. Sinking yourself on the sofa after a long day, you'll feel like "sitting on a dream".
Starting as a family business specializing in carpentry, Frigerio has now shifted their focus on upholstery and furniture production, from choosing the most high-quality materials, and researching and testing the most sustainable materials, to constantly innovating their collections. What characterizes Frigerio not only lies in their passion for the finest furnishings but also in their customization which ensures every product can satisfy every aesthetic need.
"Each individual has his own unique color, which shines faintly around the contours of their body. A kind of halo. Like the shapes you could see in the backlight." – Haruki Murakami
In the last Salone del Mobile, a new chapter named "The Next Step Collection" was added to the Brand's "Italian tale" of enthusiasm and perseverance. In collaboration with 4 prominent names with different personal artistic tastes, Frigerio came out with a collection of 5 main products: the Hug chair and Unique bookcase by Gabriele and Oscar Buratti, the Ada armchair by Ferruccio Laviani, the Amanda sofa by Umberto Asnago, and the Mocki console by Federica Biasi. Being photoshoot at the famous Italian rationalist architecture Palazzo dei Congressi, the collection radiates a light and dreamy atmosphere, showcasing Frigerio's philosophy of slow living and design principles. 
Spotlighting to Italian Atelier is the Ada armchair with a particular wooden frame to support the single padded seat and backrest for an unexpected design, reminiscent of the 1970s classic Italian look. Whether you're looking to create a cozy reading nook or a sophisticated seating area, the Ada armchair is sure to add a touch of elegance to any space in your cozy home.
Always open to modern technologies yet remaining faithful to originality and traditional artisan, the Austrian wooden company Gebrüder Thonet Vienna has led the furniture industry with its mastery in infusing renaissance to its hundred-year-old classic and timeless furniture collections. Its unique wood bending techniques and use of fresh wood are what set Gebrüder Thonet Vienna apart from other industry players to attract new generations.
Having made their name with the legendary N.14 chair which was produced 45 million times, GTV continues to push the limit of wood bending techniques with their new display at Salone del Mobile. Featuring in their new offerings is the Ample chair crafted in partnership with Nichetto Studio. "Telling emotional tales built on a vocabulary of materials and animated by a grammar of form", the play with metal for this new chair is a new addition to the rich material library of GTV's DNA, building a bridge between tradition and innovation. In collaboration with Ed Ng from AB Concept, the Hagu chair, meaning "hug" in English, will give you a comfortable embrace the moment you lay your back on it.
"The Mickey chair is high and comfy but also embracing, colorful, and kind. A friend to cherish and with big ears, who listens to all your fears." – India Mahdavi
One of the most impressive moments of Italian Atelier when visiting GTV's booth at the fair was their symphony of collaboration with architect and designer India Mahdavi who enchants furniture connoisseurs with her fabled fluency in playing with a resplendent array of colors in every design. Besides extending the Loop family with a new color, India presented the Micky lounge chair adorned with "ears" that resemble the famous mouse, born from her childhood heroes.
Founded by Giorgio Bagnara in 1999 in Italy, Giobagnara becomes a trusted partner of many interior decorators and yacht and jet designers by expressing their personality and luxury philosophy in every collection without ostentation, offering numerous palettes of colors and ranges of materials in handcrafted shapes.
During the Milan Design Week, Italian Atelier had a chance to visit their booth at Salone del Mobile where they public their newest furnishing selections. This year's collaboration features the iconic pieces in the Lloyd collection by Glenn Sestig, a luxury lifestyle icon with art and fashion inspiration. This is a perfect marriage of craftsmen of the Ligurian Coast and a Flemish Master, where solid and void spaces break the monolithic vision, where botanical essences such as dark-stained Canaletto walnut wood, travertine, cashmere, and wool are captured in a tapestry of craftsmanship, gentle repose, and ravishing splendor. The results are decorative and furnishing creations that speak an unrelentingly urban and contemporary language.
Gio Pagani is a narrator of tactile stories with a transversal and contaminated taste, who tells the stories of different cultures and perspectives from traveling – the essence of his inspiration. On the discovery of reworked aesthetics, his work is a fusion of nostalgic ingredients and new spirits, which were transformed into eccentric, eclectic, and contemporary collections for the "Chase Eternity" gallery.
As an antecedent of his journey, the 2023 version of Giopagani Gallery presents the Souvenir armchair and the Déjà Vu chair 2021 Esprit Noir collection inspired by the movement of Concrete Art, the shapes of Esprit Noir, through which the contrast between purity and abstraction while still enhancing functionality.
The L'ARMANDO dining table is also the star of the show: made from Green Onyx slabs from Margraf, balancing the artisan, taste, and soul in subtle shapes and poetic expression. What's special about this table is that it is complementary, interconnected, and interdependent yet they are still related to each other with geometric and irregular joints. Faint details of chrome highlight the gentle lines in Green Onyx, a soothing stone that speaks powerful aesthetic.
Gurian, Lof's, and Divanidea
With a mission to fill the gap between past and future, Gurian has made a metamorphosis this Milan Design Week, showcasing the harmony of eclectism and artisan. Skilfully blending craftsmanship and advanced technology, refined materials, and a wide array of available leather and fabric coverings: the 2023 collection from Gurian, Lof's, and Divanidea have it all for any type of aesthetics.
Carefully crafted by the talented designer Zeno Nugari, collections from both Lofs and Gurian displayed in this exhibit are sure to create an aura of elegance, making them an ideal addition to any stylish interior.
Stood out in their booth was the Roxy sofa with a multilayer wood frame, complemented by cushions made from cotton, available tone-on-tone or in contrast. Exuding an air of opulence and refinement, the sofas from Gurian will invite you to sink into their plush cushions and indulge in moments of relaxation. Shifting your vision to Lof's, you'll be impressed by the Onda sofa which boasts subtly whimsical and sinuous lines in contemporary upholstery with exclusive elements of international design.
Divanidea, the expert of sofas, stands shoulder to shoulder with its esteemed counterparts Lof's and Gurian, captivating the audience at this year's Salone Del Mobile with a variety of multifaceted sofa designs that display a combination of style and high performance. Enzo Gurian, the visionary president of Gurian, Lof's Interior, and Divanidea, has long embraced the philosophy of "comfort over aesthetics" in the art of sofa craftsmanship. With meticulous attention to detail, he skillfully harmonizes form and structure of each sofa to make sure every of his customer is provided with the utmost care, which solidifies Divanidea's position as a respected player in the industry.
Taking inspiration from antique and ancient aesthetics, Karpeta always strives to infuse traditional weaving techniques and avant-garde technologies in every contemporary tailor-made textile art piece with a wide range of premium hues. 
Their latest collaboration with Texturae and Sara Ricciardi in the 2023 collection CAMERE will take you on a journey of botanical wonders. They have brought out a wallpaper and rug collection that captivates all visitors in its dreamy landscape, from brightly blooming flowers and luxuriant vegetation to mysterious ravines and mystic nature.
There's nothing more fascinating than imagining your walls as a canvas full of vivid colors, geometrical shapes, and Mediterranean landscapes. From statement wallpapers to eye-catching rugs, this collection is sure to add a touch of joy to your living space. Italian Atelier was dazzled to see how "Colors speak all languages" (Joseph Addison) in their newest display.
More than a piece of furniture: the home collection for Salone del Mobile 2023 from the fashion house Liu Jo is a representative of their vision of the Liu Jo lifestyle. What characterizes their personality are subtle lines, delicate finishes, fresh shapes, and soft natural materials with endless possibilities for customization, from changeable colors to replaceable upholstery, yet remaining true to functionality. 
Craftsmanship, versatility, style, and sustainability. These are the words that perfectly encapsulate the personality of Liu Jo Living. Perfectly bringing an eco-friendly approach into contemporary and modern designs, every piece from Liu Jo Living which was carefully handcrafted by Italian artisans, whether in vivid or neutral colors, can make a bold statement in your living room. 
"As characters who have a soul to themselves, thanks to the different colors and the removable covers for the padded, Liu Jo products can be integrated into any type of furniture", said Simone Cagnazzo, the Brand's Designer and Art Director.
Joining the latest Salone del Mobile in Milan, the fashion house brought about 100 different new coverings in numerous patterns and hues to furniture connoisseurs all over the world. They were successful in breathing a new life into classic living room pieces: beyond a sofa or an armchair; what Liu Jo Living is offering are free, modular, and repositionable designs. From the Coquille sofa which is inspired by the shell and nest that wraps as a hug to the elegant Caillou Capitonné armchair for daily relaxation, you will be overwhelmed with the custom options when coming to their booth or boutique.
LondonArt, by telling amazing stories through exclusive wallpapers, will be sure to breathe a new life and personality into your house's plain wall, with a wide selection of patterns and vibrant color palettes. After successful collaborations with prominent players from different sectors such as furniture brand Giopagani, the magazine Toiletpaper, the luxury fashion brand DSQUARED2, and the interior studio Marcel Wanders, LondonArt made a comeback with a new partner in the fashion industry, translating their iconic fashion codes into wallpapers that could have powerful impacts on the surroundings. 
This Salone del Mobile marks the debut of the famous fashion house, Marni, to express their vision of colors, shapes, and materials through the partnership with LondonArt for a wallpaper collection. LondonArt has masterfully translated the signature patterns and materials of the fashion brand into different 14 colorful and unique wallpapers for the new Marni collection, each having more color options. All of the products have a touch of natural beings, from the poetic stream to wild flora or the white daisies on a blue background.