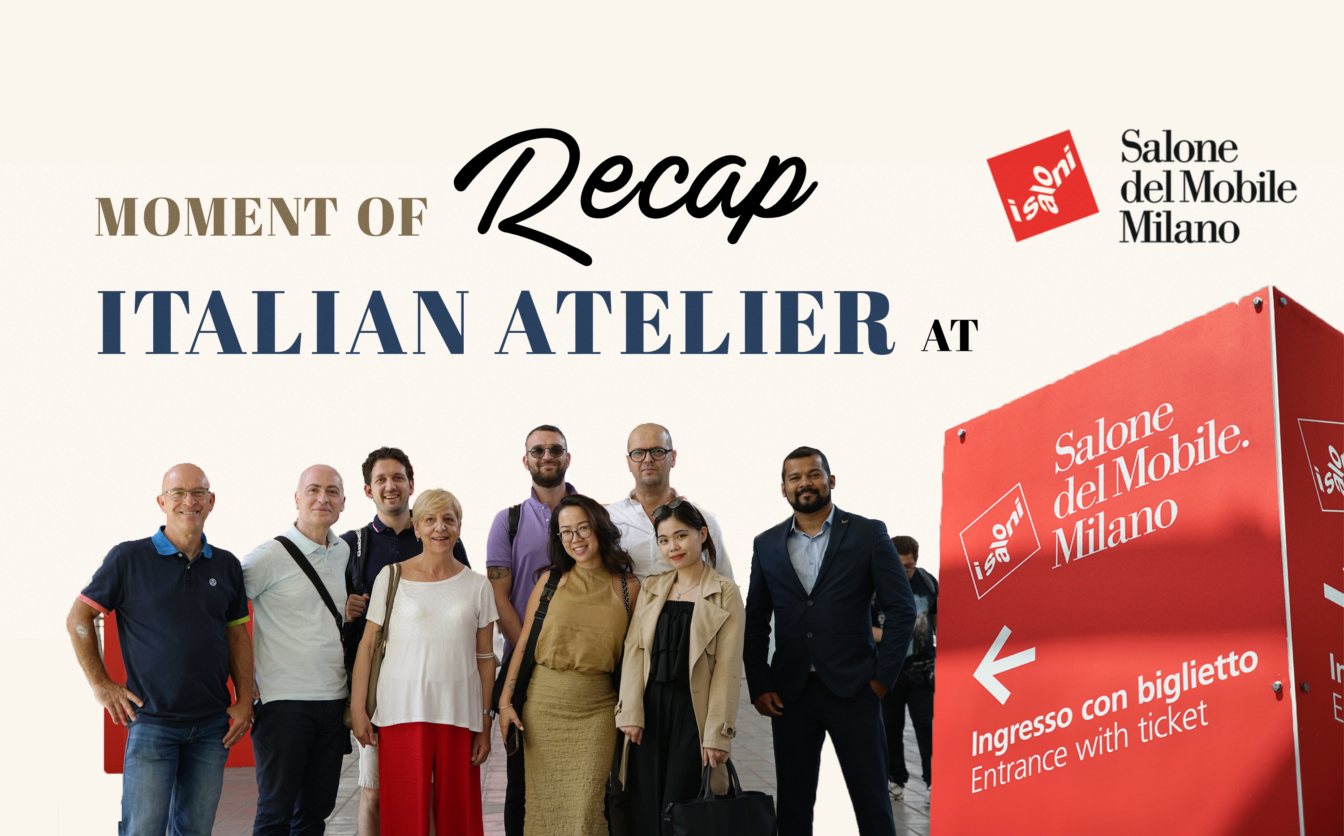 Now, it's a common saying that the Salone del Mobile is a gathering place for woodwork and design enthusiasts. They come to experience the beauty that not everyone is set on. But after two trying years, coding like Salone is now more than ever a noble goal for everyone: bringing beauty to soothe our existence. View the origins of the designs, even share intriguing items with one another, and take pleasure in all the efforts made. 
This year, the Rho Fiera included more than 2,000 exhibitors and more than 260,000 visitors. The Italian Atelier team has joined together to salvage a long meaningful journey, integrating significant lessons and experiences to continue for the next major events. A remarkable Salone season has just come to a conclusion.

The first day has officially begun after a protracted wait. Banners, signposts, flagpoles, and other exterior elements of the Salone del Mobile are all embellished with characteristic red accents. A curious and enthusiastic mood was created by the throngs of people who excitedly came to the booths. 
There was no longer the scenario with a mask on her face in the picture Salone exhibited after the epidemic had been going on for two years.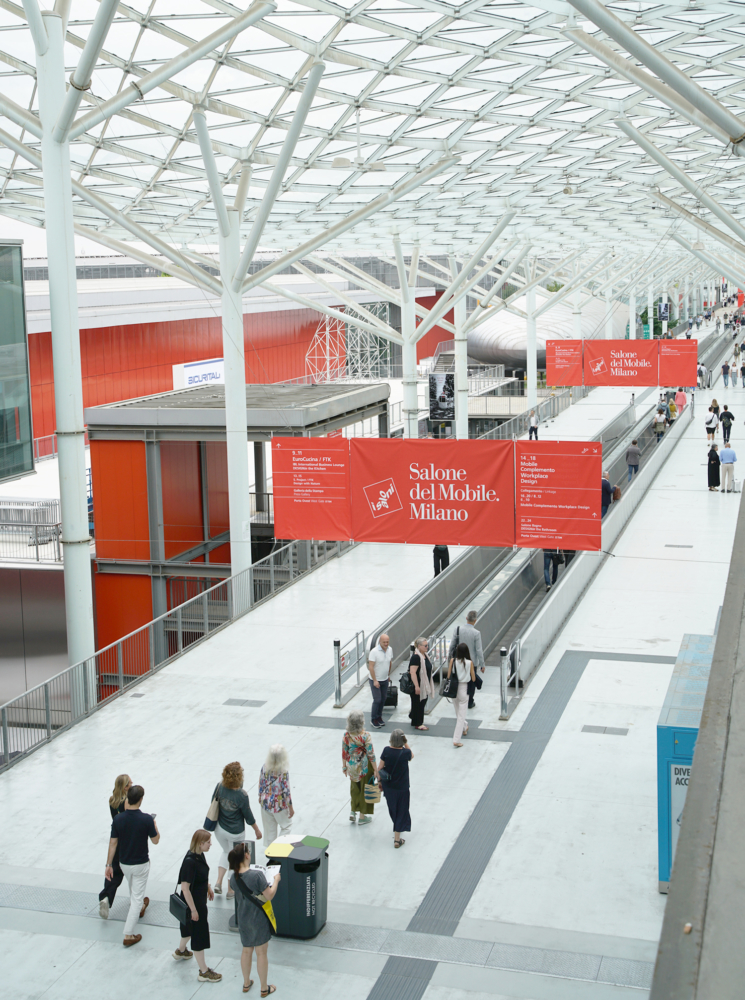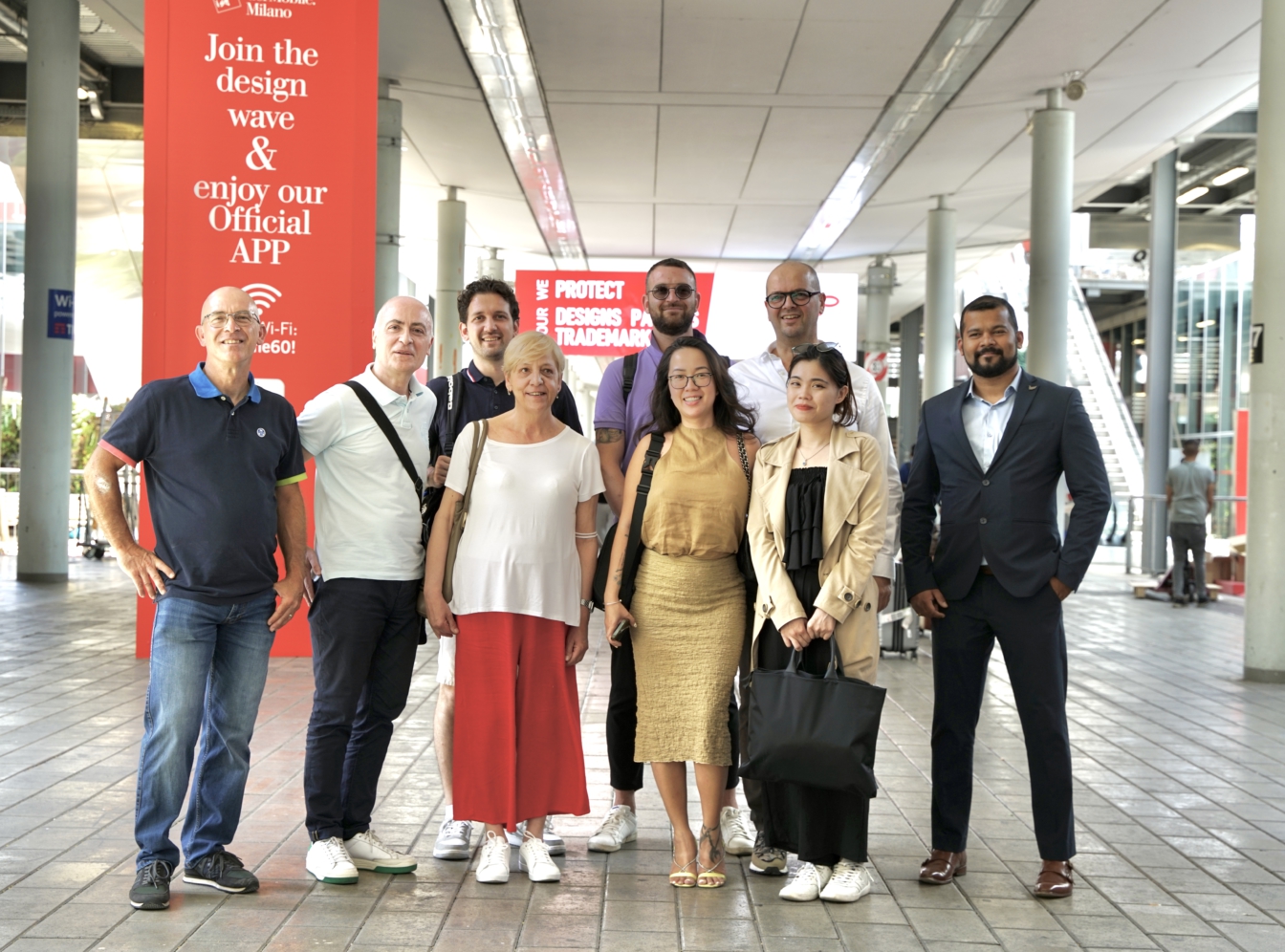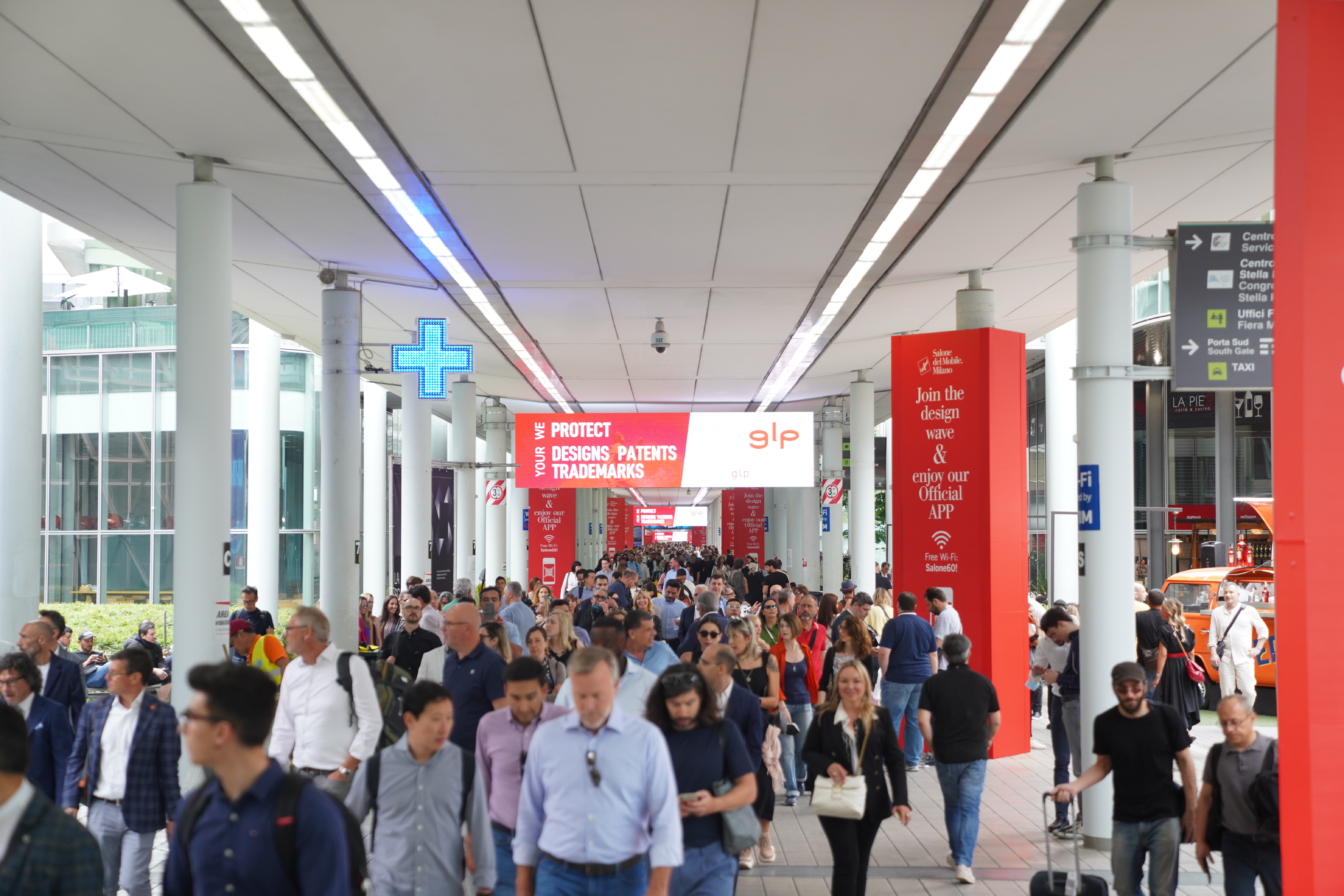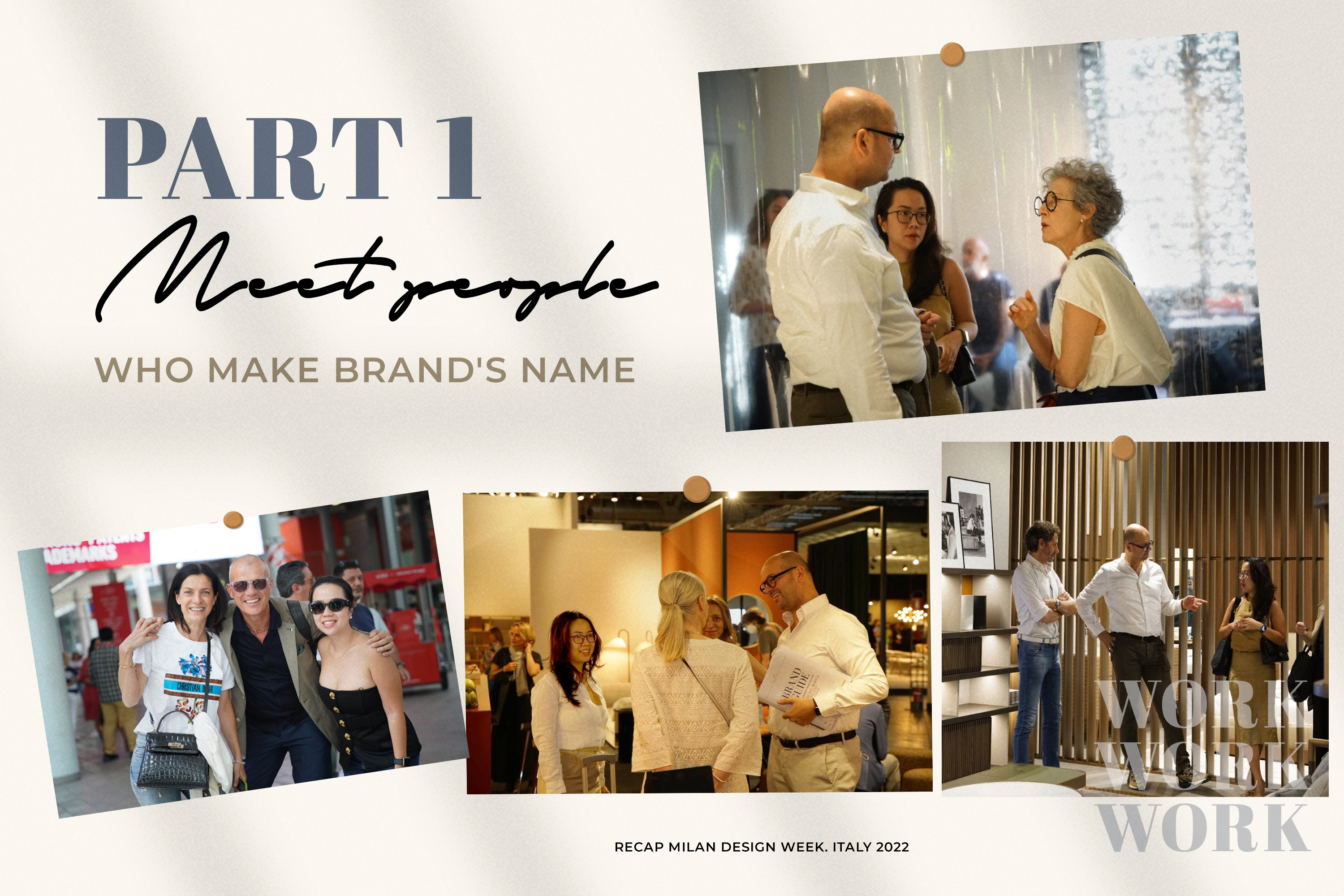 Salone Mobile Milan is a place to gather all design lovers and businesses. We come from all parts of the world and head to the place that is not only for trading but for exchanging infinite ideas and endless-passionate conversations.
Thanks to Salone del Mobile, we had the chance to connect with our brands' CEO, Sales Managers, and Directors. We were all so happy to see each other again after a long time.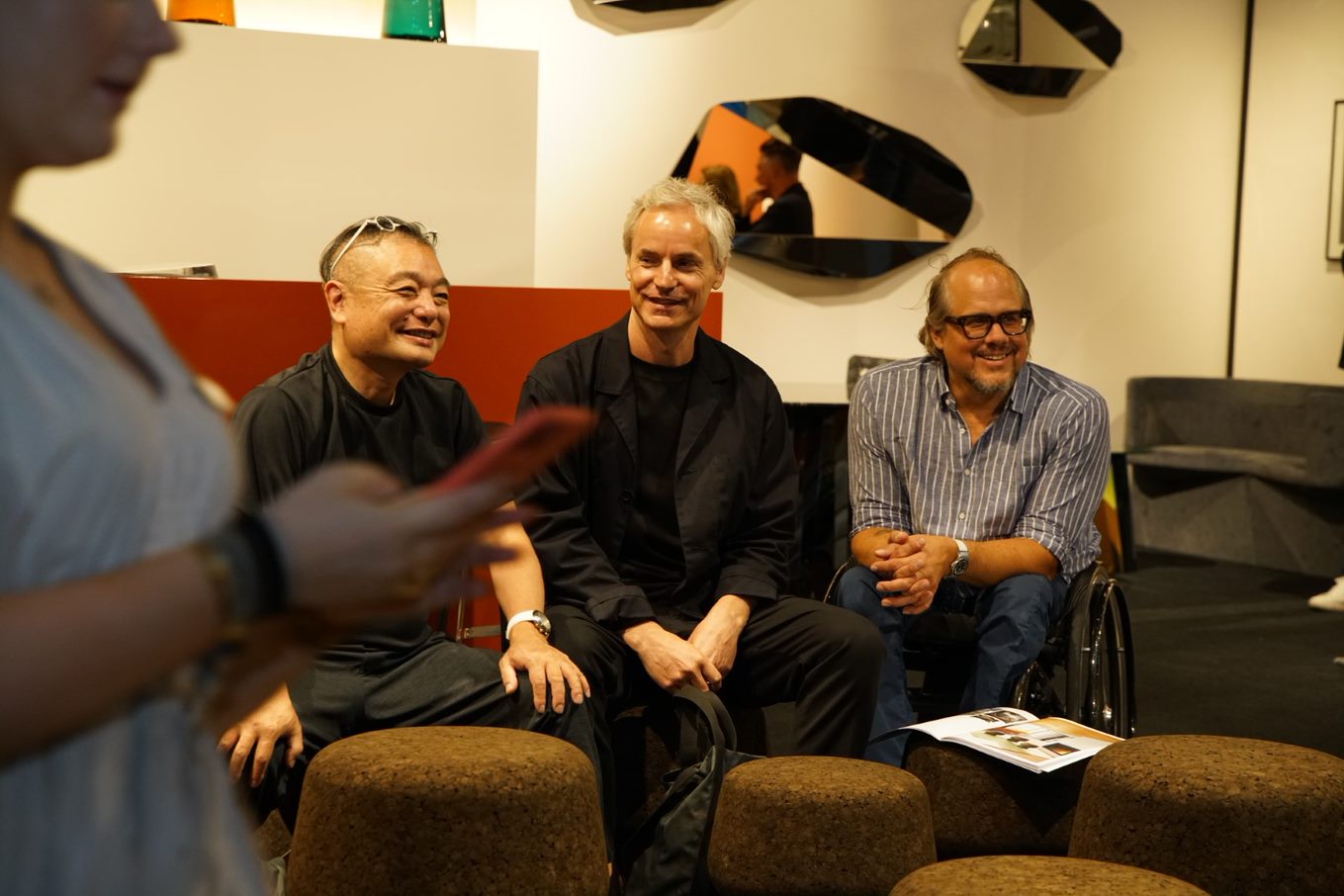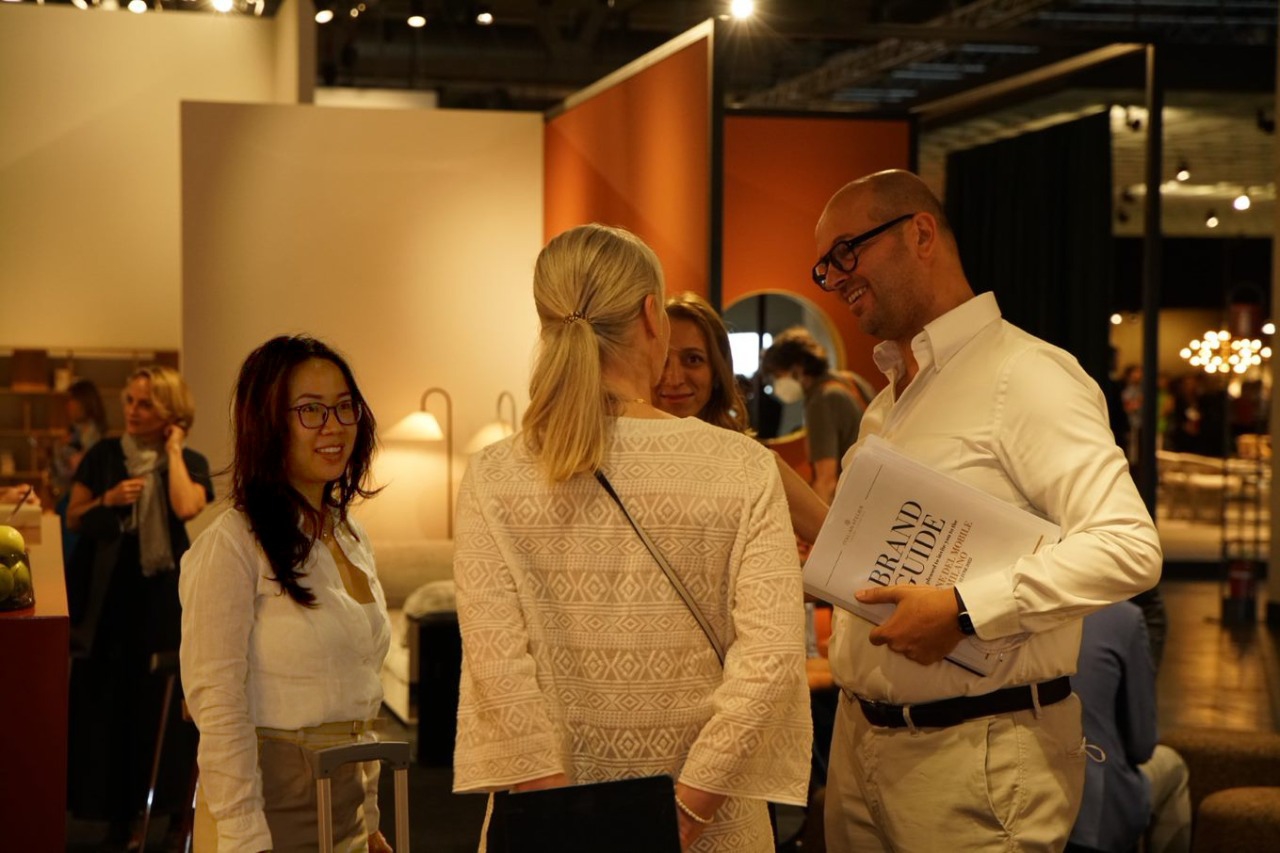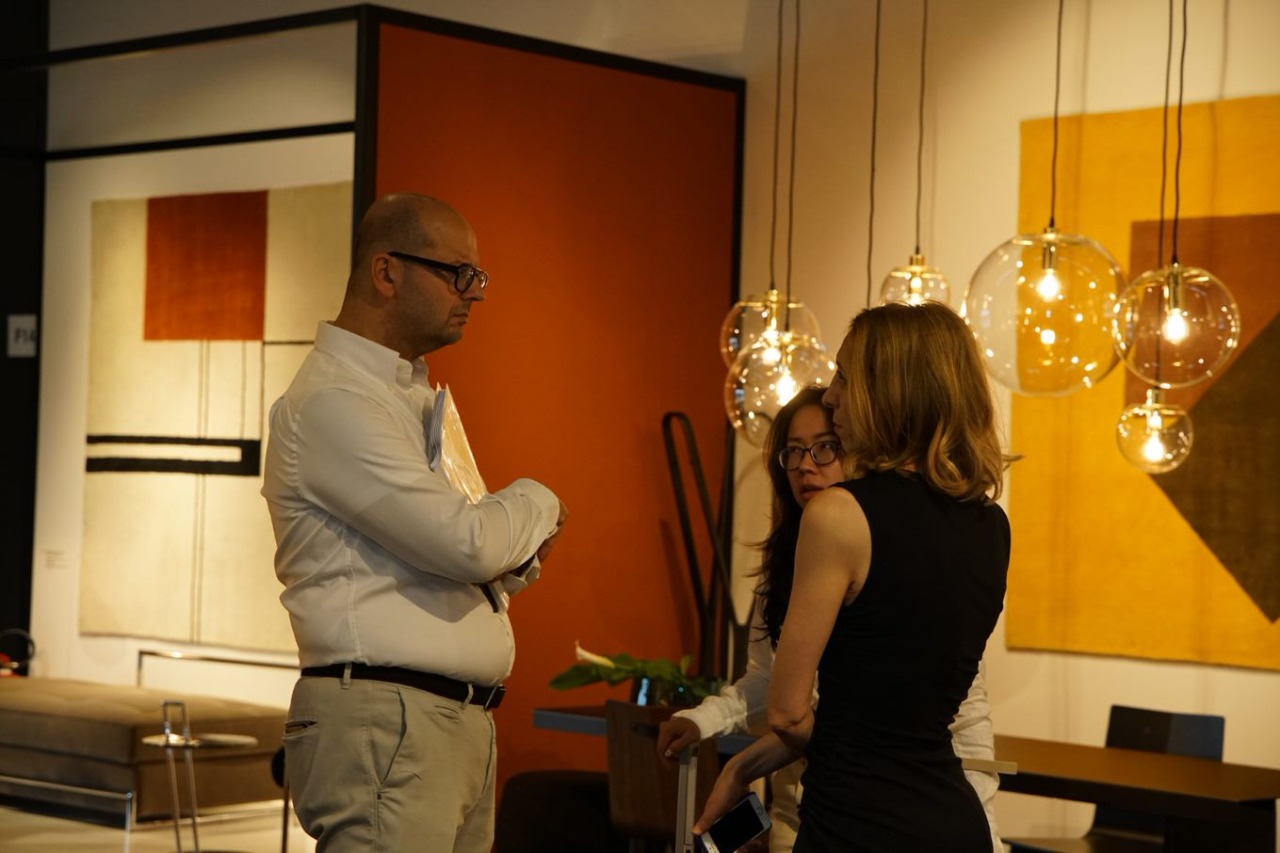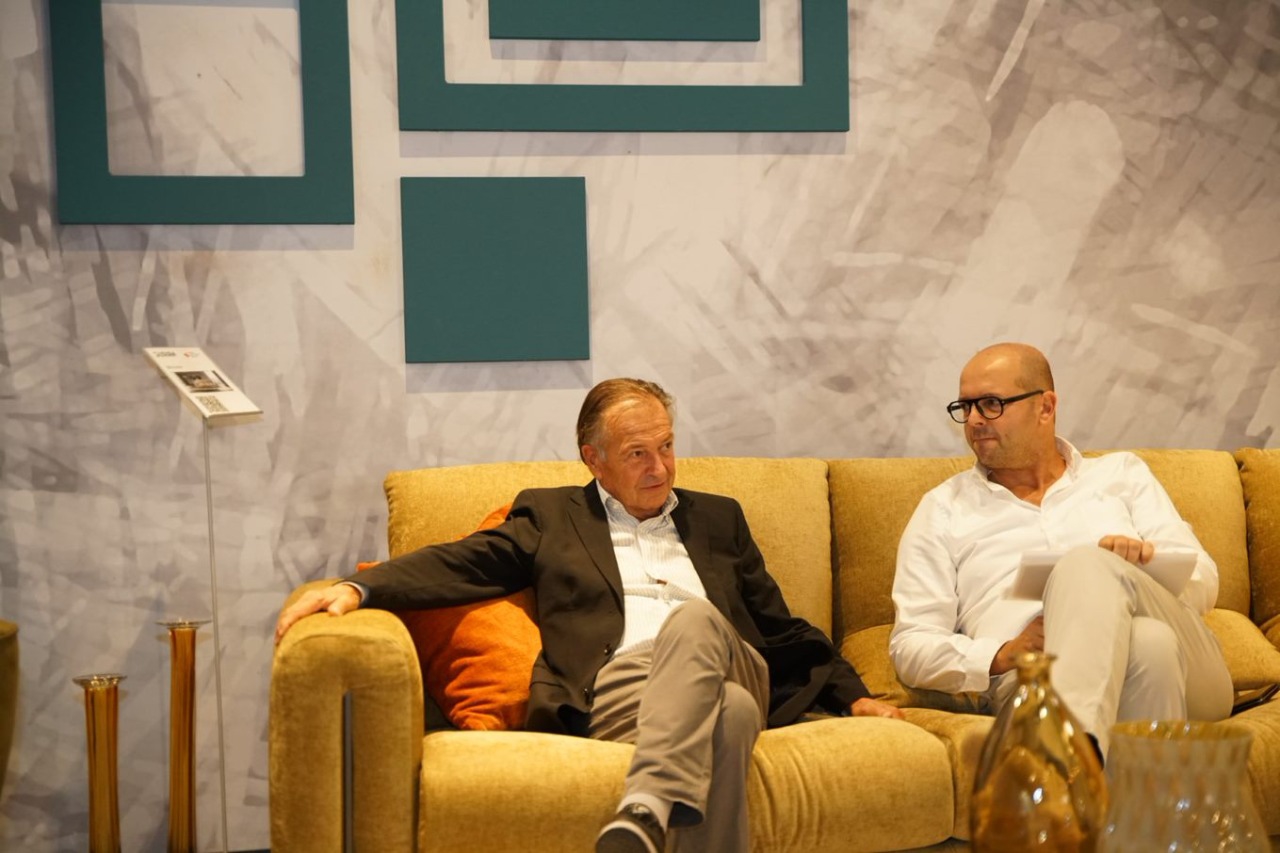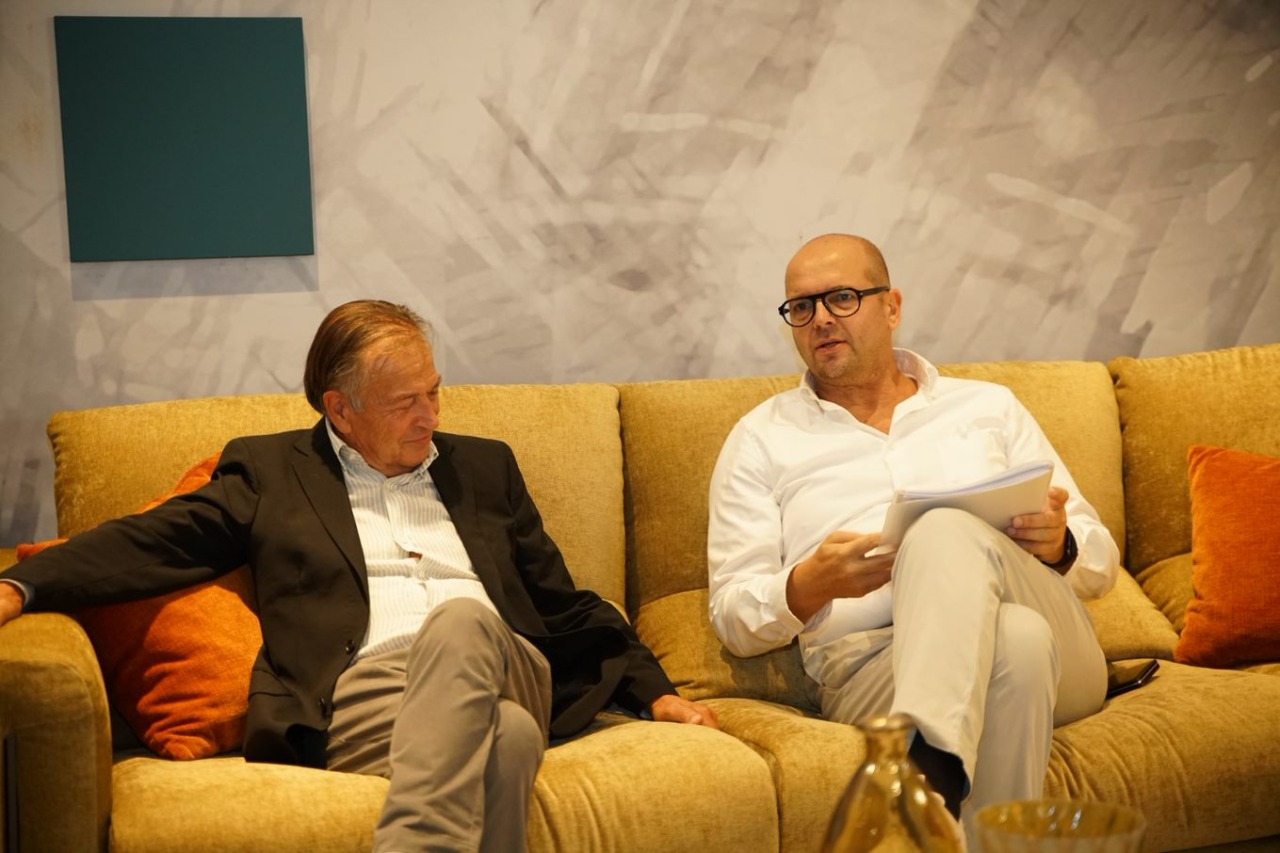 Fortunately, at the Poltronova Fondazione Sozzani Corso Como 10 event, we had the opportunity to chat with Roberta Meloni and receive a lot of interesting sharing about the direction and inspiration of Poltronova in the upcoming period.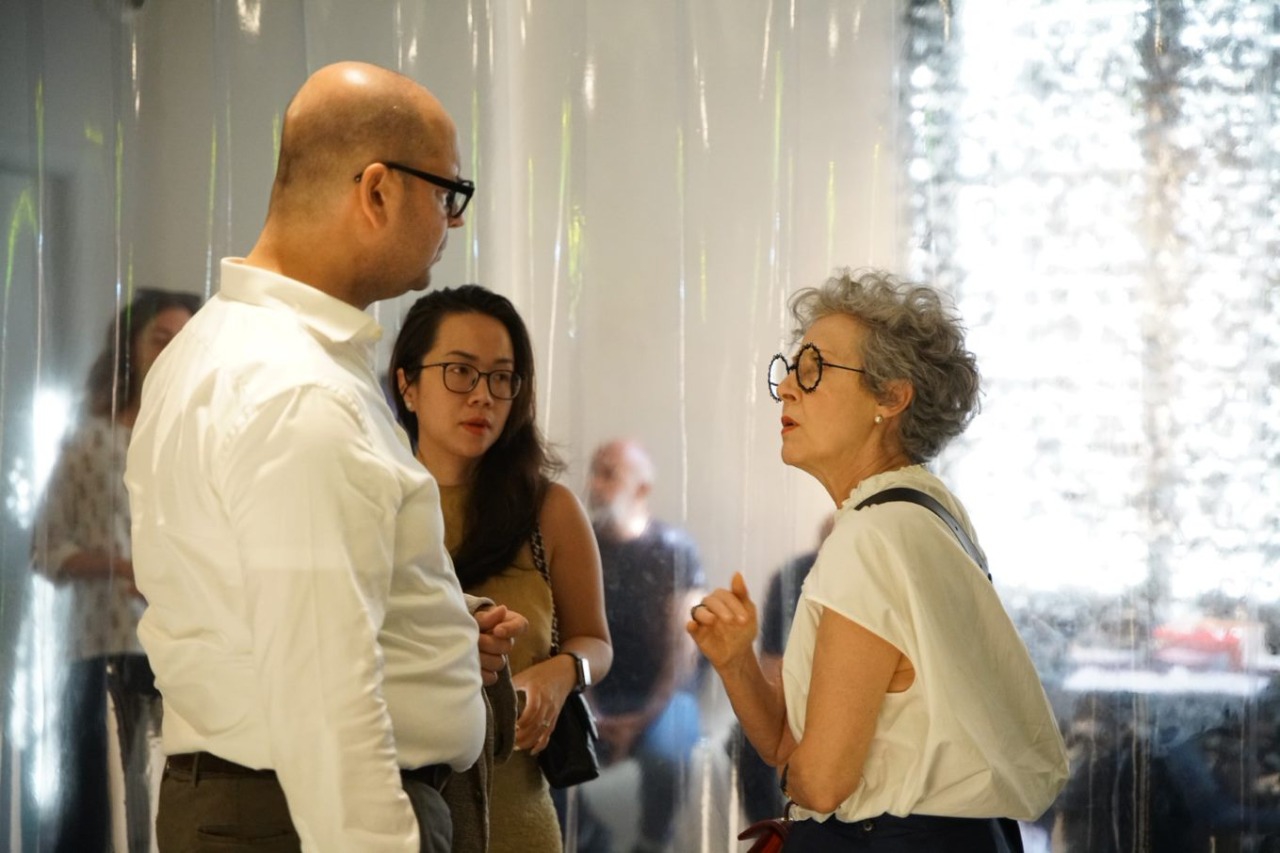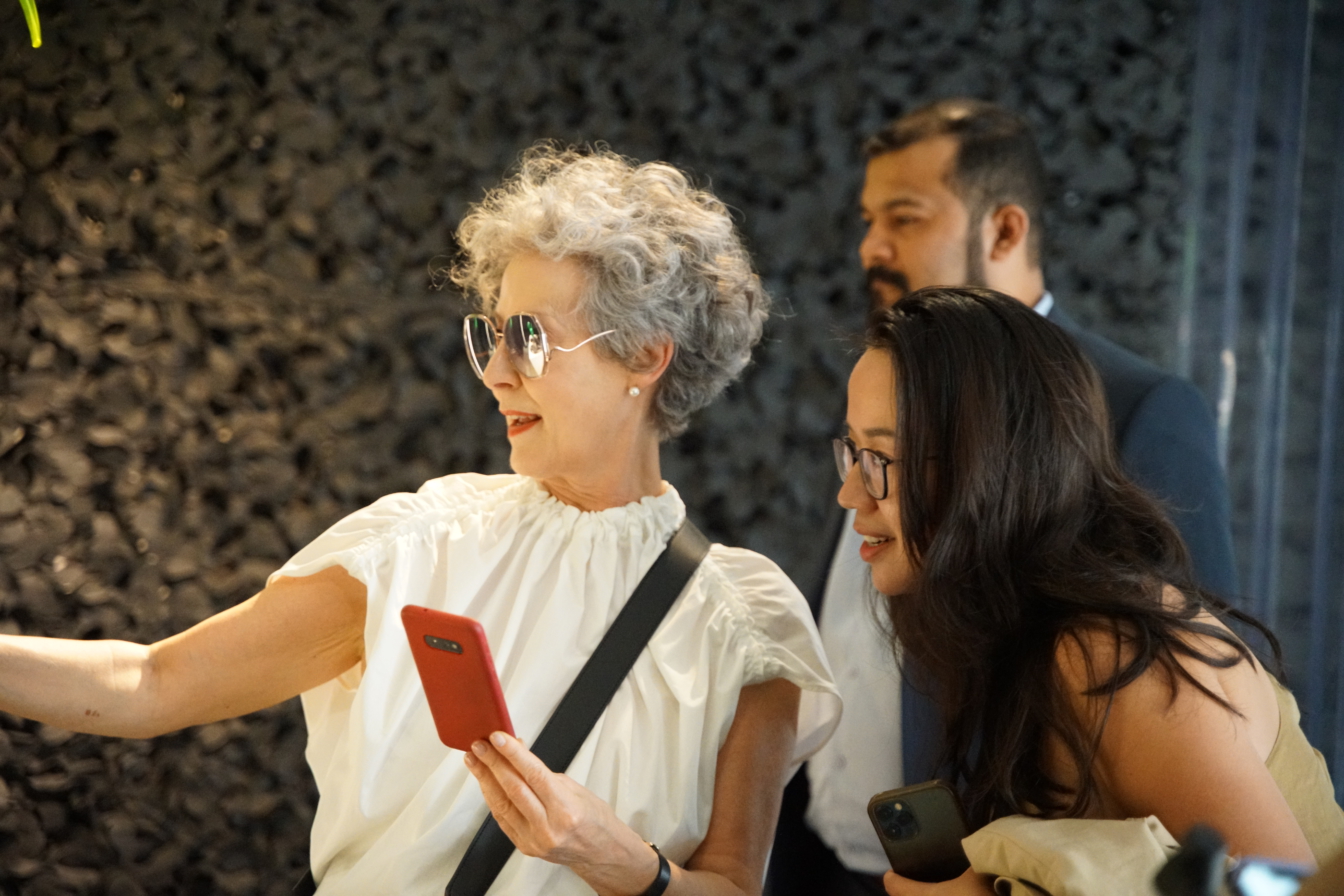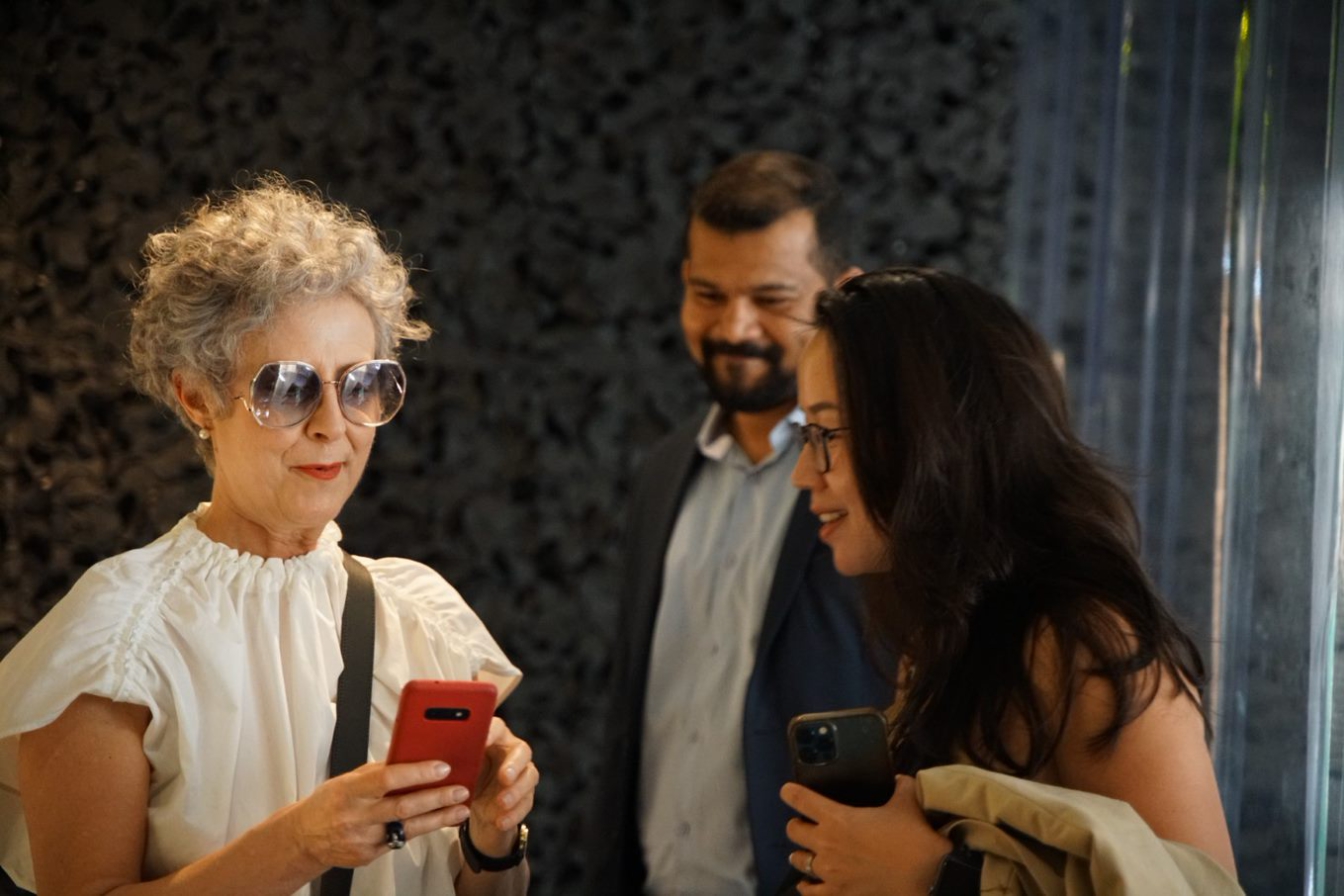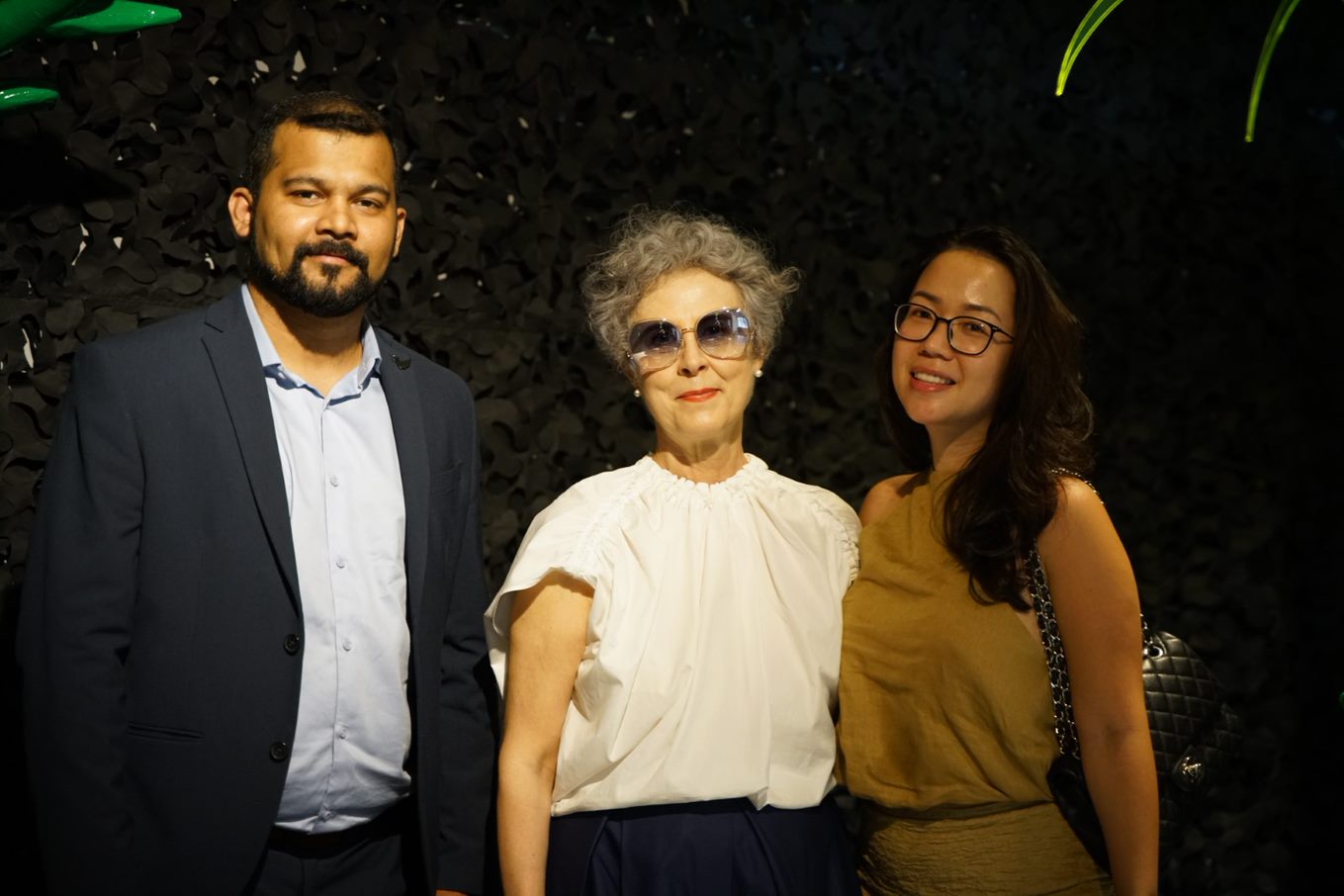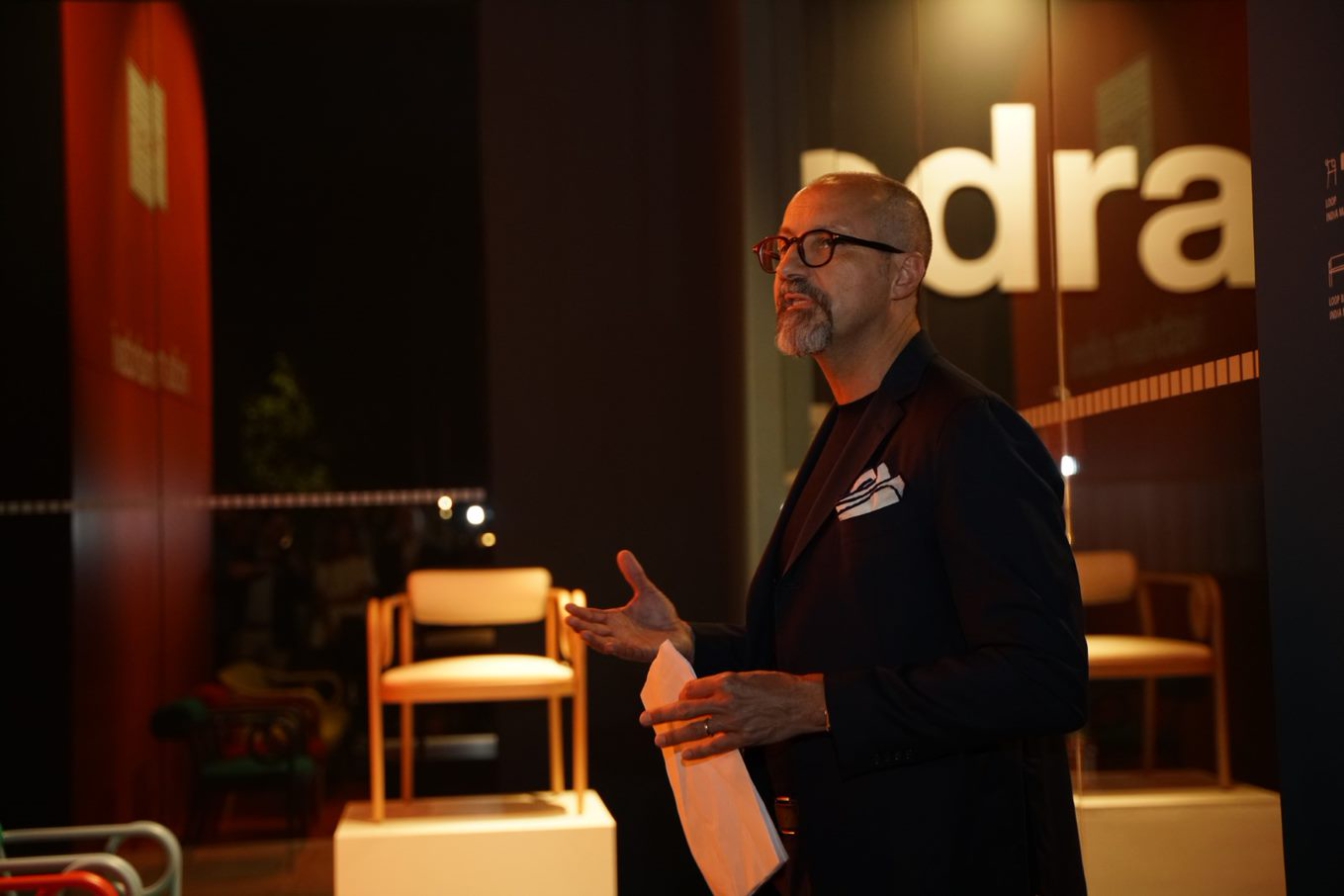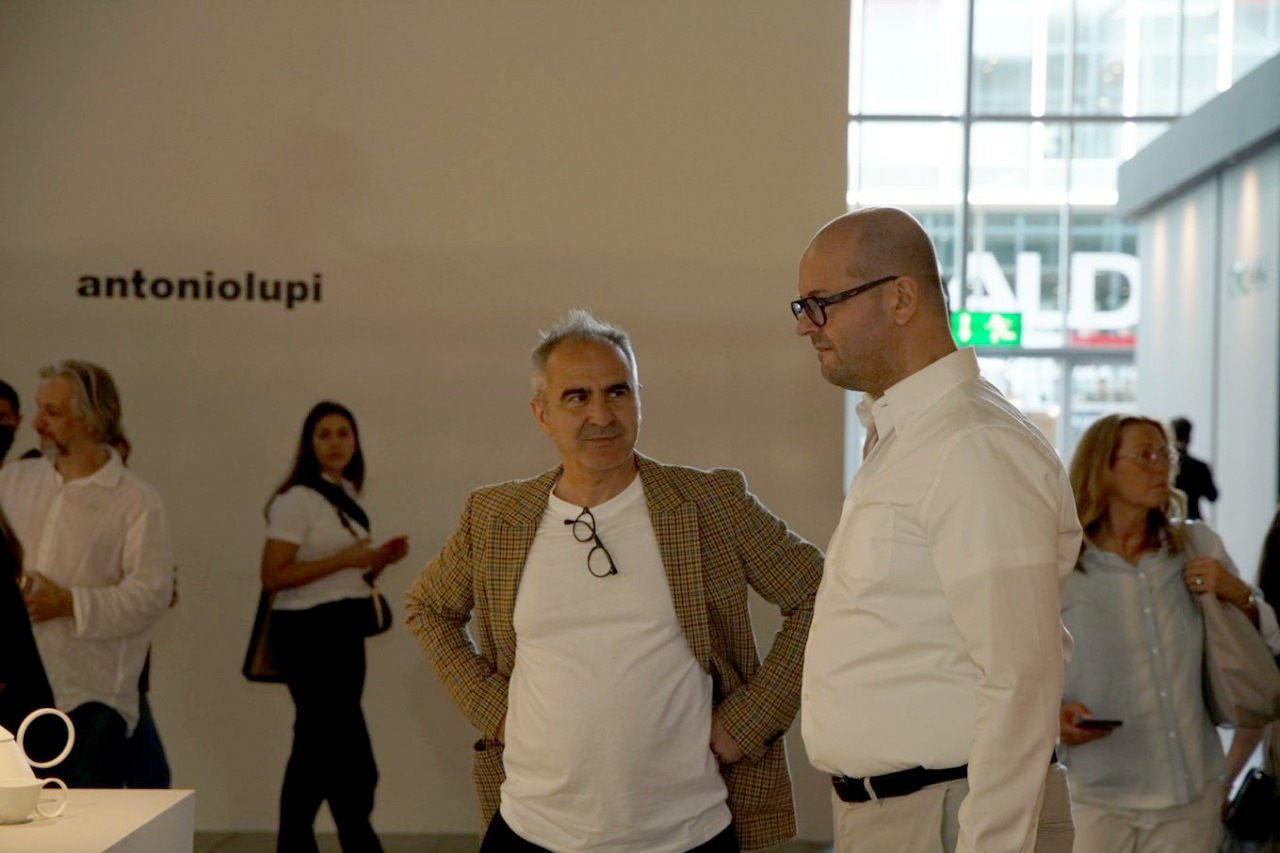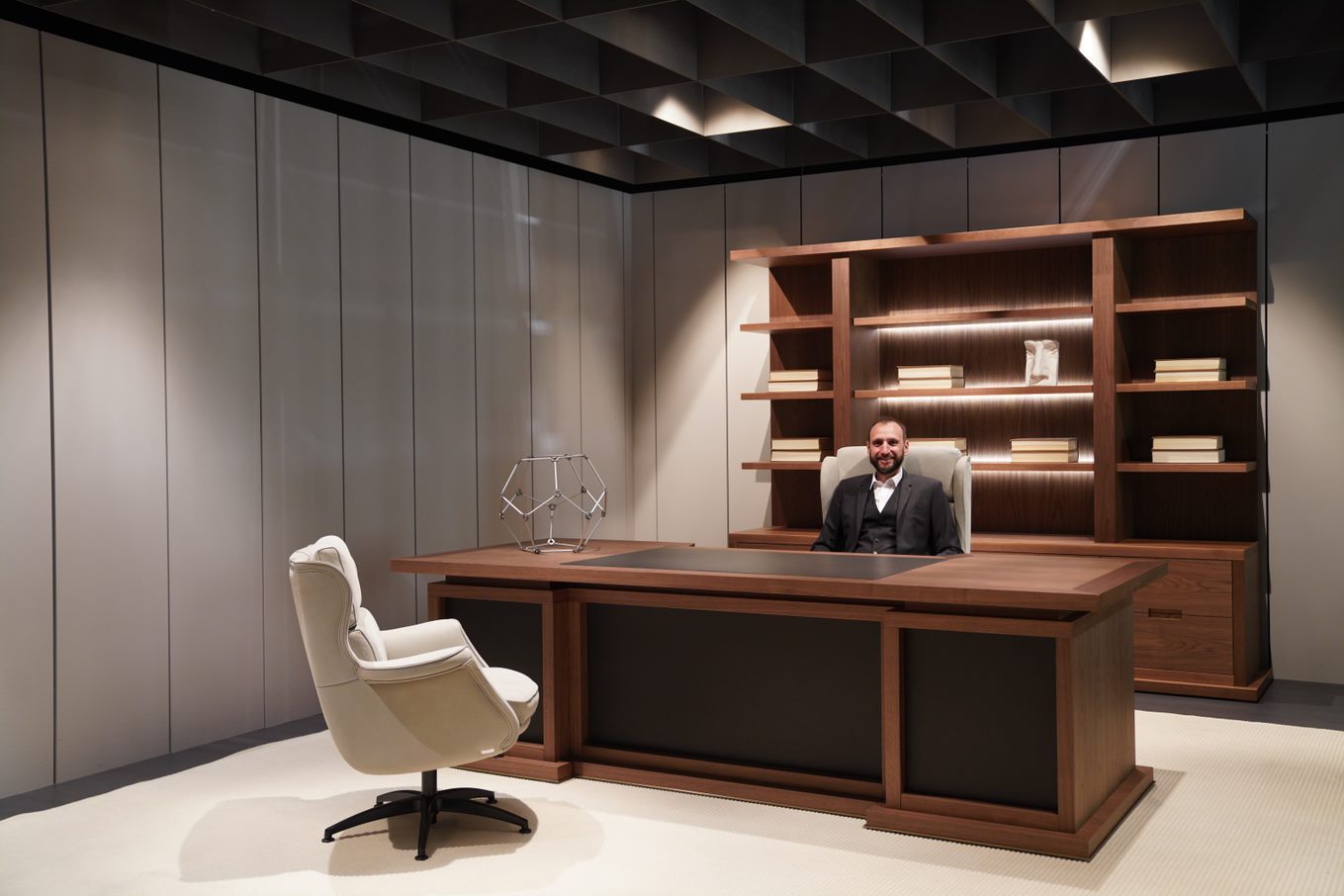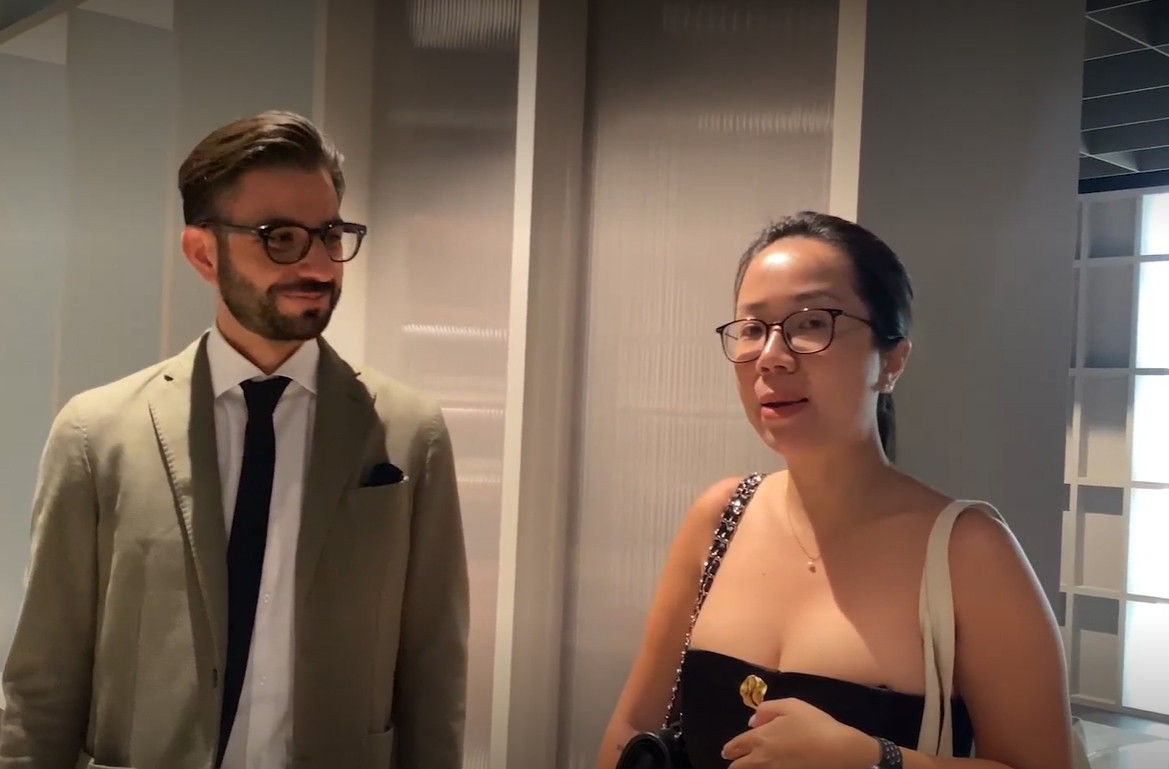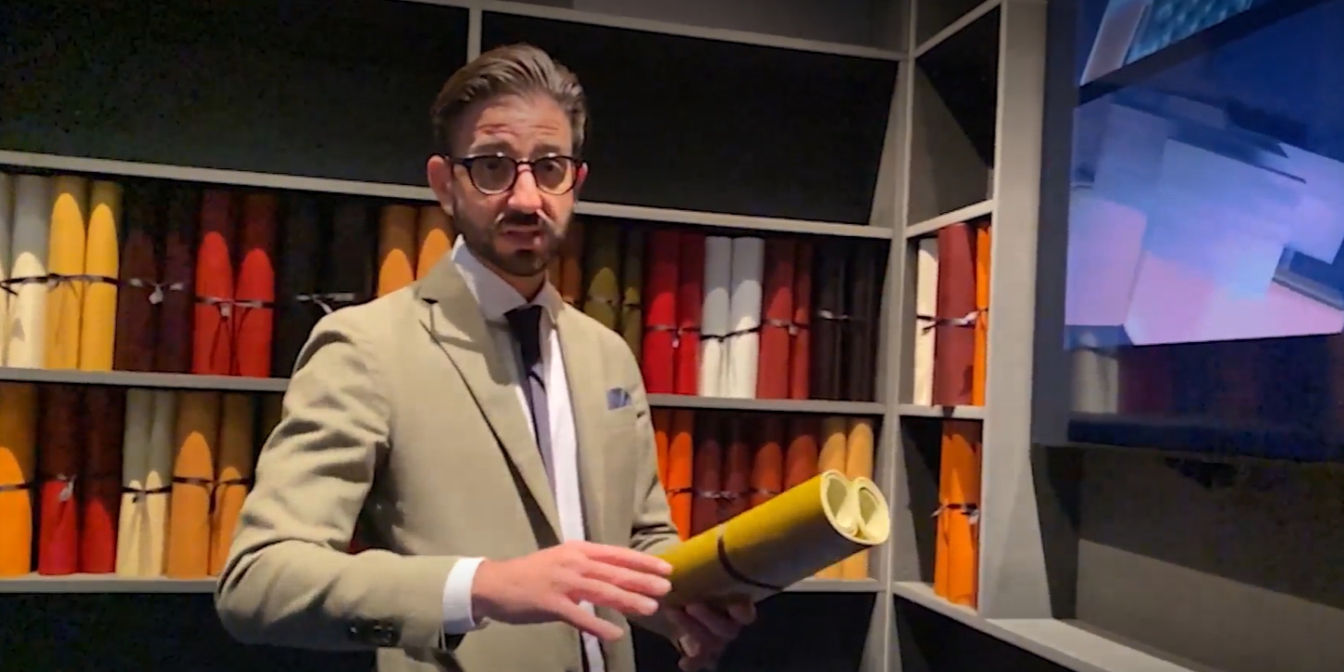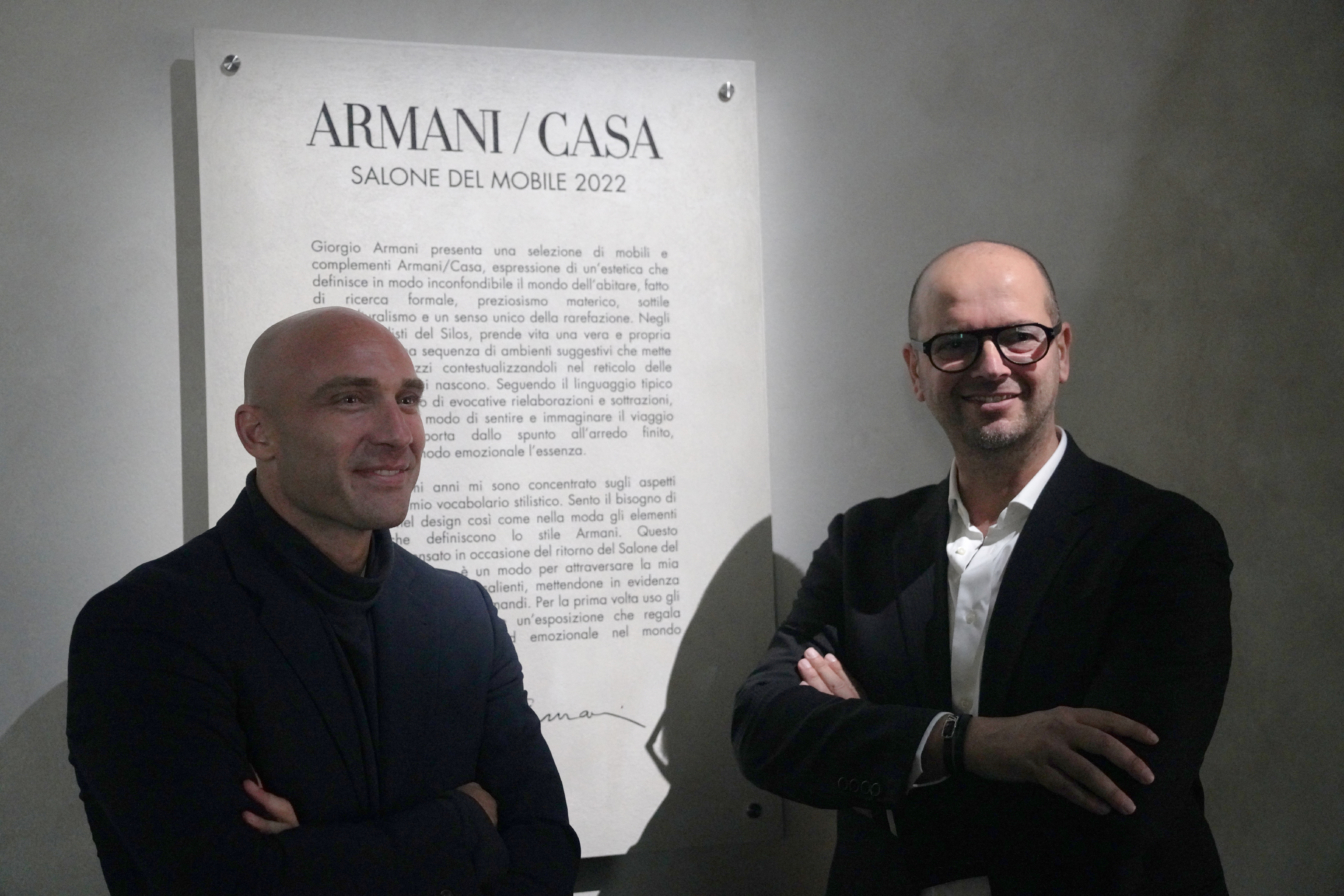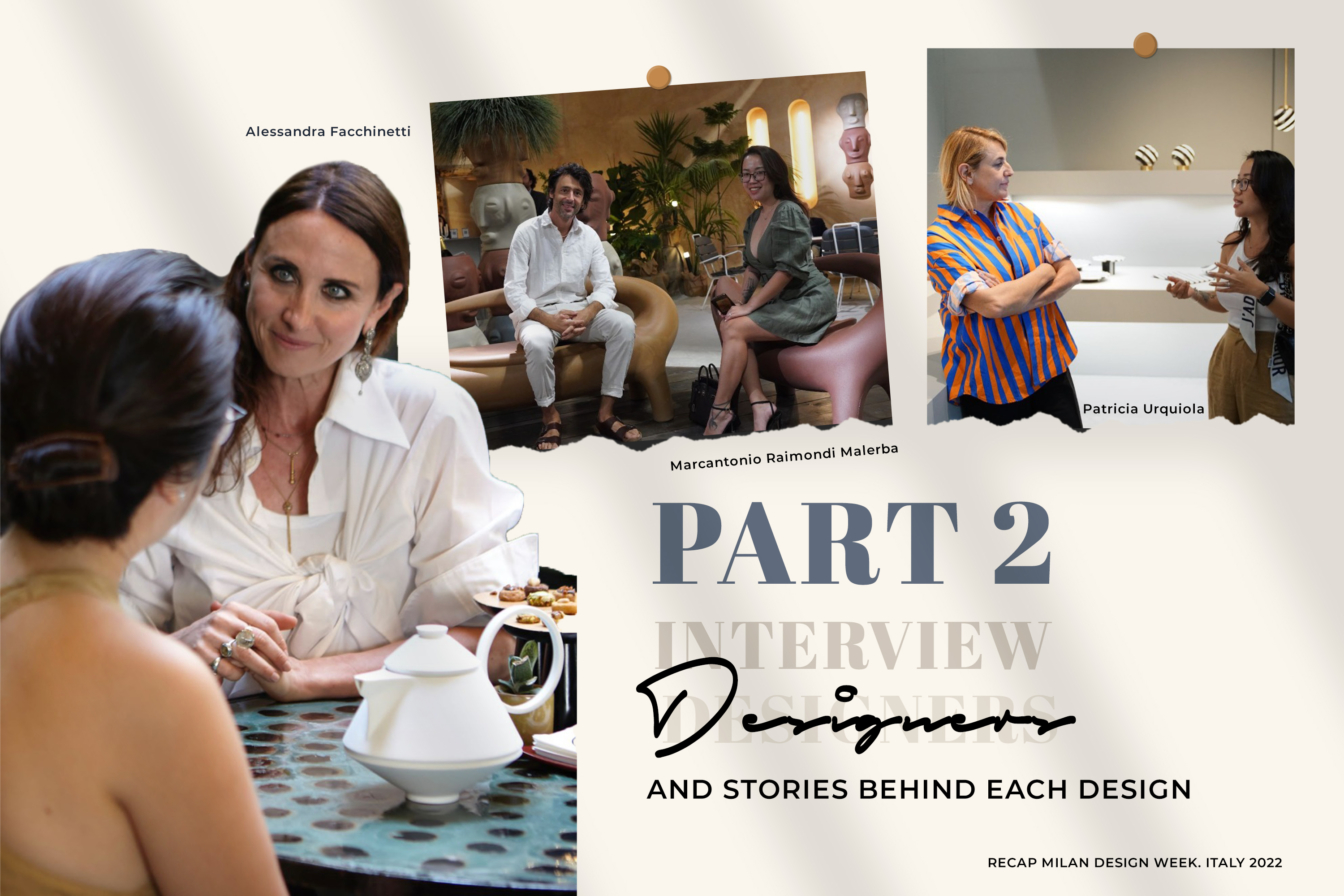 We had the fortune to hear the "artist" who made the distinctive patterns personally on this trip, who told us the history behind them. Ms. Jasmine Chau, CMO & CSO of Italian Atelier Vietnam, had the chance to chat with Alessandra Facchinetti, the creator of the "Circle" design, during the presentation of the Circle collection at 10 Corso Como.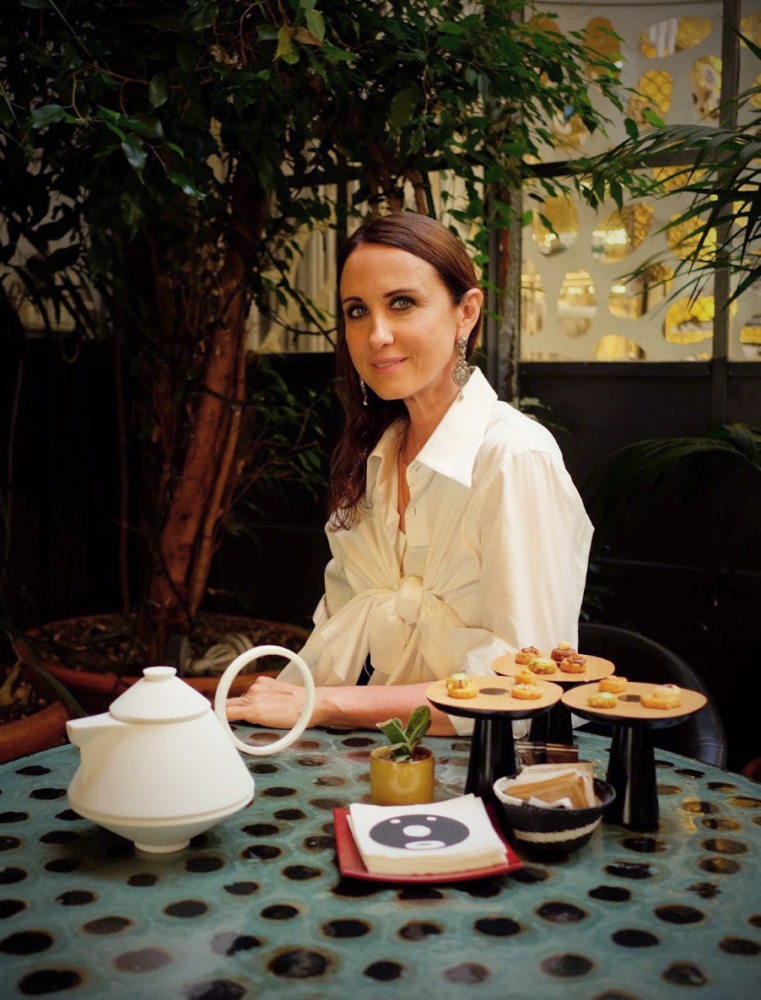 "I think the circle is the perfect shape. Aesthetically, it has a peaceful feel. Then I wanted to combine it with more unexpected geometries to strike a balance between them." Alessandra Facchinetti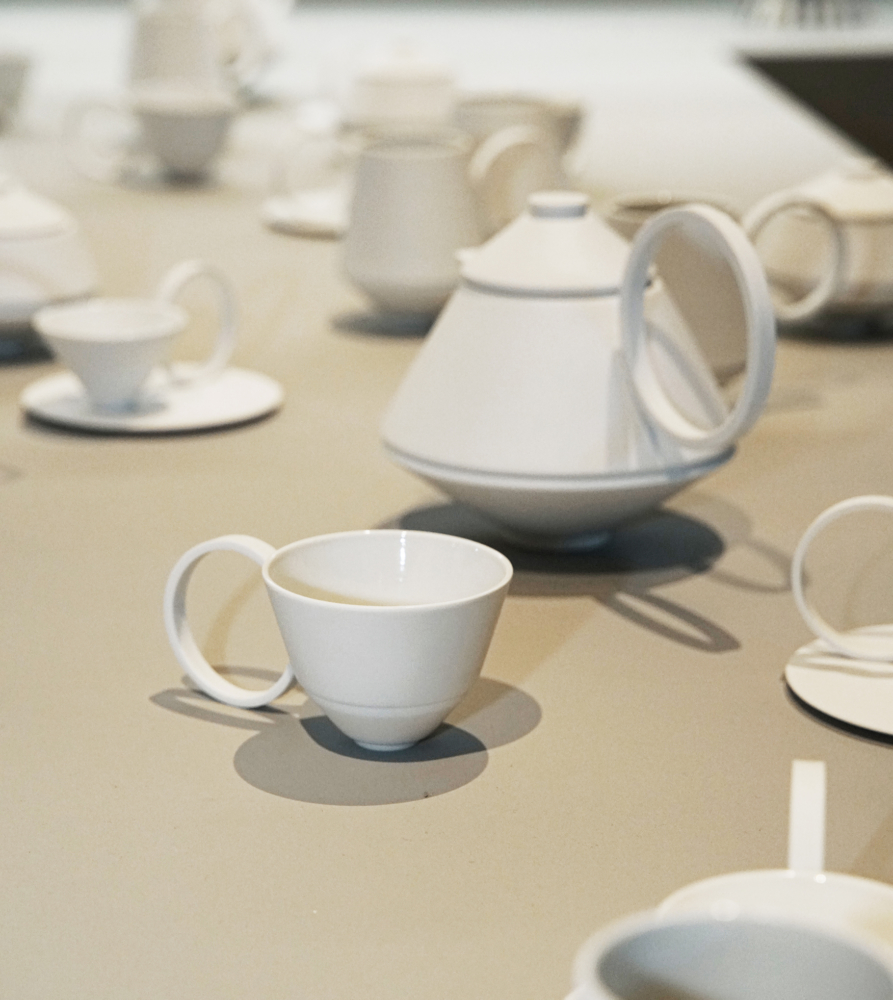 Italian Atelier (IA): How do you feel about the relationship between them as an influential person in the design world at the time, particularly interior design?
Alessandra Facchinetti(AF): I've been in fashion design for a long time, and now I'm starting with furniture, but I really believe they're related. The materials and ideas are all inspired by the opponent, which made reference.None of them seem more important to me; they all blend into one of me.
IA: Can you share why you chose to use porcelain as the main material for this wonderful collection?
AF: Yes, you see. It's a set of white tea cups, very smooth, made of porcelain. I wanted to go back to basics, it's a very good material, and you can be creative to add luxury to it. A simple thing can be brilliant.
IA: The collection's name is "circle," and the main shape is also a circle. I'm wondering if it's Asian inspired.
AF: (laughing)  You're right! I've visited many beautiful places, including China, Japan,  Hong Kong. The culture, everything here, has had a big influence on me. That's why I wanted to include a little bit of Oriental culture in my first collection. The circle is very important to Asians, and there is always a story behind it. I'm really falling in love with it!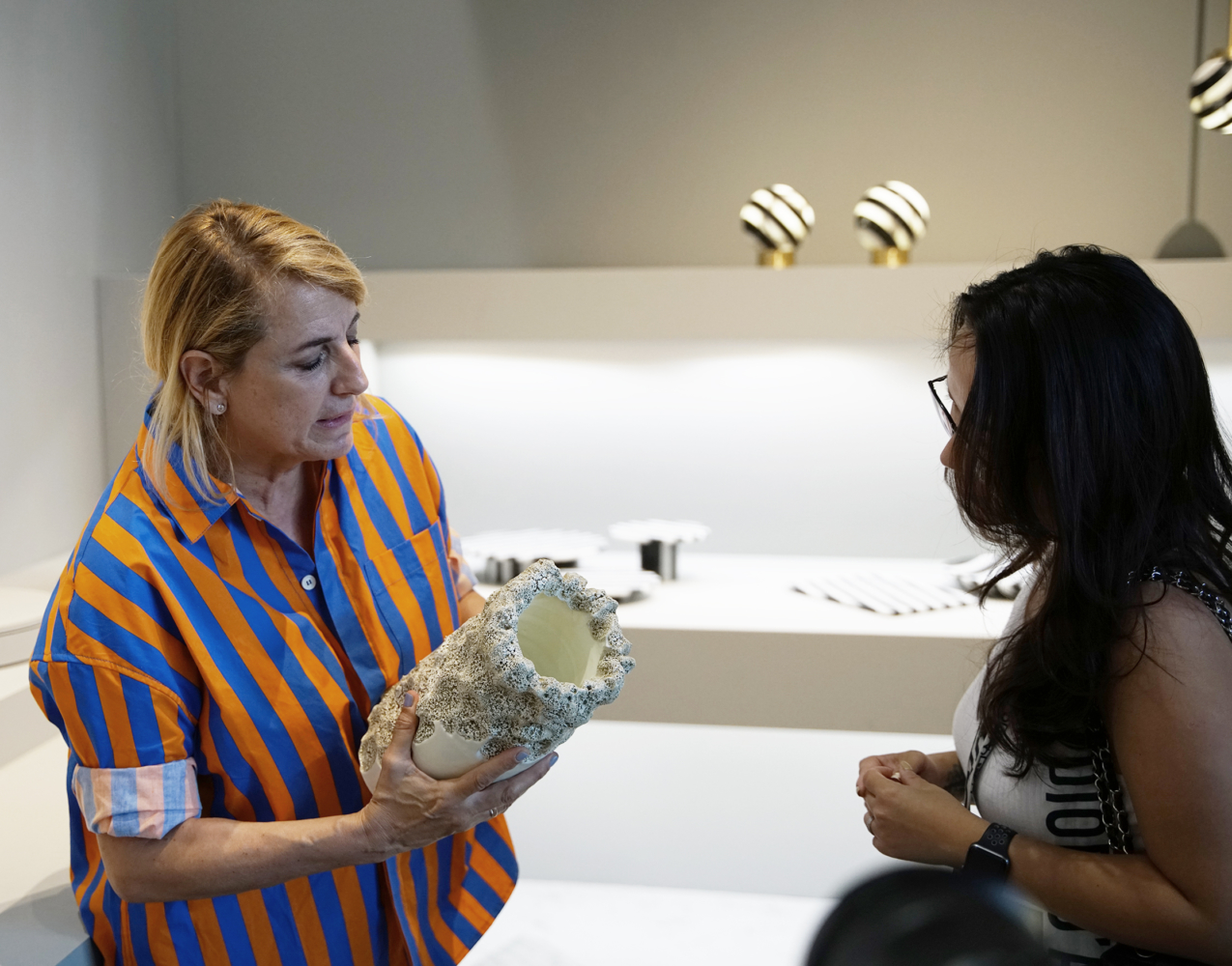 WHEN CERAMIC GETS A NEW LOOK EXPLOSIVE BEAUTY IN SPECIAL SHAPE.
We have a little conversation that discusses the history of Patricia Urquiola's ceramic vases that include the word "oxymoron" at Hall 13-B07 of Editions Milano. 
IA: So, what can an oxymoron explain? We're all curious.
Patricia Urquiola ( PU): The effect of corrosive oxygen on ceramic surfaces that causes them to react to create the appearance you see is known as an oxymoron.
IA: It's a perfect oxymoron, against science turned out beautifully. It was an exciting, crazy idea. We'd love to hear the story behind why you chose ceramic.
PU: Yes, Talking about ceramic, the bowl, tea cup, and kitchen items are all very familiar, aren't they? They appear to be simple, boring, uhm feeling basic. But I think something is missing. I want the ceramic work to be luxurious; it's not considered basic material anymore. Traditional ceramic objects need a new soul too.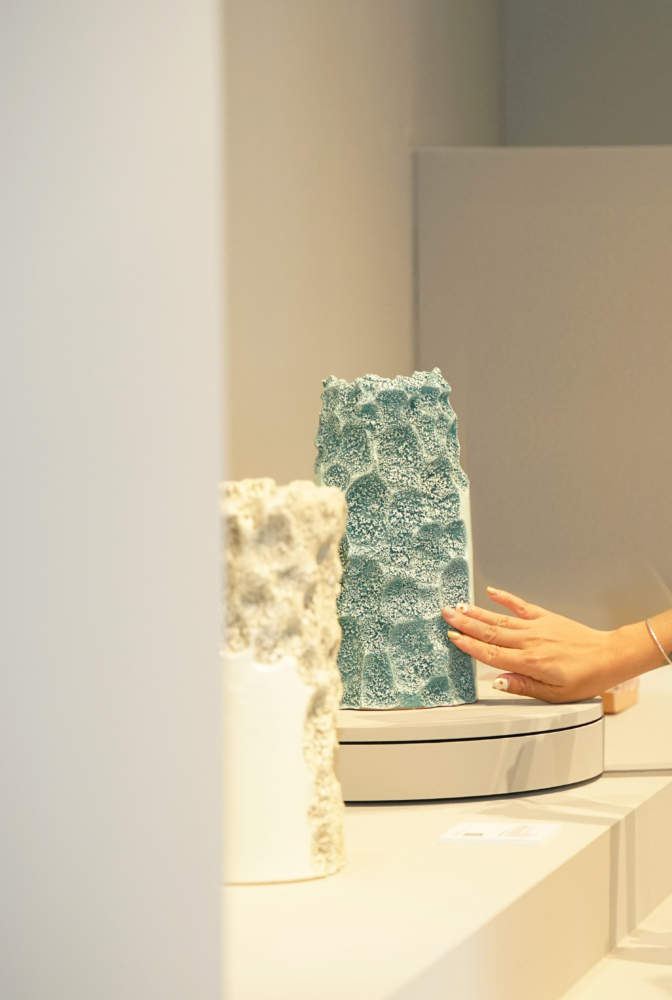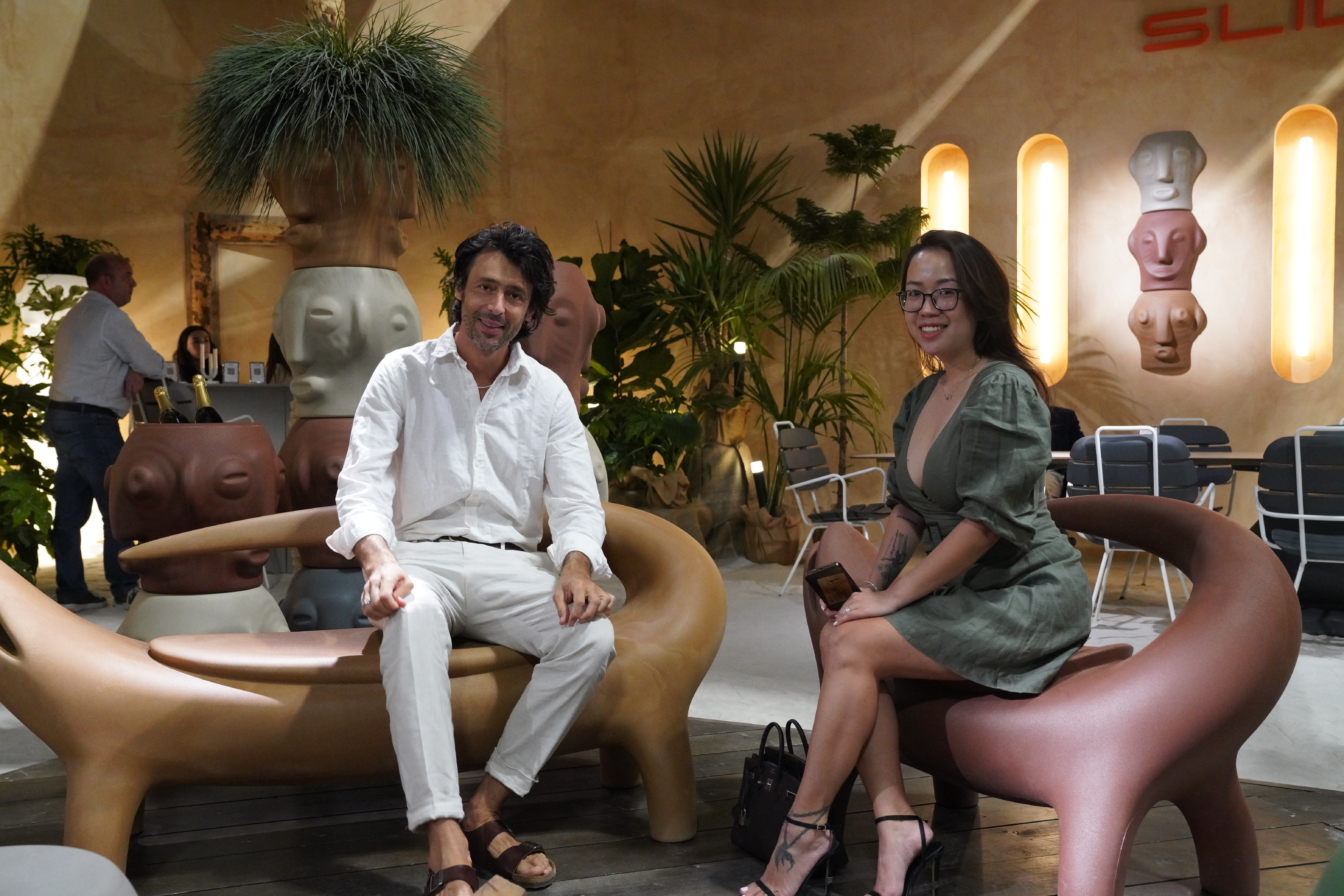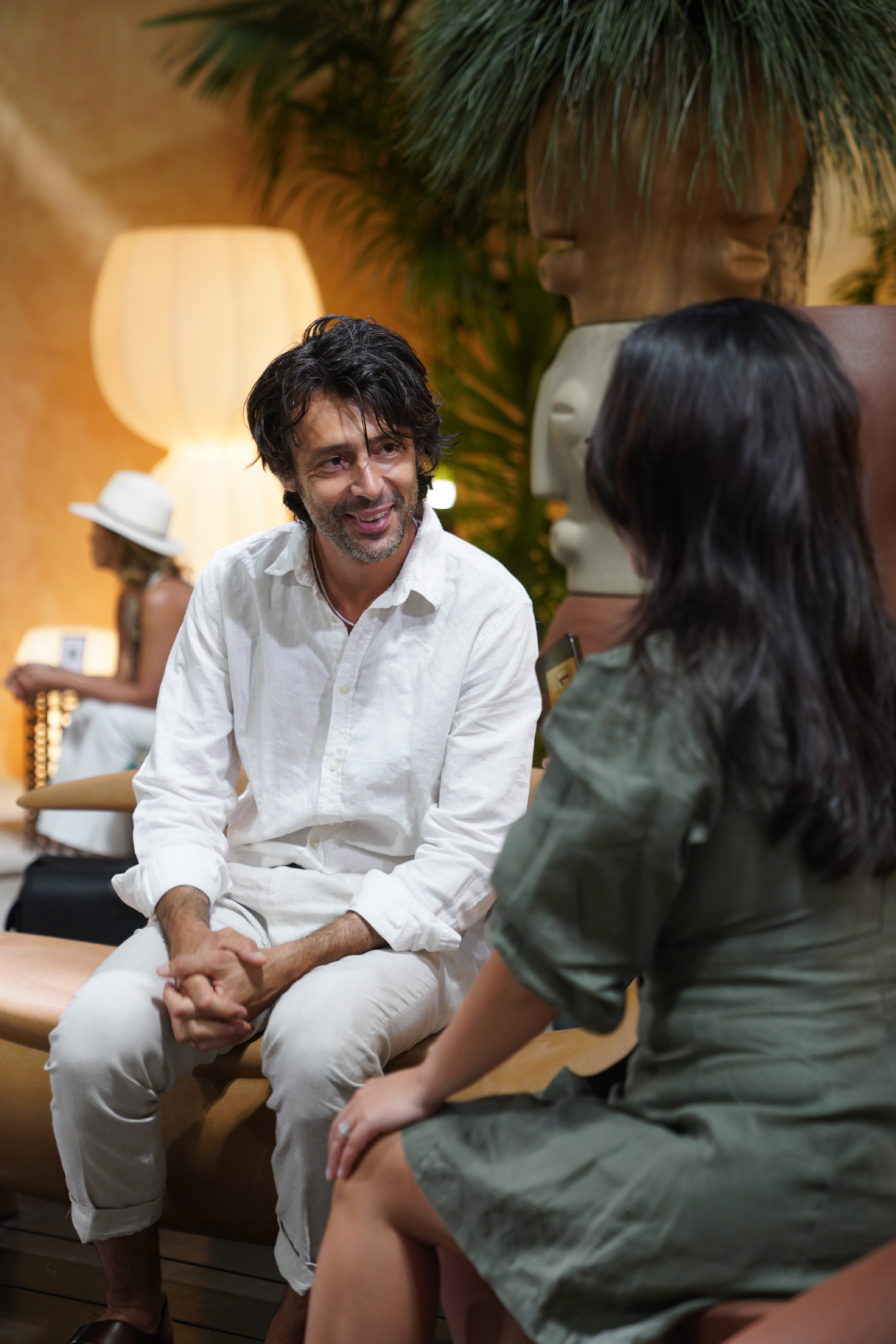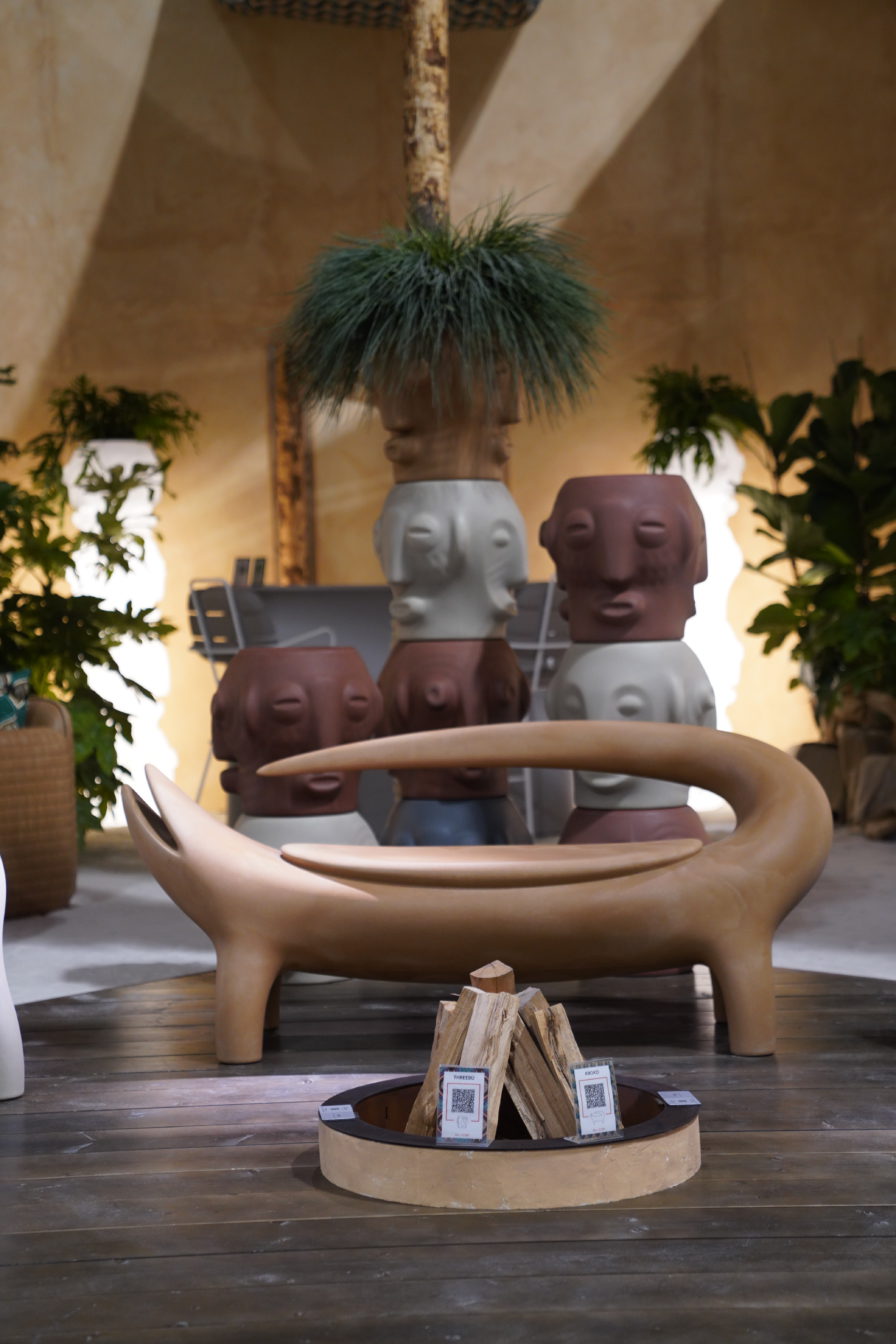 "I WANT BIO PLASTIC FROM SUGAR
TO BE POPULAR"
During this year's Salone del Mobile, Marcantonio collaborated with SLIDE to launch a new collection. The unique aspect is that all of the products are made from new materials discovered by him. It is renewable, highly sustainable, and environmentally friendly, in keeping with the goal of the Salone del Mobile: "Design with Nature" Marcantonio made a big impression with these Afrika collection collaboration designs: the KROKO armchair, BIG KROKO ver, and THREEBÙ, a contemporary coffee table/stool. These are without a doubt the most creative masterpieces created to date.
Italian Atelier (IA): The material is the first time ever you order in the design sector. Can you share with us a little bit about this beautiful material?
Marcantonio(M): Yes, I'm very proud to use it. I'm not able to translate what kind of Sugar cane at all. Should that care, the plastic came from re-used sugar cane, completely green, totally green.
IA: Will the sugar cane material's colors be affected by the weather?
M: No, no.We guarantee that with our creativity and special manufacturing, the color of the product will not be affected by weather, such as fading or poor quality.
IA: Plastic used for design is an important part of life,but it is not recommended; how do you feel about sugar cane in this regard?
M: I know plastic is an unavoidable part of life, contributing to the creation of life.This kind of plastic even better than sugar cane. But the problem here is that the way people use plastic is too toxic. We should change to green material. 
IA: Can you share with us a little bit of collaboration between you and SLIDE?
M: It's been very natural! We were contacted by the company, and then we started talking and I showed my first sketch. He believed me, left me very free. Very, very free. When we just finish, I like it, I made it.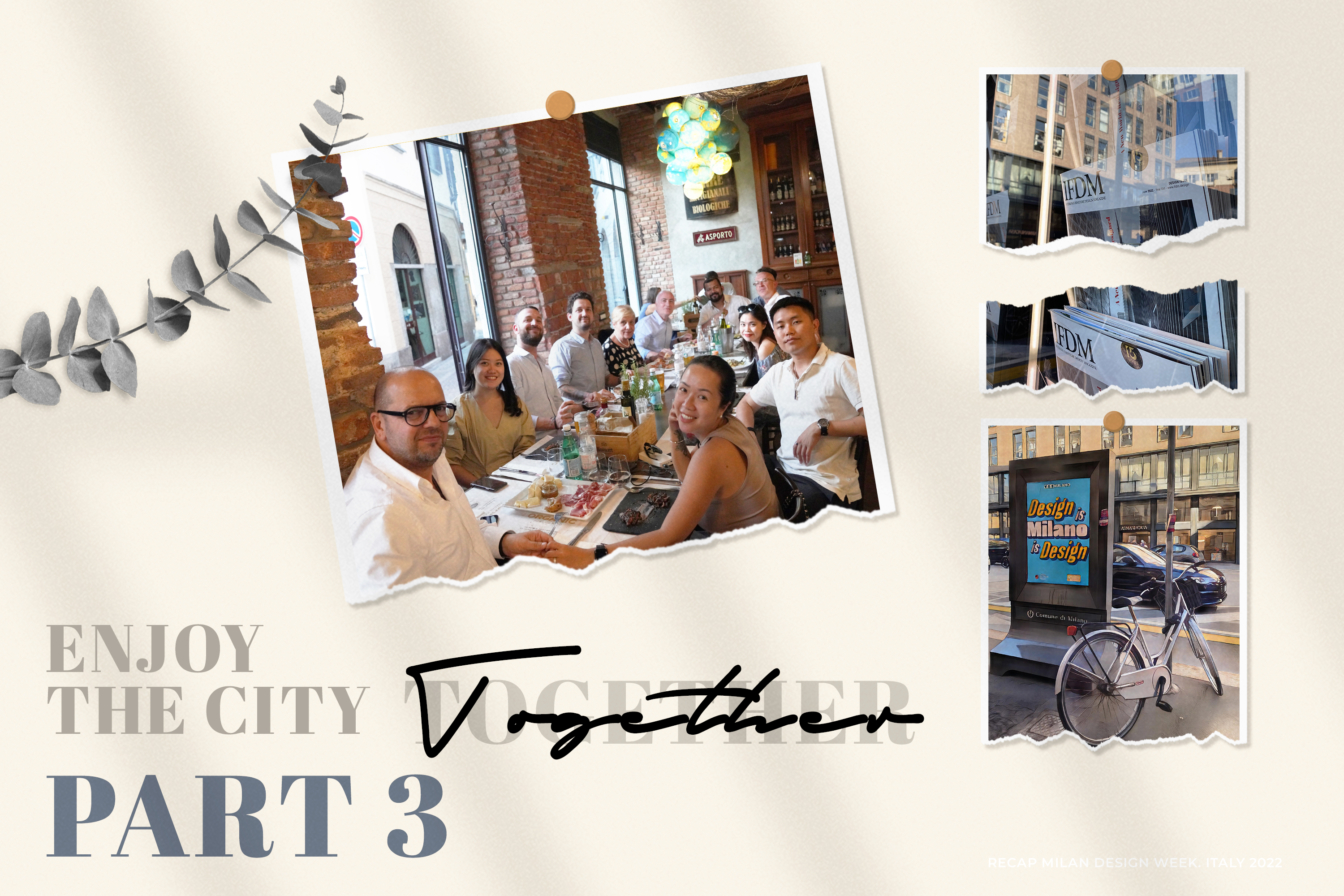 Of course we can not forget the interesting part: Enjoy the city. 
Besides Salone del Mobile, Milan Design Week happened at the same time. Fortunately, we've been there to witness all the active energy and love for Design that is expressed through a long list of events and meetings among brands and people with all forms of backgrounds. Many of our brands organised exhibitions and events at their Showrooms or museums, etc. We have visited nearly all of them, visit our article for more. 
We are here not only for work. After working hour, Italian Atelier team spent our moments together at dinners and parties. Because we are at Milano, the city of endless activities.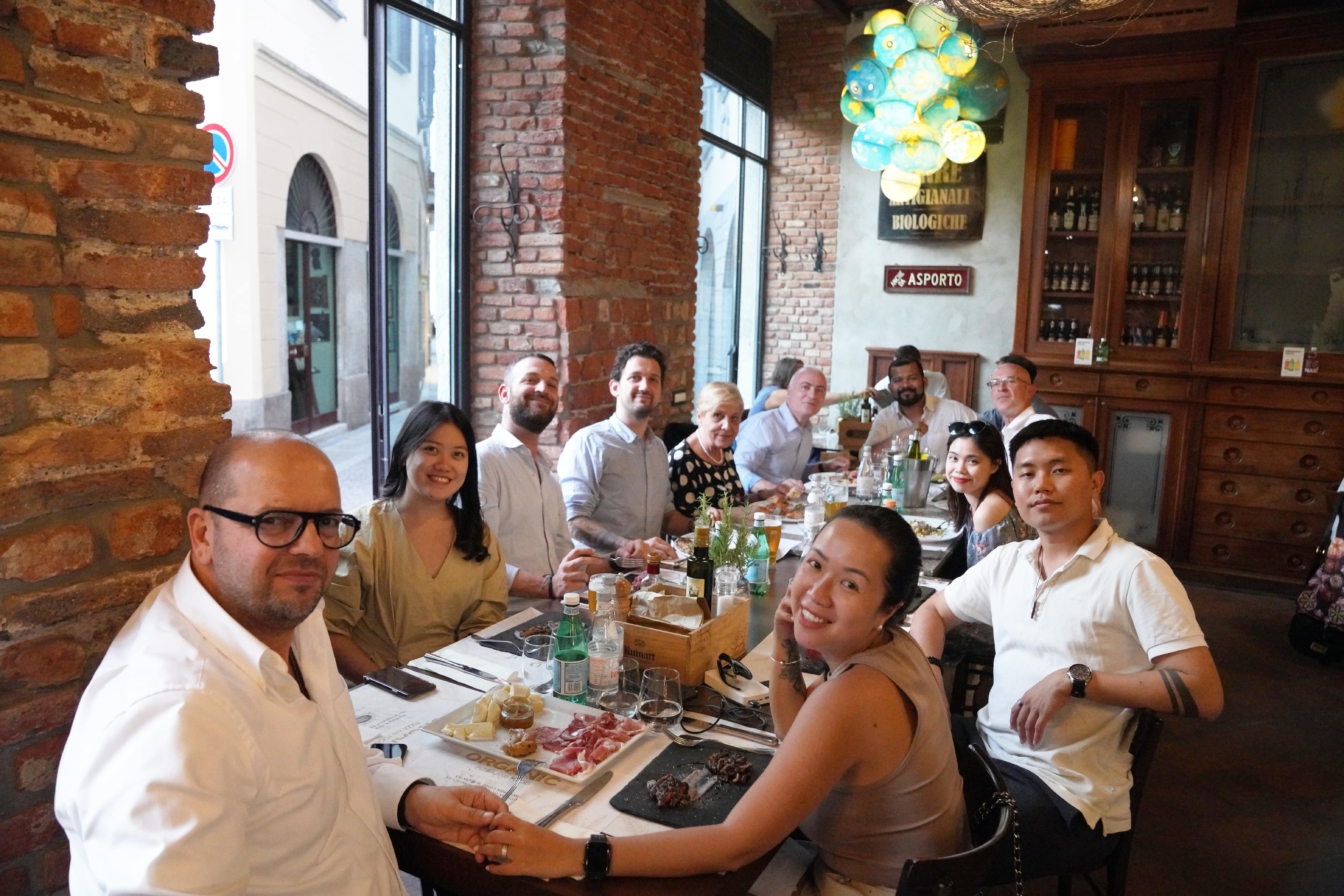 TO SUM UP
This year's Salone del Mobile is like a miracle for all of us; it gives us the chance to link everything via beauty, rather than just words, movements, or gestures, but rather only eyes and heartbeats. All seem to have disappeared as a result of the pandemic after two trying years. For the first time in a very long time, our team came together in its whole, and we were overjoyed to be able to speak with friends and colleagues that we had previously thought of as being very ordinary. 
To develop a Salone Del Mobile and a whole Milan Design Week, we overcame obstacles like war, pandemics, and geographic distance. The only thing we still lament is that Italian Atelier's clients and colleagues in China were unable to take part owing to the challenging pandemic scenario. We do, however, think that they all hope for and believe in a better future. Next year, ideally, the frame will be broader, there will be more faces and brighter grins than in the first shot above.
Thank you, and we'll see you at Salone del Mobile 2022!