Your Targa sofa is likely to be a replica
Published January 18 2022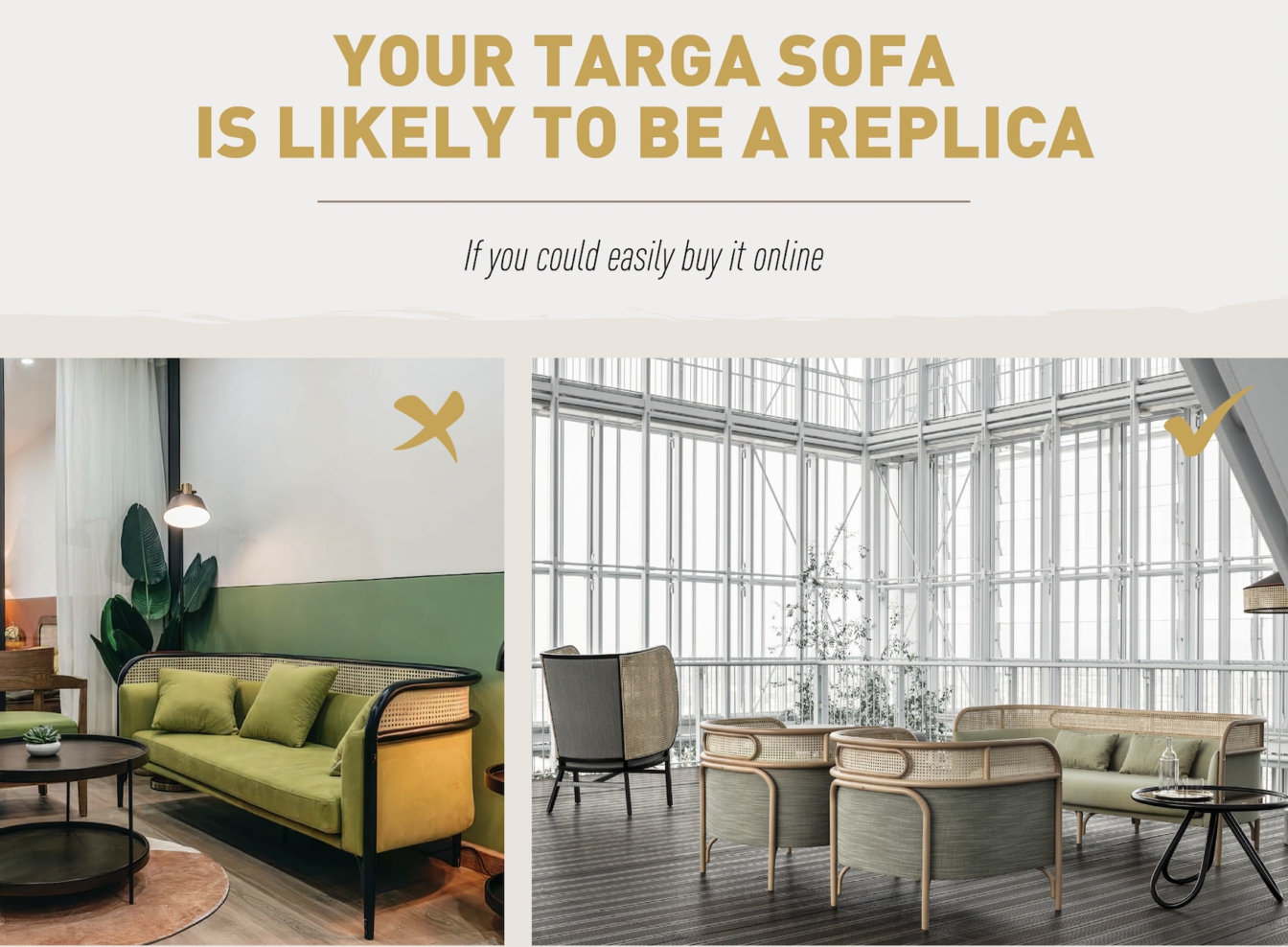 Along with the luxury industry's growth, counterfeiting has become "perhaps the world's fastest-growing and most profitable business", said Business Week in 1985. Ever since the wide entrance of the internet joined our society as a new market factor, counterfeit goods issues have appeared intensely pressing for luxury houses (AR, 2012). As a key player in this high-end segmentation, our partner, Wiener GTV Design, a historically significant brand does not stand out from this threat. The more famous designs gain their popularity globally, the more likely they are replicated. In this article, Italian Atelier will discuss and provide realistic insights about the severity of Targa Sofa's replica production globally, an award-winning iconic and authentic design from GTV. 
The history of Targa Sofa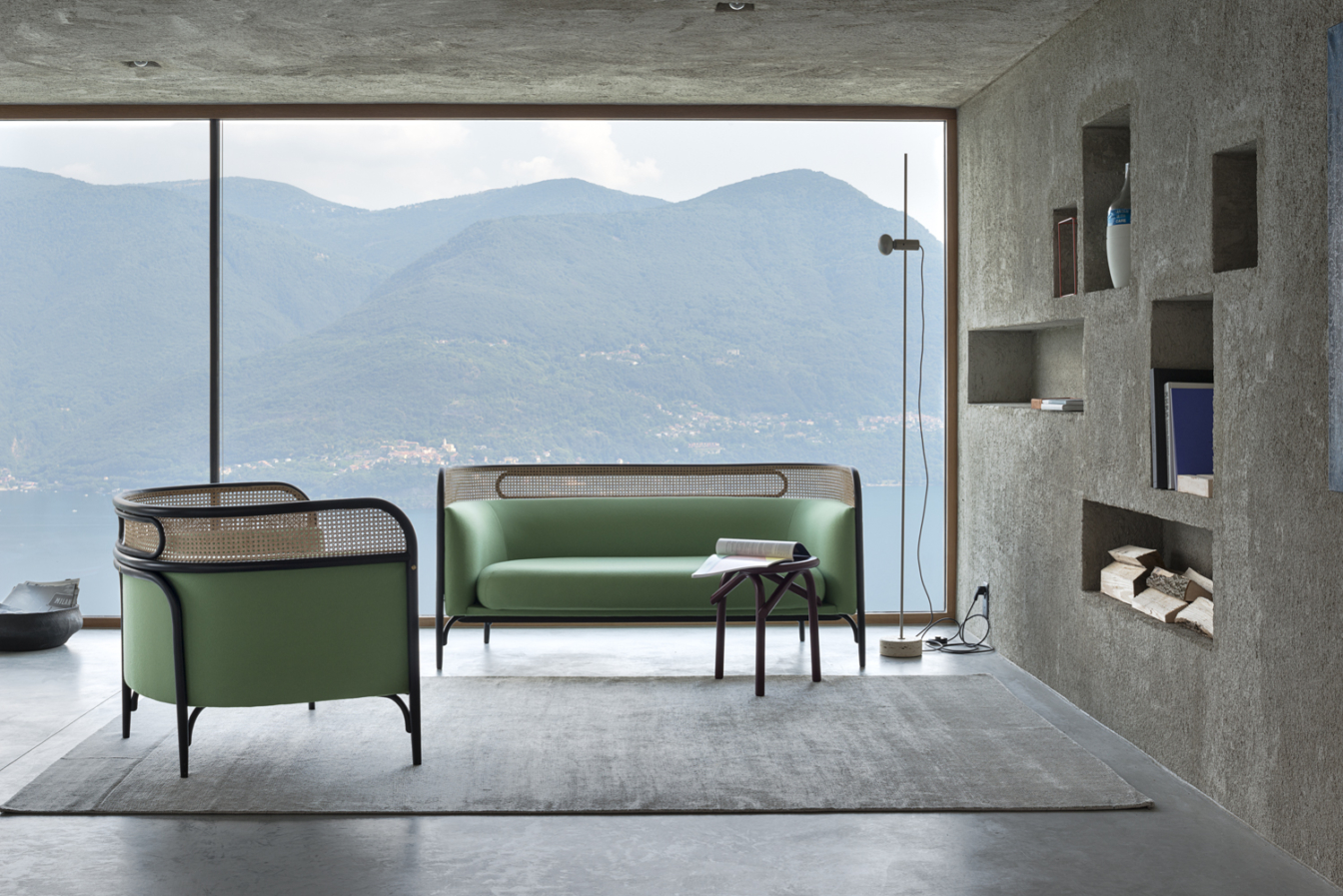 Targa Sofa is a designed product from the Wiener GTV Design's collection of upholstery by Gamfratesi, the Italian-Danish designer duo Stine Gam and Enrico Fratesi. This collection has introduced the new concept of comfort to the interior industry. Presented as a family consisting of a two-seater (160 cm) or three-seater (200 cm) sofa, an armchair and a pouffe, Targa easily fits into intimate spaces and a private atmosphere. 
Inheriting the GTV's elegant and practical designs tradition, the Targa sofa characterized stylish contemporary furniture with its bent beech structure holding the wide depth seat cushion and the woven cane edge backrest. Besides the traditional approach, Targa is also available with the latest interior design trends of returning to the metal, its brass feet, defining Targa's particular preference for contemporary furniture.   
The emerging threat for luxury interior designs arising from the growing counterfeit luxury goods
With professional craftsmanship and innovation, the famous designed furniture pieces prove their top-quality by persevering the test of time, the pleasant experience they offer, and their long-lasting art value. Parallelly with the strong growth of luxury segmentation, the trading in fakes exists as a harmful parasite to absorb the huge revenue from them. Statistically, the total estimate in counterfeiting business took up approximately $4.5 trillion in 2019, and fake luxury merchandise accounts for 70% of that. In which, e-commerce plays a crucial part in helping counterfeiting goods go online across the globe, from Asian to European countries. According to an article published in Harvard Business Review, many iconic designs are sophisticatedly imitated and displayed with attractive deals. Consequently, the unsuspecting buyers are incapable of telling the difference between real and fake products, as reported by Modern Resale.
Targa sofa's popularity in the global counterfeit industry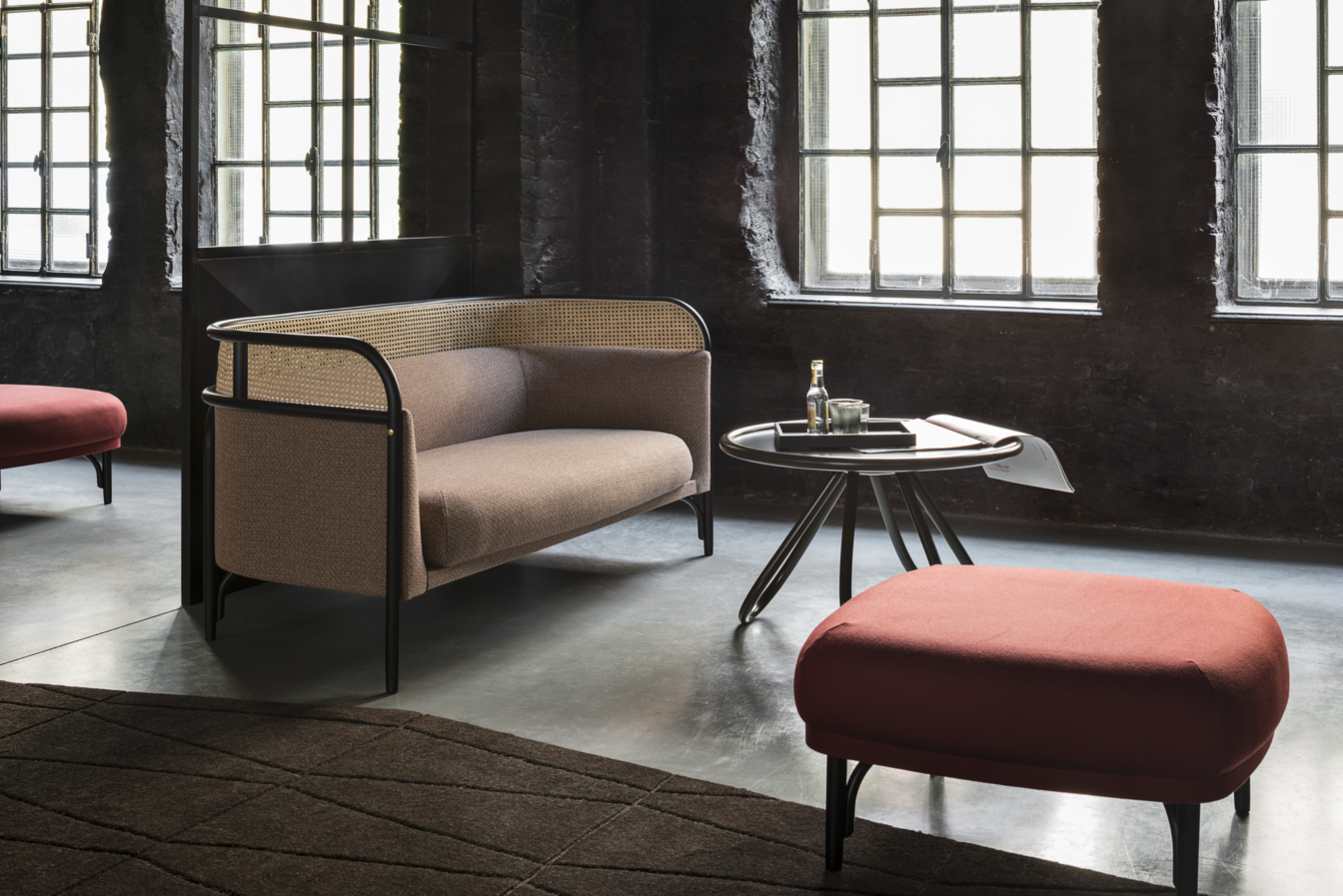 With the outstanding appearance and elegance in design, the Targa Sofa has gone viral. The flexibility that supportively fits in any project concept (coffee shops, hotels, resorts, restaurants) raises a certain preference for this sofa. Therefore, as soon as counterfeiting traders became aware of Targa's potential, they generated a huge amount of unauthentic versions everywhere, with various price ranges under different names of producers except GTV. According to our team's research, there are 2 quick and easy steps to come across an inauthentic Targa Sofa and a wide variety of counterfeiting versions of it.   
2 easy steps to approach the inauthentic Targa Sofa
#1 Searching for Targa Sofa on searching engines 
With such simple keywords as "Targa Sofa", "Buy Targa Sofa", etc.. on search engines, thousands of results are released of various unknown origins of the sofa named "Targa sofa" on local interior companies claiming that this sofa is their design. With professionally looking websites, much more affordable prices, faster delivery times and a wider range of delivery, the counterfeit merchandisers appeared as a real threat to GTV in misleading their unconscious consumers. All it takes is 10 seconds to get access to a replica of the Targa sofa online.
#2 Searching for Targa Sofa on e-commerce platforms
Similar to the previous technique, by looking for simple keywords about Targa Sofa on well-known e-commerce platforms such as Alibaba, Shopee, Taobao, etc, consumers quickly come across many counterfeit merchandisers who sell this sofa with a wide variety of price ranges cheaper than the original Targa sofa. Moreover, extra services as additional color selection are added to please the misled consumers. 
Tips to distinguish the replica Targa Sofa
1. Material 
Be careful with the material details when you intend to buy Targa Sofa online. There are many counterfeiting traders who claim their Targa Sofa is available with unauthorized material as leather, fabric, etc.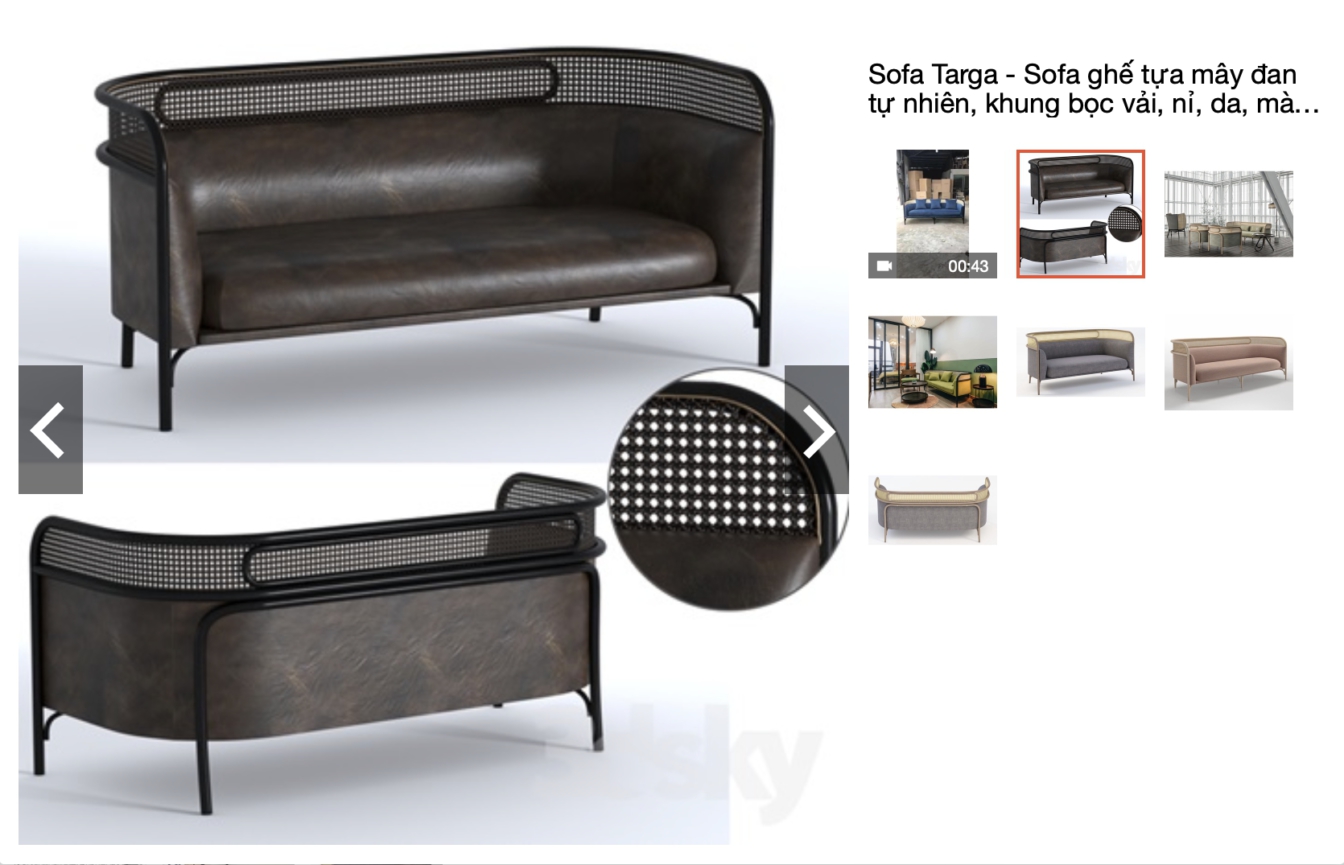 2. Color shades
Pay attention to colors. The availability of Targa Chair's colors is only limited to a few shades as the original designer's sense of art. The difference in colors that appeared in this grey market is visible once the consumers acknowledge the GTV's authentic colors for this sofa.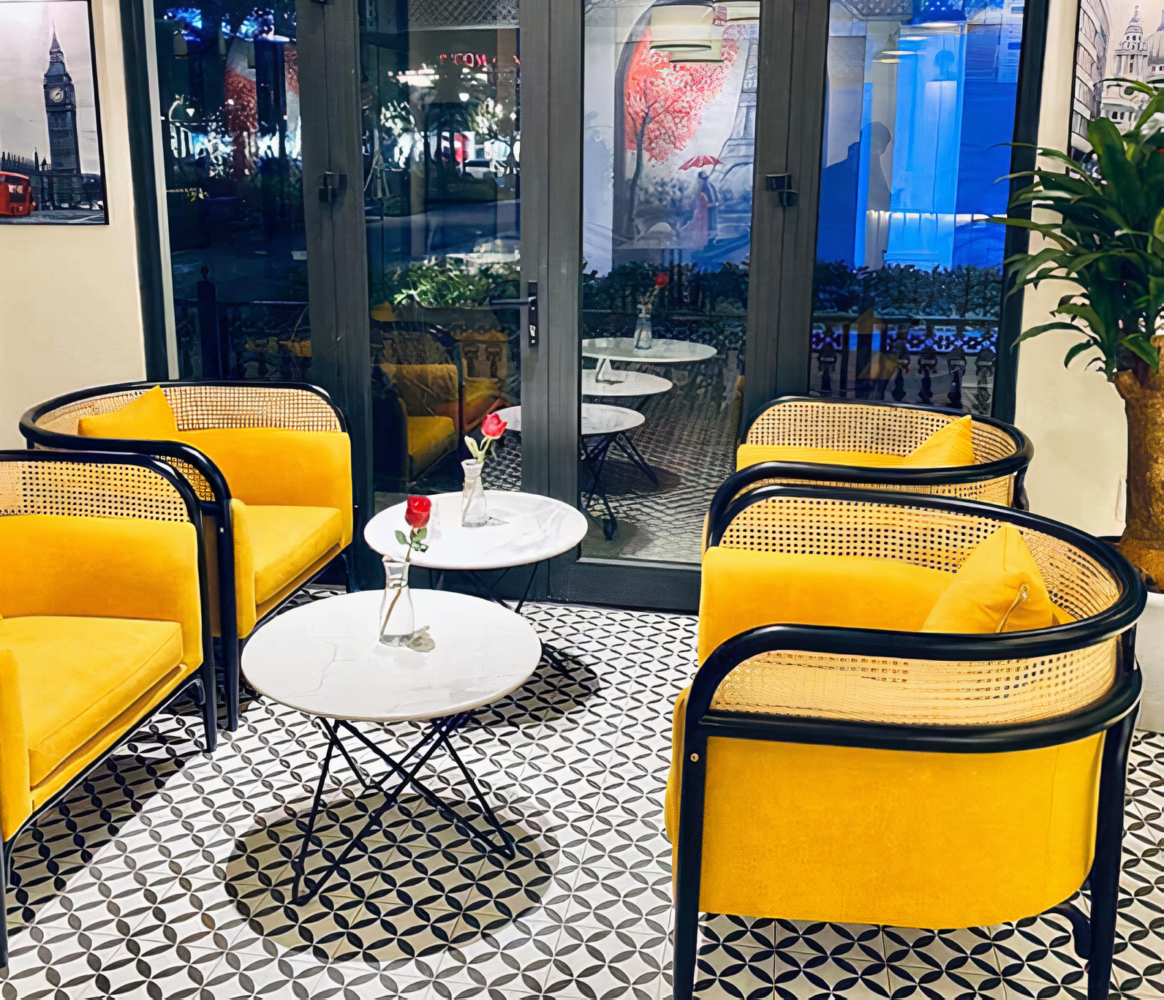 3. Sofa's structure
In some replica versions of Targa Sofa, we can easily spot the wrong standard structure compared to the original one by paying attention to the sofa's details. For example, the authentic Targa Sofa owns a bent beech structure that embraces the depth seat cushion, while the counterfeit one presents the additional frame covering its whole backrest. 
The differences also can be visible in the upper seat cushion's shape and thicknesses. The original Targa Sofa has a rounder and thicker shape while the replica one appears squarer and thinner.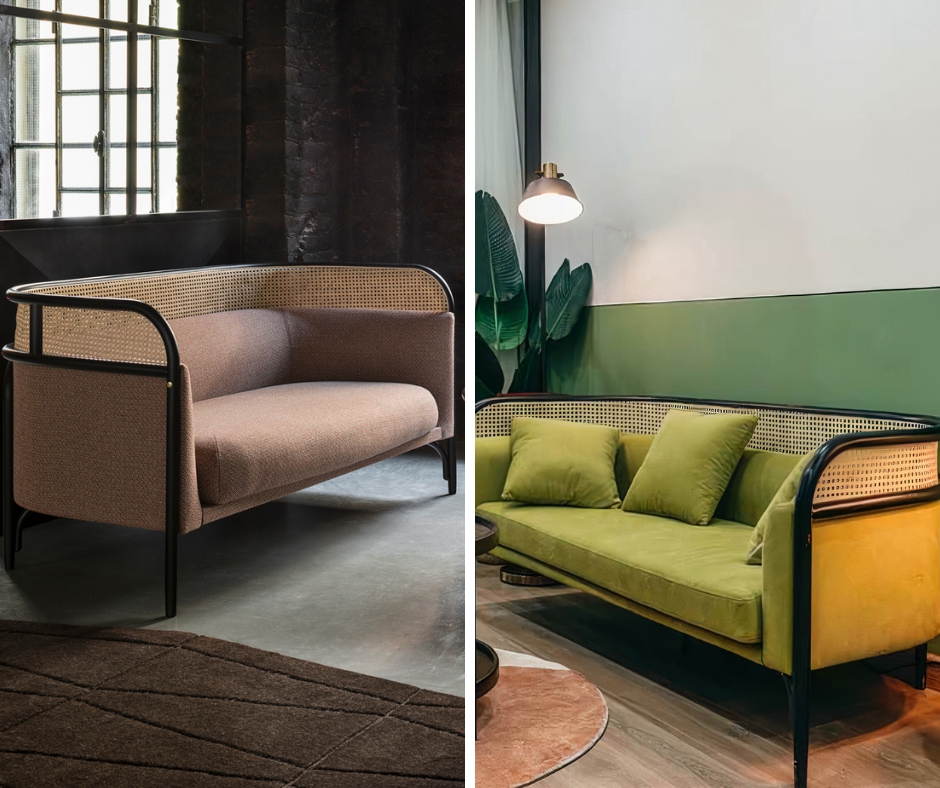 The consequences of buying replica Targa Sofa
You get what you pay for. Purchasing a replica Targa sofa means purchasing a low-quality product with an inadequate price range. While the counterfeit Targa loses their comfort and quality over time, the authentic ones maintain throughout the years quality and value-wise. Noticeably, by consuming the replica product, consumers are indirectly contributing to the labor abusing issue in the counterfeiting business as well as disrespecting the genuine efforts from original designers (AR, 2012).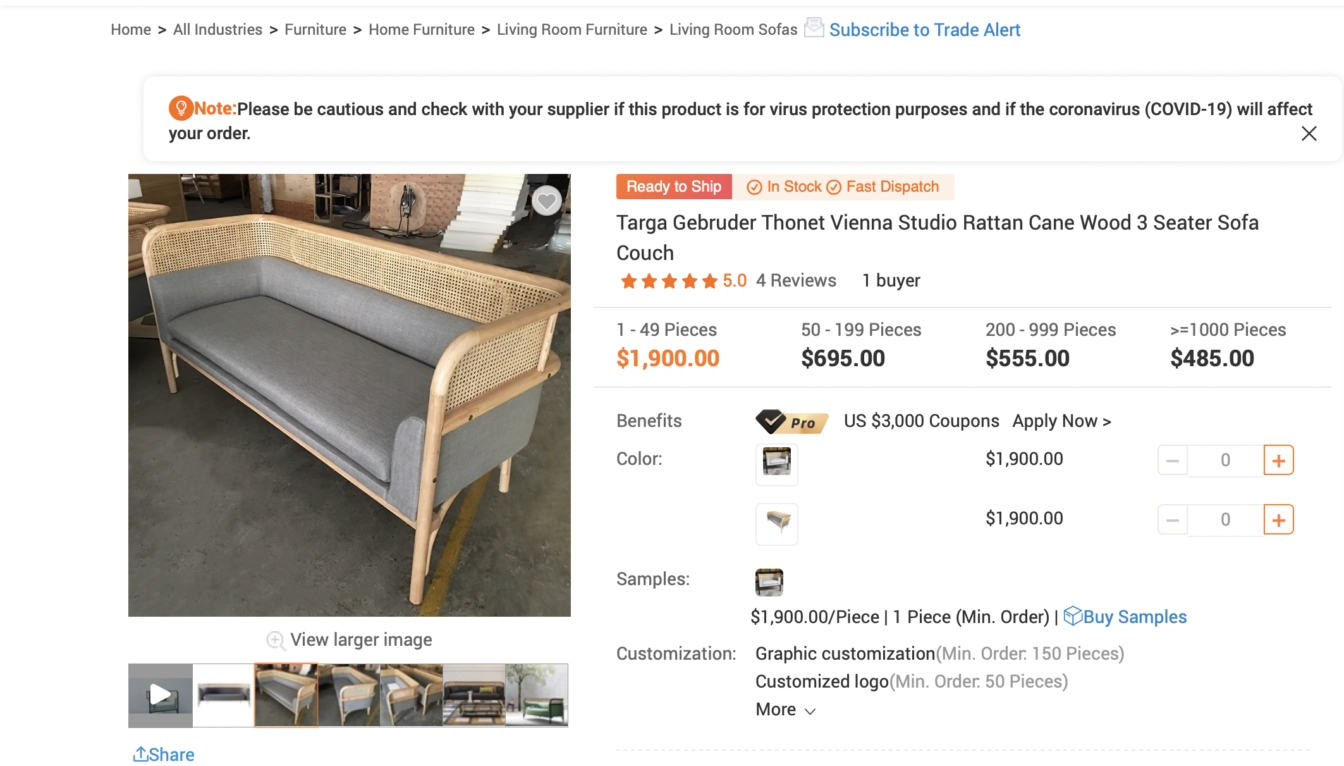 Be the conscious buyers to receive adequate benefits
Reaching out to the authorized distributors and purchasing the genuine Targa sofa from GTV will enable you to be well-served with professional customer service from the brand or its representative in your location and ethically value the effort of the original designers. 
The plagiarism and replica production issues of GTV's Targa Sofa have been pointed out as a considerable alert to all of our clients. Once again, Italian Atelier wants to restate that GTV is the original and exclusive producer of the Targa sofa. The larger the counterfeiting market is, the more mindful we have to be to keep the luxury interior market as clean and ethical as possible. 
Where can you buy the original Targa sofa?
When in doubt, hop over to Wiener GTV Design's website and check the Distribution page. There you can find all the information of every agent or distributor who is authorized by the brand in your region.
Italian Atelier has been the official and exclusive representative of Wiener GTV Design in the Asia-Pacific region for quite a long time. We are honored to bring the brand's artworks to customers in the area, and we certainly hope our clients are welcoming, receptive, and willing to put their trust in our professionalism and services. 
References
AR, A. (2012). Counterfeit Luxury Goods Online: An Investigation of Consumer Perceptions. International Journal Of Marketing Studies, 4(2). doi: 10.5539/ijms.v4n2p74
Grossman, G. M., & Shapiro, C. (1988). Counterfeit-Product Trade. The American Economic Review, 78(1), 59–75. http://www.jstor.org/stable/1814698